Thiem está en tendencia en Twitter - Los tweets más populares | Argentina
THIEM RETURNS TO THE FINAL! With his 300th career win, 🇦🇹 @ThiemDomi beats Djokovic 7-5, 6-7(10), 7-6(5) to make it back-to-back finals at the #NittoATPFinals 👏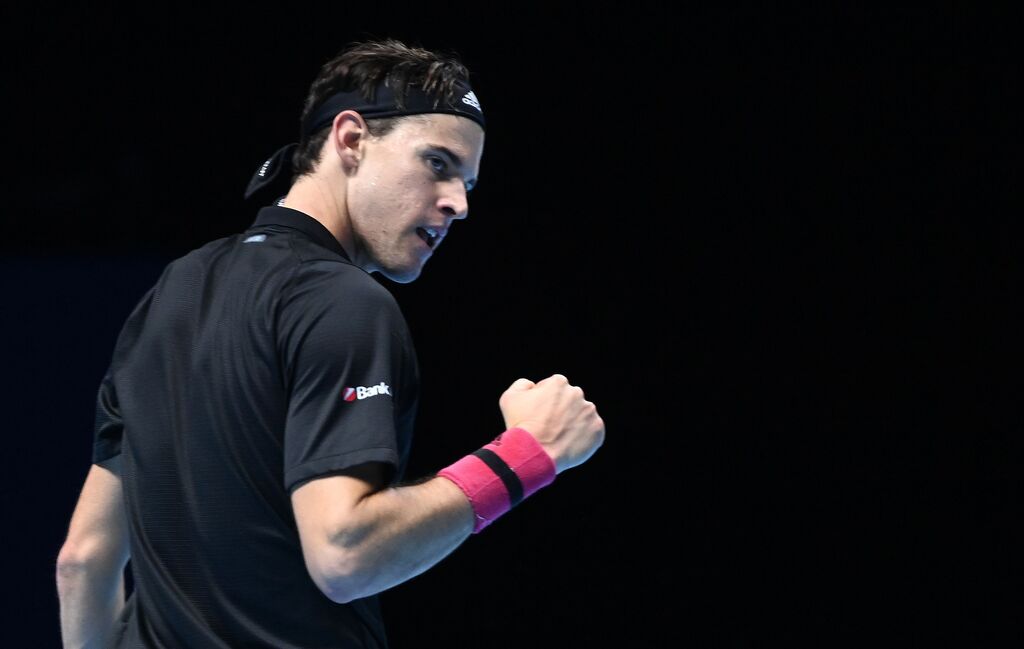 Thiem on Twitter
ESPN Tenis ()
#TENISxESPN Dominic Thiem se animó a imaginar cómo será el futuro del tenis cuando no esté el Big Three.
Blog Deportivo ()
Campeón en Londres: Medvedev, nuevo maestro del tenis mundial tras derrotar a Thiem #DeportesBLU
MisterOnly.Tennis ()
📊 Tenistas nacidos desde 1990 con más victorias en ATP Finals: 9 🇦🇹 Dominic Thiem (1993) 8 🇩🇪 Alexander Zverev (1997) 5 🇧🇬 Grigor Dimitrov (1991) 5 🇬🇷 Stefanos Tsitsipas (1998) 5 🇷🇺 Daniil Medvedev (1996) 3 🇧🇪 David Goffin (1990) 2 🇨🇦 Milos Raonic (1990) 2 🇺🇸 Jack Sock (1992)
BBC Sport ()
Dominic Thiem: Of course I am disappointed but at the same time I am proud of the performances all week. Daniil, really deserved, an amazing match. Congrats for another great year. 👉 #bbctennis #ATPFinals
Jean Pierre Etienne ()
Thiem met Djoko deyò. Medvedev met Nadal deyò #MastersCup Thiem kont Medvedev nan Final. Dènye match ane a, remake Final USOpen 2020 an 🎾

All India Radio News ()
Dominic Thiem beats Novak Djokovic to reach title match at #ATPFinals
TENNIS ()
The final matchup of 2020! 🇷🇺 @DaniilMedwed vs. @ThiemDomi 🇦🇹 1️⃣ Thiem leads their H2H, 3-1 2️⃣ Medvedev is 6-0 vs. the Top 10 at his past two events 3️⃣ Both players beat Djokovic and Nadal this week 10 things to know in our #NittoATPFinals
Jake Davies ()
Thiem vs Medvedev is going to be a fab final. To be honest I would have been pleased with whatever final we were served out of the four players that were left.
BBC News (UK) ()
ATP Finals 2020: Daniil Medvedev beats Rafael Nadal & Dominic Thiem overcomes Novak Djokovic
Juan Pablo Murillo ()
¡Histórico! 🥎😱🔥 Novak Djokovic y Rafael Nadal, quedaron eliminados de las semifinales del Torneo de Maestros, Dominic Thiem y Daniil Medvédev, jugarán la gran final, la cita es mañana a las 9:00

Brad Gilbert ()
Meddy Bear 🐻 was 3-4 after @usopen heading into Bercy, wow has he turned around his year with 9 wins on the trot, should be very interesting 🧐 final vs Home 🏠 Thiem tomorrow 1pm eastern espn2
Donuts Dimes ()
Tennis 🎾 ATP: Nadal/Medvedev o24 (+101)(1u)💵 Djokovic/Thiem (+104)(1u)💵 Both go 3 sets, these matches have been a treat.

The Guardian ()
Dominic Thiem topples Novak Djokovic at ATP World Tour Finals
EasyTips💰 ()
3U Nadal+Djokovic BOTH + sets (-134)💰🔥 2U Medvedev vs Nadal (-150)💰🔥 1U Djokovic vs Thiem (-105)💰🔥 Tennis sweeps in VIP🧹🧹 Free plays so far 1/3 lets cash the other two🤞💸💸
9-7 in the 5th ()
Not only he could have closed the match but he could also have done it in half the time of what Thiem closed
DialetticaDelTennis ()
Non succederà, ma se Thiem dovesse battere nello stesso torneo Djokovic e due volte Nadal, dovrebbe avere un bonus extra di punti
MARCA ()
EN DIRECTO #NittoATPFinals | ¡Primer set para Nadal! A un set de vérselas mañana con Thiem en la final de un torneo que no ha ganado nunca #VamosRafa
T13 ()
Thiem gana un duelo soberbio a Djokovic y espera rival en la final del Masters.
José Morgado ()
Dominic Thiem is the 2nd ever player to have at least 5 wins against all members of the Big 3. The other one is Andy Murray. 5-2 vs Federer 6-9 vs Nadal 5-7 vs Djokovic
ATP Tour ()
THIEM RETURNS TO THE FINAL! With his 300th career win, 🇦🇹 @ThiemDomi beats Djokovic 7-5, 6-7(10), 7-6(5) to make it back-to-back finals at the #NittoATPFinals 👏
MisterOnly.Tennis ()
📊 Tenistas en activo con más semanas en el Top3 del ATP Ranking: 750 🇨🇭 Roger Federer 618 🇪🇸 RAFA NADAL 587 🇷🇸 NOVAK DJOKOVIC 226 🇬🇧 Andy Murray 60 🇨🇭 Stan Wawrinka 32 🇩🇪 Alexander Zverev 16 🇦🇹 DOMINIC THIEM 12 🇭🇷 Marin Cilic
Punto de Break ()
🇦🇹 Thiem también opina sobre ATP-PTPA. 🗣️ Para mí, no hay razón para unirme a ninguna otra organización de jugadores. Pero todos pueden tener su propia opinión.
José Morón ()
No, el primer factor que se tiene en cuenta si dos jugadores están empatados a victorias es el enfrentamiento directo y Thiem ganó a Nadal el otro día.
Donuts Dimes ()
Tennis 🎾 ATP: Rublev/Thiem (-119)(1u)💵 Glad to see Rublev get out of the Finals with a win.
🤙Hicham Gherbi🤙 ()
All things considered including the Thiem tank, this was a positive tournament for Rublev, and people were saying he will get destroyed. The only match where he could have done better was against Nadal, very decent performance from him but a lot of work needed.
Skysport ()
ATP Finals, i risultati delle partite di oggi: Rublev batte Thiem 6-2, 7-5
ATP Tour ()
Great way to end a great season 👏 🇷🇺 @AndreyRublev97 defeats Thiem to finish his 2020 in style at the #NittoATPFinals
Tennis TV ()
RIP this tennis ball 😳 Enormous 25-shot rally between Rublev & Thiem! #NittoATPFinals
ESPN Tenis ()
#TENISxESPN Rublev dejó parado a Thiem con este sensacional passing.
Jimmy D ()
Thiem tanked. I was wrong. I thought he would back up that insane level and go for the undefeated prize purse at this tournament. Not nearly the tennis in the legs that he had last year so figured with the amount of tennis he plays normally on tour he would give it a go today