#abc730 Twitter Trend : Most Popular Tweets | Australia
"I spoke to two members of Congress today, neither of whom voted for impeachment. And both of them told me, 'I cannot vote for impeachment because I do not want my family to be murdered.'" - @TheRickWilson, fmr Republican strategist. #abc730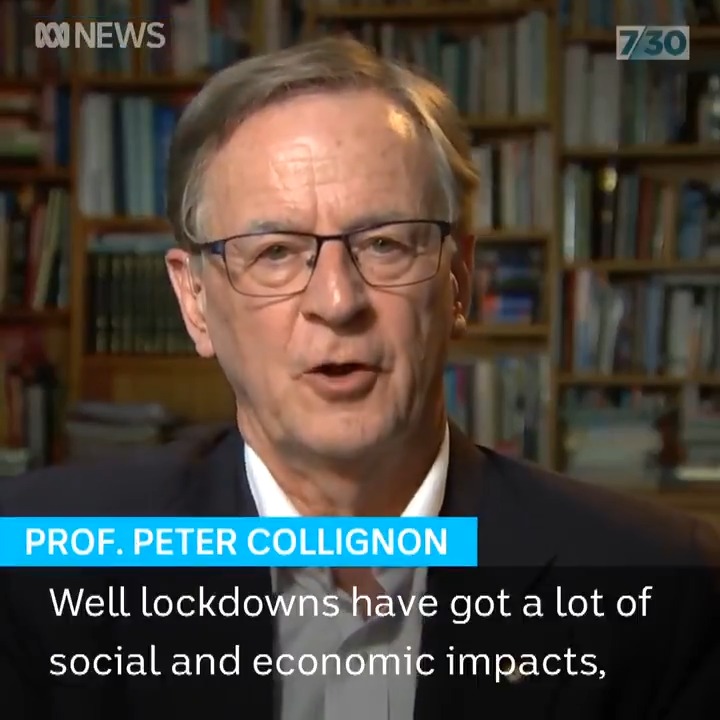 #abc730 on Twitter
Chris Lancashire ()
You are a legend Laura @latingle Thank you. Well researched facts. Quarantine and Biosecurity can never be delegated to States govt. under the Australian Constitution. #Auspol #abc730
🔥😷🐨🌏TurnLeft-2021 💧 ()
seriously? SERIOUSLY?? who is ultimately responsible? the federal govt - how can any sane adult person who has a basic knowledge of australian politics, know that it is federal govt
David Gardiner ()
Who is responsible for quarantine? Why are so many cases still coming into the country? Where is Peter Dutton? What is he hiding? #auspol #rubydutton @abc730

Abc730 ()
The controversy about the Australian Open is just the latest incident to prompt questions about the hotel quarantine system. So who is ultimately responsible for quarantine in Australia, and how resilient is the system in the longer term? @latingle reports. #abc730

😷An UnQuiet Australian ()
@QuentinDempster @abc730 I am also very concerned about the direction of the AWM, the lack of historians on the Council, the demolishing of Anzac Hall and the planned massive expansion of galleries on modern conflicts. Also the corporate sponsorship by gunrunners.
Madre Swift Justice ()
@jaquix173 @abc730 Seriously tonights episode is crap - war memorial that no one wants and freaking entitled tennis players coming here so they can win a load of cash.

Abc730 ()
In remote parts of the country, flying vets are a vital lifeline. For the past 12 months, Dr Ameliah Scott has been flying her own plane to see clients and their animals across western NSW, from the Queensland border to the edges of Victoria and South Australia. #abc730
Bhiamie Williamson ()
Disappointing #abc730 didn't include any discussion on the absence of Aboriginal and Torres Strait Islander people in story on war memorial. Esp w talk of telling 'unsanitised' story of war and Australia. Again our people overlooked, consigned to a seat and plaque on Mt Ainslie

Abc730 ()
"I think the players should be conscious of reading the room, and understanding what the situation is in Australia." – Ben Rothenberg, tennis journalist #abc730

Abc730 ()
"I spoke to two members of Congress today, neither of whom voted for impeachment. And both of them told me, 'I cannot vote for impeachment because I do not want my family to be murdered.'" - @TheRickWilson, fmr Republican strategist. #abc730

💧Michael Dowling-Demand renewable covid recovery! ()
New South Wales playing Russian roulette with a dangerous virus. And the whole of Australia is a risk from this "gold standard". If the UK variant gets loose, this kind of "management" will be totally inadequate. Listen to Mark McGowan and Daniel Andrews. Eliminate. #auspol
Woody ()
@abc730 Do we really want to follow the UK model. Why is the ABC promoting this rubbish A reality check from an informed and reliable source. Read this and let it sink in ! The Lancet editor: UK 'steadfastly refused to follow the science'
Left Out ()
Yes, a rational PM should shorten the reins on his Nut Job MPs. Though, bear in mind that Morrison is a Pentecostal Christian. The sheer lunacy of Christensen and Kelly fictions are simply more coloured tiles in the tortuous mosaic of Morrison distorted morality. #abc730 #auspol
Barney Mcgraw ()
@utofia1 @abc730 There is no correlation between lockdowns and deaths per million. For example Belgium has had strong lockdowns and has done much worse than just about every country including USA, UK, Sweden. Review some of the science on the subject:
Teach ()
@bloch_aaron @abc730 As is a different set of infections, so what? We go back into another 3-5 day lockdown? You going to pay the lost wages?
💧GeoffwithaG🔥 ()
@abc730 I respect @CollignonPeter A question. Given the spread of Covid from Sydney to other areas and states, is the risk worth it? When you look at the state of the UK who has used the NSW model.
Andrea Anti Fascist W. ()
@abc730 Yeah, while you are debating and millions are dying, I'm glad I'm in Queensland thanks.
Julie Hailey ()
@drvyom . Missed your name during the intro on but kept thinking this guy is making senseunlike the Prof from ANU who seemed to be supporting the let it rip agenda. Now I have put the interview together with your twitter handle. Great work!
🦠 😷 Evan ()
This is the correct take and having an opposing view for the sake of balance is just weird.
Grace ()
. @CollignonPeter thanks for your measured, sensible and broadminded views on #abc730 tonight. Agree that "We need health advice and interventions to be consistent, predictable and sustainable."

Possum Comitatus ()
This bland centrist brain rot the ABC has developed is terrible, and this thread is the perfect example. There is no this/that, on/off, one/other. All the CHOs are dealing with each unique situation by developing specific, unique responses.
Benjamin Law 羅旭能 ()
Stan Grant hosting @abc730 throwing to Stan Grant hosting One Plus One, @ABCTV is having a Being John Malkovich moment

Abc730 ()
"Mohammed Siraj should be congratulated – the first thing we need to realise with racism is that it needs to be brought to (the attention of) team management and the complaint needs to be registered. – @gampa_cricket #abc730
Ban live export 🐑🐐🐎🐃🐝 ()
@abc730 Oh give it a rest. BORING BORING BORING. We watched a rerun of Spicks and Specks. Much more interesting
Nadia Daly ()
Two experts give their take on the new national COVID measures 👇
Ben Clarke ()
@HaydenJOConnor What a waste of time. Tomorrow they'll be looking into the raging debate "is water wet?" #abc730
Jackie Wakeford ()
Since when is a doctor in a position to assess economic and social consequences of a lock down. He should be commenting on the health effects and leave the politics to the elected representatives #abc730

Abc730 ()
On the other hand, Professor Mike Toole believes we should be using "every intervention in our toolkit" – and that includes lockdowns. #abc730

Abc730 ()
Professor Peter Collignon doesn't believe so and argues lockdowns "have got a lot of social and economic impacts." #abc730

Abc730 ()
We're not thinking proactively about how this virus might spread. We don't have time to wait with this variable that is likely much more transmissible. We can't afford to be reactive like this – we have to get ahead of the problem, not behind." – Dr Vyom Sharma #abc730