#ASKKENTY Twitter Trend : Most Popular Tweets | Australia
Get your videos in for #ASKKENTY tonight using the hashtag or send them via email to nrl360@ 🎥📲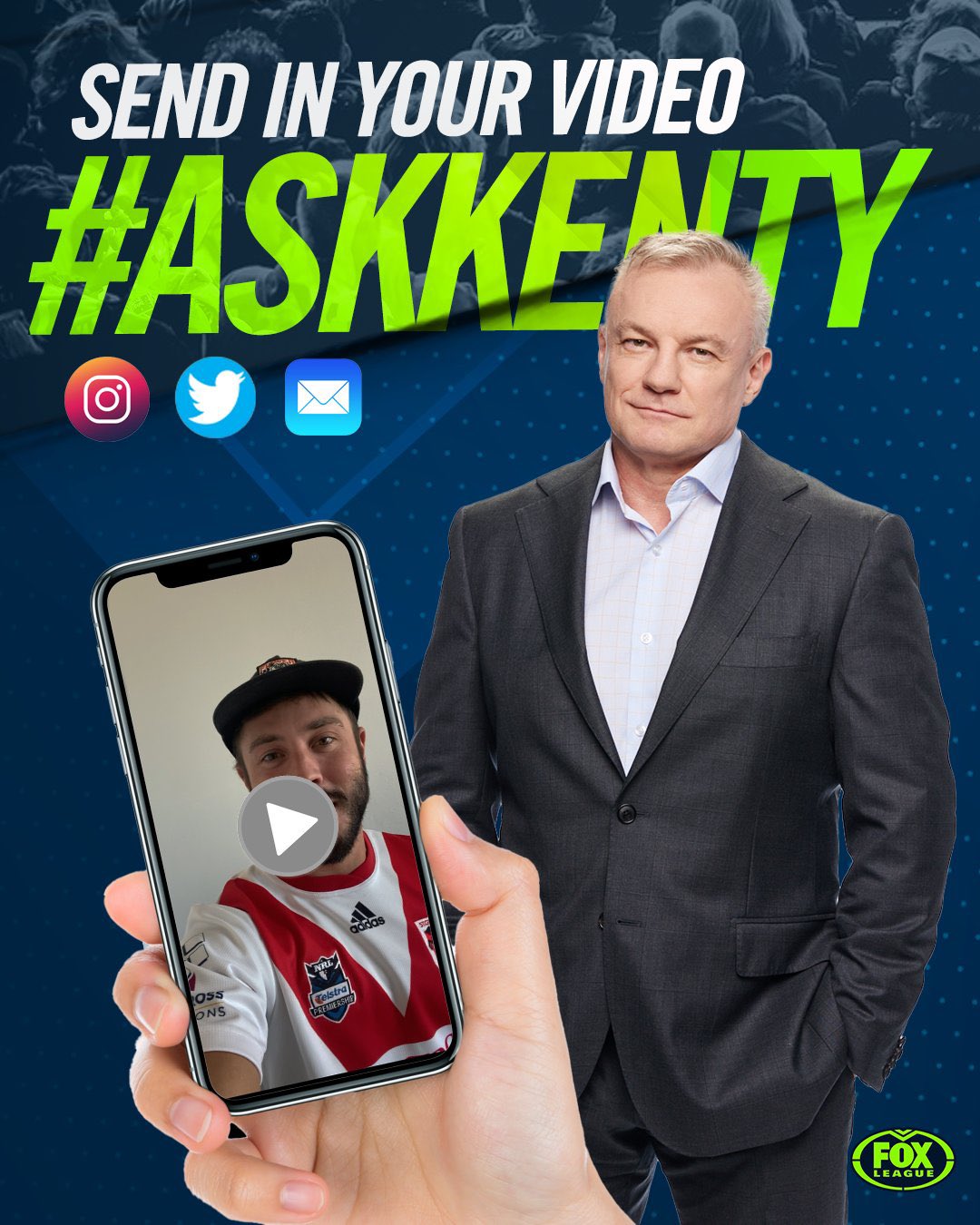 #ASKKENTY on Twitter
ScottyRLS2021 ()
@FOXNRL #AskKenty should we bring the Sydney Cricket ground back to state of Origin in next year 2022 Game two
PursuitOfHoppiness ()
Hey PK, are the sycophantic ravings over PVL by News Ltd reporters a thank you for the bargain they got on the broadcast deal? #DontBiteTheHandThatFeedsYou #AskKenty @FOXNRL
Legends of Sport ()
When does Trent come under the blowtorch? Surely it's about this time next year. #ASKKENTY
The Average Punter ()
@FOXNRL Yesterday you yelled that the NRL couldn't afford to wait even one more week to take action on head highs because of the risk of concussion. Where has this passionate stance been for the last 10 years? #ASKKENTY
Greg ()
@FOXNRL Yesterday Newton told the whole country mid-call that he's had to point out your badgering and habit of yelling over the top of people before, has anyone else happened to tell you the same thing in the past? #ASKKENTY
The Average Punter ()
@FOXNRL How many times did you pray to your Peter V'Landys shrine before work this morning? #ASKKENTY
FFBⓋ ()
@FOXNRL Why is James Hooper such an insufferable prick and why don't you have the backbone to tel him to pull his head in when he tried to belittle Lara by talking over her and implying what's she's saying isn't worthy of being said, even though it is? #AskKenty
The Average Punter ()
@FOXNRL Given that you've had over 24 hours to reflect, have you now realised you were weren't listening to a thing Newton said yesterday? #ASKKENTY
The Average Punter ()
@FOXNRL Have you ever had a conversation with someone who had a different standpoint to you without constantly yelling over the top of them? #ASKKENTY
The Average Punter ()
@FOXNRL Did Hoops have to console you after Newton made you look like an idiot on national radio? #ASKKENTY
Uncle Reckless ()
@FOXNRL #askkenty Hey Kenty, is it true that DWZ will move on this season from the Dogs to the Tigers? If so is there a player swap on the cards?
Bears Head ()
@FOXNRL #askkenty How long will it be before low tackles are banned. If it's all about getting concussions out of the game, I can only presume that low tackles need to be outlawed as well seeing as the majority of head knocks are from hips and knees. Farewell rugby league
DrKennethNoisewater ()
@FOXNRL Why isn't Toowoomba being seriously considered as the next QLD NRL franchise? 2nd biggest inland city, airport, hotels with vibrant CBD, corporate opportunities with Wagner's,Berghofer etc, plus a strong rugby league appealing than creating a 2nd Bris team #ASKKENTY
Joblow ()
@FOXNRL Hey #ASKKENTY can you and Hooper@shut the FK up and let Lara talk pls 🤷🏻‍♂️
Journalistagendas ()
@FOXNRL #ASKKENTY How much of a discount did Foxtel & 9 get on the latest broadcast deal? Any journalist worth his salt would have been all over this, and would not have accepted the "Commercial in Confidence" BS. You and Hooper are too entrenched in Vlandys pocket to do real journalism
Dr G ()
@FOXNRL Who do you think is a bigger c***, you or Hooper? Has PvL expressed any preference as to who gobble gobbles better? #ASKKENTY
Gabster ()
@FOXNRL Hey #askKenty, Does NSW have an equivalent location with a stadium like that one, outside its capital city? Don't bother answering! Can this advantage to QLD ever be reciprocated? Tamworth's Scully Park?
Ty Jones ()
@FOXNRL #askkenty Graham Annesley has come out today and said we will never find consistency when it comes to the punishments for high contact. but hasn't PVL been saying give it some and we will find consistency
Deep Longstop 🐶🏏 🍻 ()
@FOXNRL #ASKKENTY what is the point of going out when we're just going to wind up back home anyway?
TheToeOfficial ()
@FOXNRL #ASKKENTY Hey Kenty. With the depth in the NSW ranks at the moment, would there be merit in bringing back City V Country as a genuine Origin try-out?

YourSimplyTheBest ()
@FOXNRL #askkenty ledge me and me mates done a power rankings on hoops fav cliches would you change any of the below? tough from thousand ks away answer is a pineapple 3. sharp as a roundabout 4. how many times you put them jeans in the dryer honchos
Elliott ()
@FOXNRL #askkenty Will this segment still be around in a year when your mate V'Landys draws fans away from subscribing to Foxtel?
Fox League ()
Get your videos in for #ASKKENTY tonight using the hashtag or send them via email to nrl360@ 🎥📲
Paul ()
Should the NRL introduce an appeals board similar to the AFL Appeals Board? #askkenty
JM ()
@BigSportsBrekky @BuzzRothfield Ponga is underdone, and NSW will point their attack toward him for 80 mins which puts a lot of pressure on QLD. Personally think QLD have to think a little left field on this, as they have done in the past Jason Smith. Could Grant do the job? Thoughts, PK? #AskKenty #SOO
Nichole Parkinson ()
#ASKKENTY in any large corporate business, professionals are requested to change their style, approach every week. The ask of Professional sportspersons should be no different - it is a commercial business
Evil ()
#AskKenty Hey Paul clarify for all supercoach players whether or not Crichton misses rnd12 & origin and back rnd14 or misses 12 & 14?

Punter1177 ()
#AskKenty .So you going to tell boxers not to punch to the head? Players don't want suits to protect them. The players know what they signed up for. The players were not the ones whinging about head highs!
Nachopants ()
Amazing to address it so quickly, credit where credit is due @FOXNRL #NRL360 #AskKenty
Deez ()
@FOXNRL #AskKenty would Shaun Johnson work at Canberra since he seems on the outer at the sharks?