#AustralianMade Twitter Trend : The Most Popular Tweets | Australia
The Aussie Made logo is NOT being replaced. It proudly remains our trusted symbol around the world for products made in Australia. In fact, the Morrison Government has committed $5 million over the next four years to expand its reach overseas. @AustralianMade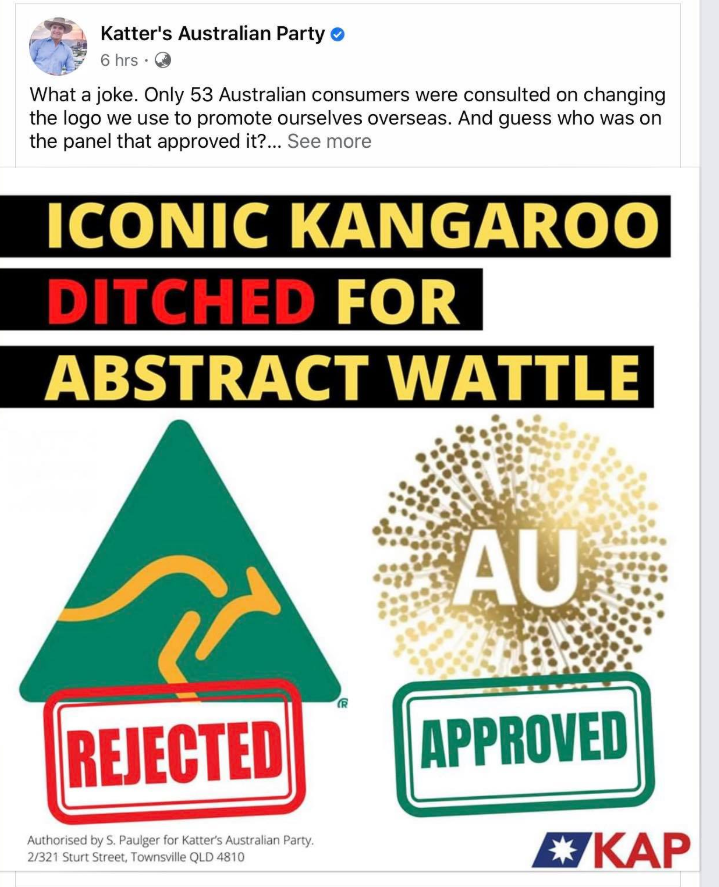 #AustralianMade on Twitter
Speedthrills ()
Why didnt you have aboriginal artists compete for design. Way better than paying some ad agency to use photoshop on a pic of flower. No doubt agency off loaded to a Fiverr gig for $50 and billed you 10 mil
Jack. ()
@AustralianMade Next time you want to try and update the logo head to a website called fiverr, will save you a fair bit of money to change it to a firework with AU on it.
Kirkosaurus ()
The old logo is dated and overseas markets see Australia's goods as 'premium'. The gold reinforces this. It's unfortunate that it looks like a certain virus, but I actually see the wattle flower in the macro and micro of the logo. I kinda like #auspol #AustralianMade
Mat Tyler 🇦🇺 ()
@newscomauHQ Logo replacement backflip, read here 👇
Mat Tyler 🇦🇺 ()
@GideonCRozner I didn't mind it too. But old design to stay due to backflip
Kurt Sanders🌴🍺 ()
And now introducing MULTIPLE BRANDS FOR THE SAME THING This will definitely turn out Ok
Brown Dirt Cowboy 🤠 ()
@smh It looks like the cable connecting my dodgy NBN. Old & pitted dressed up as new technology. Australia really is a succession never ending of fuckups these days. #AustralianMade crap. #auspol
Robin Vandenberg ()
There is often talks of Royal Commissions, I would like to see one into who authorised the spending $10m for this garbage. #auspol #AustralianMade
💧 S M Spencer ()
@AustralianMade Fabulous. That other "thing" is an ugly, meaningless, cheap looking amateurish attempt at a Christmas tree decoration, gone wrong.
Bev ()
Excellent news!! 👏🏻👏🏻👏🏻👏🏻 #BuyAustralian #AustralianMade
Pippas Live ()
I am you are we are ...... what the f$&k is this? Yeh Nah, this is Un-Australian! @AustralianMade
Lisette Mill Landcare Facilitator at Basalt to Bay ()
@FionaLakeAus @AustralianMade Its like an episode from Eutopia. Only real. And how chuffed must be all the people that lined their pockets with this. What was wrong with the kangaroo?
Nicholas ()
@adamliaw It's not being changed though. Maybe that was just a what if? design.
Craig Norenbergs ()
Can someone who (seriously) explain to me why a logo cost TEN MILLION DOLLARS? Who got most of the money? #AustralianMade
Bob Dambergs ()
@karenandrewsmp @AustralianMade Why that press release about the silly Covid virus, frillneck lizard AU logo. Who's money was wasted on that?
Robert Murray Orr ن ()
@AustralianMade We want the kangaroo 🦘 logo here in Australia, it's beautiful and Aussie. This other golden logo looks like a corona virus 🦠!
Fiona Lake ()
Son sent this: Oh look the government spent taxpayers money redesigning the Australian Made logo only to look like golden corona virus under a microscope Hey only 1 country on the planet has lets not keep using that as the @AustralianMade #YesMinister
Marcus Foo ()
@GideonCRozner How dare you. I love you mate, but the Kangaroo one is always the best one. Skippy>Golden Wattle The only place there should be the latter is in the Order of Australia media designs. #AustralianMade #AustralianMadeLogo.

Jake ()
@AustralianMade Corona Virus is made in China not made in Australia Why have China virus as our logo? Simon Birmingham you have got it wrong. Imagine Nike losing the Swoosh Maccas losing the Golden Arches Mercedes losing the 3 pointed star Australia losing the Kangaroo is unforgivable
Susie 🌹 ()
@karenandrewsmp @AustralianMade 10 million to come up with this rubbish !! Imagine if that money was used to actually help those in need !
David Inderias ()
The @clemengerBBDO designed logo on the right looks like coronavirus; who let this fly? @AustralianMade green and gold kangaroo all the way.
Vic Bari ()
@AustralianMade How much did the crappy other logo cost. I say cost, because it cannot be considered an asset or an investment. Anyone with basic branding skills could have saved you from putting down any cash for that rubbish - and tell me who the agency was so I can avoid them too. Thank you.
Ermagherd Twitteh ()
@AustralianMade Meanwhile, @ScottMorrisonMP is spending $270B on purchasing foreign military assets including from the USA despite our last purchase from them bursting into flames when it was faulty and Australian Taxpayers had to foot the $125M bill.
Bill ()
Let the record show it was a sensationalist article from a Murdoch propaganda outlet which made everyone scream about this and it too #OurABC to tell the truth.
Leif ()
@AustralianMade Stick with the kangaroo. It is simple, it is unmistakably uniquely Australian.
David Savage ()
Rest easy folks the Kangaroo is. Not hopping off anywhere soon
Claudia ()
only during a recession can a conservative government spend $270 billion more on military/defence and hide it away behind a stupid news story about the changing of a goddamn logo #AustralianMade
Ben 😎 ()
@Terrytoo69 Terry. The roo is staying (commonsense) according to news tonight, alternate, new logo cud be used at Trade shows ect (yibbada yibbada bs)
Nadine Chapman ()
Oh wattle, I had no idea. Seemed like some confetti or champagne cork popping thing #AustralianMade
Karen Andrews MP ()
The Aussie Made logo is NOT being replaced. It proudly remains our trusted symbol around the world for products made in Australia. In fact, the Morrison Government has committed $5 million over the next four years to expand its reach overseas. @AustralianMade