#clapforourcarers Twitter Trend : The Most Popular Tweets | Australia
Hearing an entire city clap for the NHS from my window was really something quite special 👏 #clapforourcarers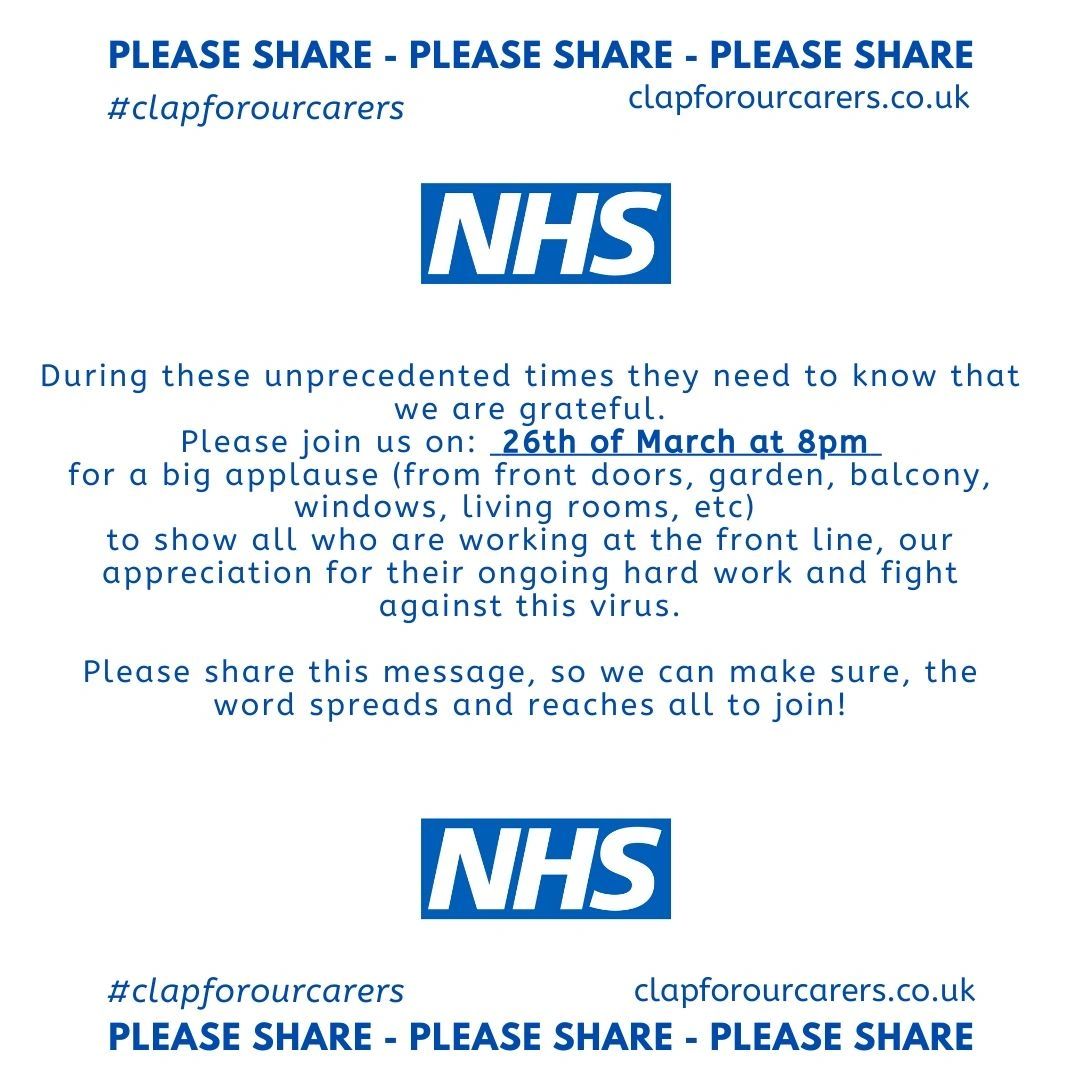 #clapforourcarers on Twitter
Virgin Radio UK ()
Applauding the paramedic as she sets off for her next night shift 👏🏻👏🏽👏🏿 #ClapForOurCarers ❤️
Mr Brassington ☀️ ()
Even in the brokenness, there's still beautiful moments. What beauty have you seen, heard or experienced over the last week or so? It may be the birdsong, the #clapforourcarers or the sun's rays. Why not draw a picture today or drop a tweet below? #CollectiveWorshipAtHome
🌟 Joanna Montgomery 🌟 ()
My friend is a nurse at this hospital and this happened tonight. I challenge you to watch it without letting out at least a small sob #clapforourcarers #clapforNHS
Anagha ()
Lovely film poem put together to thank the NHS. Lovely work under lockdown, ladies @NorthernHeartF #StayAtHomeAndStaySafe #clapforourcarers
มะงึกบ่าวแม่พุดซ้อนหลวงอินทร์ ™ ()
คืนนี้ น. มาปรบมือให้ดังสนันเลยนะคะเพิื่อเป็นกำลังใจให้กับบุคลากรทางการแพทย์ ถึงมันจะไม่ได้ช่วยอะไรมาก แต่มันก็เป็นพลังใจได้นะคะ 😊👏🏻 #เสียงปรบมือคือกําลังใจ #clapforourcarers
Sonatee NhOR ()
ให้กำลังใจคุณหมอและบุคลากรทางการแพทย์กันค่ะ คืนนี้ตอน 2 ทุ่มนะคะ 😊👏 #เสียงปรบมือคือกำลังใจ #clapforourcarers
C ()
จังหวะ 3 ช่า ต้องมี 👏👏👏👏👏 #เสียงปรบมือคือกำลังใจ #clapforourcarers
Gina Yashere ()
We should most definitely #clapforourcarers, but we should also #stopthewhitewash
CBS This Morning ()
SOUND ON: People in the Long Island City neighborhood of New York City took to their balconies to clap and cheer for health care workers ending their hospital shifts. #clapforourcarers #coronavirus

Mercy Corps ()
*sound on* Last night people in the UK held a standing ovation from their windows and balconies to recognize the healthcare workers who are working hard responding to the #coronavirus outbreak. #clapforourcarers
The National Lottery ()
We clapped for all the carers in our hospitals, in our nursing homes and in our communities. Again, we'd like to say a massive thank you! #ClapForOurCarers ❤️️👏
Royal College of Occupational Therapists ()
Our Chief Executive @JuliaScottRCOT was on @Channel4 tonight clapping our huge thank you to the NHS and frontline workers, including many of our members, in the fight against #COVID19. #ClapForOurCarers. You can catch it again on CH4+1 at 20:53 GMT
Sarah Peachey ()
This was such a beautiful moment, we were so happy to be able to take part, and hearing the cheers outside was so heartwarming. Thank you all you superstars on the frontlines!! Every one of you is a hero and we love you ❤️ #clapforourcarers #nhsapplause
Laura King لورا كنج ()
I was too slow to get a video, but we just had the #clapforourcarers here in Dubai. Really nice atmosphere, with everyone out on balconies etc.
ZEE Odisha ()
ବର୍ତ୍ତମାନ ସୋସିଆଲ ମିଡିଆରେ ଭାଇରାଲ ହେଉଛି ବ୍ରିଟେନ ପିଏମ ବୋରିସ ଜନସନଙ୍କ ତାଳି ମାରିବା ସମୟର ଭିଡିଓ । ସେ ମଧ୍ୟ ଜନତାଙ୍କ କାର୍ଯ୍ୟରେ ଲାଗିଥିବା ନର୍ସ, ସେନା ଓ ଅନ୍ୟ କର୍ମକର୍ତ୍ତାଙ୍କ ଉଦ୍ଦେଶ୍ୟରେ ତାଳି ମାରିଥିବାର ଜଣାପଡ଼ିଛି । #ClapForOurCarers #ClapForNHS ଏହି ହ୍ୟାଚ୍ ଟ୍ୟାଗ ବ୍ୟବହାର କରି ସେ ପୋଷ୍ଟ କରିଛନ୍ତି ଭିଡିଓ ।
Star Academies ()
As the nation paused to #clapforourcarers last night, Dr Andy Knox from @UHMBT has a message of thanks for the wonderful teachers and school staff who are caring for the children of critical workers while they work.
Samia Longchambon ()
Last night we all joined in to #clapforourcarers and wow, it was emotional. Our #nhs workers really are superheroes, as are ALL the other key workers who are helping to keep us all safe, comfortable and fed at this…
ET Canada ()
The Beckhams join in and applaud #coronavirus health workers in #ClapForOurCarers video
Mryap ()
PPE shipment to Ireland are due next Tuesday. I was being forwarded this - DIY visor from South Korea. Was told by a nurse this is a viable solution. Let do this together from our own home. #clapforourcarers #COVID19ireland
96.4 FM The Wave ()
We loved your #clapforourcarers last night! Here's some good ones! Did you film yours? Leigh&Claire 👏👏👏
This Morning ()
Last night we all put our hands together to thank the key workers battling the coronavirus pandemic - and our applause continues today 👏 #clapforNHS #clapforourcarers
Andy wyman ()
@Ioan_Dyer ... could hear it travel through our village almost like Mexican Wave #clapforourcarers THANK YOU
Popcorn Hub Official ()
A proud moment shared by the country uniting to #clapforourcarers and #clapforNHS! Everyone from @BorisJohnson, Celebrities and the general public joined in to applaud during these tough times 👏 Now there is discussion to make this an annual event. Even @laurenlaverne agrees!
Sian Elvin ()
Hearing an entire city clap for the NHS from my window was really something quite special 👏 #clapforourcarers
Floorbrite ()
Join us! Thousands across the country will be joining in for a big applause (from front doors, gardens, balconies, windows and living rooms) to show our front line workers, our appreciation for their ongoing hard work and fight against this virus. #clapforourcarers #nhs
Waitrose & Partners ()
Tonight at 8pm, we're celebrating our NHS heroes and showing our appreciation. #ClapForOurCarers
RMCH Charity ()
Tonight at 8pm, we will be joining the nation to #clapforourcarers, saying thank you to our dedicated NHS staff. Please share and join in at 8pm 👏👏👏 #ThankyouTeamMFT
MediCinema ()
TONIGHT, please join us and the nation to #ClapForOurCarers at 8pm GMT. We cannot say thank you enough to all our friends and colleagues in the #NHS at this moment in time. 👏👏👏👏👏👏
Paddington ()
I don't think paws were meant for clapping, so I'm going to spend some time today practicing to try and make my clap a little louder. #ClapForOurCarers
NHS London ()
Please join us tomorrow at 8pm for a nationwide applause to show all nurses, doctors, GPs and carers our appreciation for their hard work in the fight against #coronavirus. 👏👏 #ClapForOurCarers