#ENGvAUS Twitter Trend : Most Popular Tweets | Australia
AUSTRALIA WIN! Australia take the game by three wickets and the series 2-1! #ENGvAUS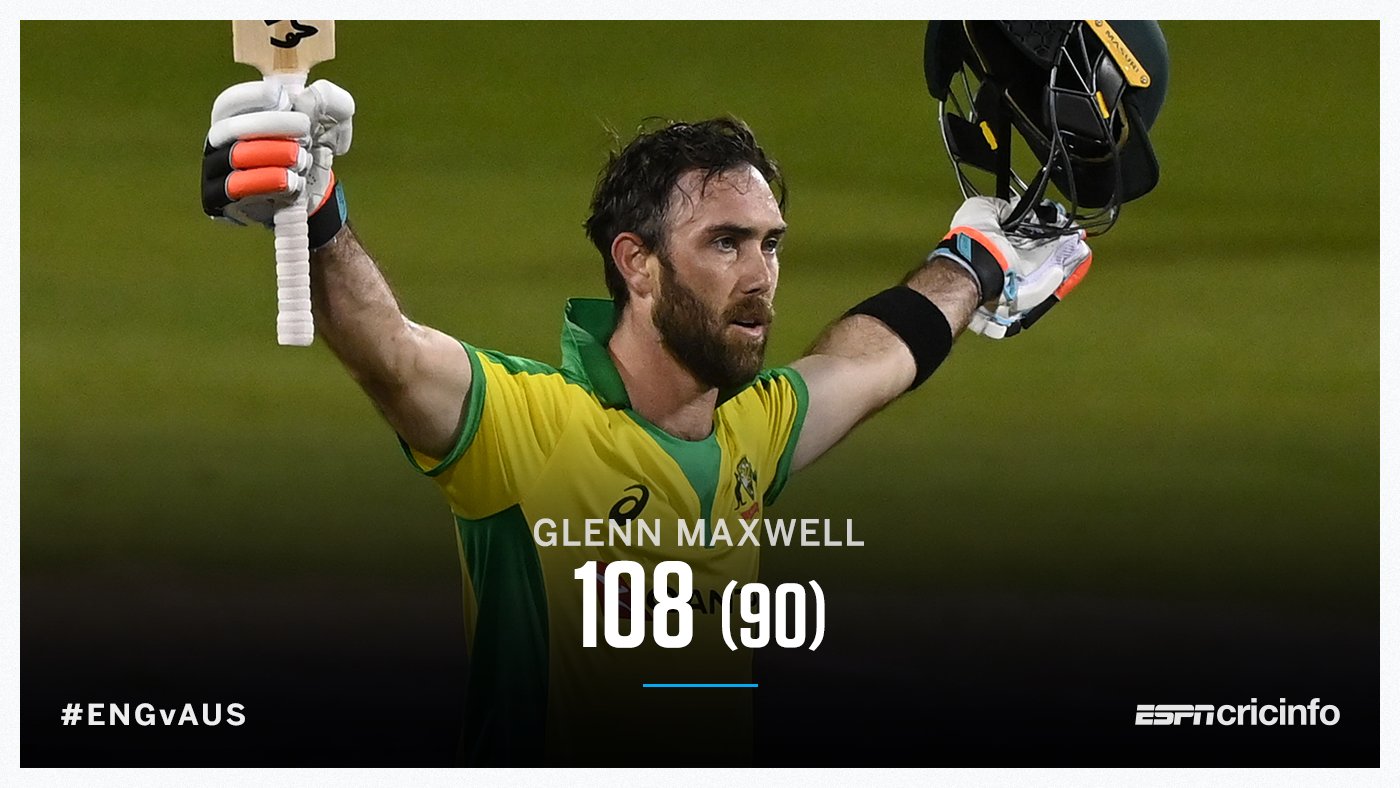 #ENGvAUS on Twitter
Sport360° ()
He might not be the most consistent at times, but Glenn Maxwell is a special player 🔥 #ENGvAUS #IPL2020
CricketTimes.com ()
Woakes left fans and commentator guessing with his audacious shot #ENGvAUS #cricket
#IPL2020 IPL 2020 #IPL2020 #IPL2020 #IPL2020 #IPL ()
Alex Carey becomes the 46th Australian to score 1,000+ runs in Men's One-Day Internationals #ENGvAUS
ICC ()
Jonny Bairstow in the #ENGvAUS ODI series: 🏏 196 runs 🅰️ average 💥 One hundred, one fifty He also stormed into the top 10 of the @MRFWorldwide ICC ODI Player Rankings for Batting. How impressed were you with his performance?
Cricingif ()
ICYMI: Jonny Bairstow became the fourth England batsman to hit 10 💯s in ODI cricket 👏 Only Quinton de Kock, Hashim Amla and Babar Azam have reached the milestone in fewer innings than him 🙌 #CricketForAll | #ENGvAUS 🏴󠁧󠁢󠁥󠁮󠁧󠁿🇦🇺🏏
Kalinga TV ()
Glenn Maxwell, Alex Carey star as Australia beat England in ODI series #ENGvAUS
𝘈𝘣𝘥𝘶𝘭𝘭𝘢𝘩 ()
Saw the highlights of #ENGvAUS Australia from 73-5 to 285-6 I think we have a new member in the list of the unpredictables. AMAZING!!
Maalai Malar News ()
அலேக்ஸ் கேரி, மேக்ஸ்வெல் சதத்தால் இங்கிலாந்துக்கு எதிரான ஒருநாள் தொடரை கைப்பற்றியது ஆஸ்திரேலியா #ENGvAUS
Doordarshan Sports ()
Latest #ICC ODI player rankings for bowlers after the #ENGvAUS ODI series!
Shahzad Tirmizi Syed ()
Glenn Maxwell became the 6th Australian and overall 37th player to hit 100 sixes in the ODIs. @Gmaxi_32 completed 100 sixes in 103 innings, the 2nd quickest to reach the milestone. @KieronPollard55 completed century of ODI 6s in his 86th inns. #ENGvAUS #CricketStats
Circle of Cricket ()
Couple of bizarre DRS-related incidents took place during the 3rd ODI on Wednesday. #ENGvAUS
PCA ()
Congratulations to Adil Rashid who passed a notable career milestone last night! 👏 ☝️ Adil claimed his 300th career List A wicket when he removed Glenn Maxwell. 🧢 224 appearances 🖐️ Three five-fers 📊 economy #ENGvAUS
ICC ()
Adam Zampa in the #ENGvAUS ODI series: ☝️ 10 wickets 🅰️ average ❇️ economy Highest wicket-taker in the series 👏
Shahood hussain ()
A special partnership between these two tonight. Australia take home the 🏆 with a 2-1 series win! 🇦🇺 #ENGvAUS
Srikar Chagarlamudi ()
3 batsmen in the middle perfect home track made bullies 😂😂😂 they prepared perfect batting pitches for the sake of WC 🤦🏻‍♂️🤦🏻‍♂️🤦🏻‍♂️🤦🏻‍♂️ #ENGvAUS #IPL2020
Rinda 🍁 ()
Small boundary, tailenders batting, 10 required of the last over, your premium fast bowlers have overs left and you bring on a spinner to bowl - who was having a relatively bad day in office. Why Morgan? @ECB_cricket #ENGvAUS
Radio Pakistan ()
In third and final ODI, Australia beat England by 3 wickets in Manchester last night winning series 2-1 @ICC #ENGvAUS
Sameen Baidhya ()
The class of English and Australian cricket players is priceless. A different feeling of energy when we watch them. #ENGvAUS
Sarmad MALIK🇵🇰 ()
Maxwellbabd Carey was awesome last night WHAT a Game of cricket it was 👌🏻👏 #ENGvAUS
ARKADIP PAL ~ অর্কদীপ পাল ()
But why Adil Rashid in the last over? Although there was Tom & Wood in hand. For a tail ender, it is always hard to pick a fast bowler rather than a spinner. #ENGvAUS
Cricket.com.au ()
Under intense pressure, Alex Carey struck just the second ODI ton by an Australian wicketkeeper in a decade #ENGvAUS
Akram Ak ()
Glenn Maxwell And Alex Carey Twin Tone 's! 💯💯🔥 What A comeback! @CricketAus 2-1 ! Won Series! 🏆 #ENGvAUS
Raj Singh ()
What a knock by super special Glenn Maxwell and Alex Carey. An innings to remember lifetime 💪💪#ENGvAUS
Anshul G ()
...And the one match you miss turns out to be the talk of the town. #ENGvAUS Regret level 999999999
Md Sajid Alam ()
टुटा हुआ विश्वास और छूटा हुआ बचपन , जिंदगी में दुबारा कभी नहीं मिलता नफरतों में क्या रखा हैं , मोहब्बत से जीना सीखो । क्योकि ये दुनियाँ न तो हमारा घर हैं , और न ही आप का ठिकाना । याद रहे ! दूसरा मौका सिर्फ कहानियाँ देती हैं , जिन्दगी नहीं #ENGvAUS #sajid858
The Cricketer ()
🇦🇺 Australia clinched victory in a thrilling series decider at Emirates Old Trafford 👇 #ENGvAUS
$UB ASH☠ ()
Congratulations @Gmaxi_32 And team Aussie for this phenomenonal Victory!!!!!! #ENGvAUS
Cricket.com.au ()
AUSTRALIA WIN! Australia take the game by three wickets and the series 2-1! #ENGvAUS
England Cricket ()
What a ball Root!! 💫 Golden Arm 🤩 Scorecard/Clips: #ENGvAUS
England Cricket ()
Genius from Woaksey 👀 We set Australia 303 to win. Live clips: #ENGvAUS