#JobKeeper Twitter Trend : The Most Popular Tweets | Australia
JobKeeper - PM announces $130B, actually spends $70B Drought Fund - PM announces $7B, actually spends $2B Bushfire Fund - PM announces $2B, actually spends $250M Budget - PM announces "back in the black", except it wasn't. Anyone see a pattern? #marketingman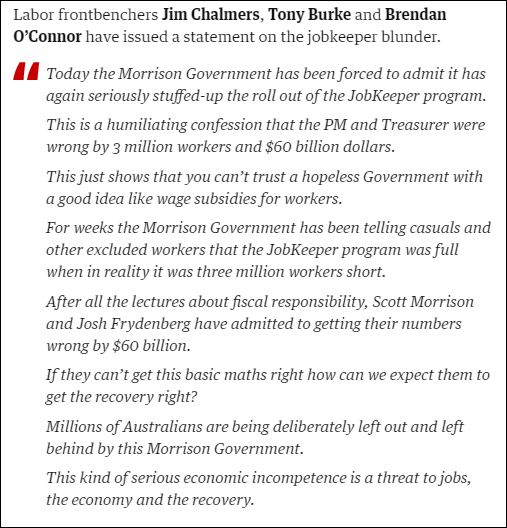 #JobKeeper on Twitter
Ingrid M ()
I have a question for the prime minister. When jobkeeper payments finally started flowing this month, did the full backdated lump sum go out in that first pay period? Was $15 billion for million workers at 3fn x $1500 paid to business in one hit? And did he panic?
Michael Harris ()
Now JobSeeker Now JobKeeper Now JobMaker Now JobTaker On JobDasher On JobDancer On JobPrancer and
Samantha Maiden ()
Scott Morrison's plan to get economy "off the medication" of JobKeeper and out of ICU: Aussies warned to brace for five years of pain
💧🌏🏳️‍🌈Jenny Frecklington-Jones; #HowDareYou🖕 ()
Some whinypants say the $60bn JobKeeper bungle is truly the biggest bungle in the history of bungles | First Dog on the Moon
Mark Jacka ()
The LNP are very good at announcing things & not very good at delivering them. Huge funding announcements for NDIS, Drought, Bushfires & JobKeeper but very little actually delivered. #auspol
Katy Gallagher ()
We look forward to giving the Treasurer the opportunity to appear and explain the $60b JobKeeper error. Any day. Any time.
Kon Karapanagiotidis ()
The Morrison Government has no plan for refugees during this pandemic. They've left families to perish with no right to JobSeeker or JobKeeper. But the @ASRC1 has a plan. We will be here. Today. Tomorrow. Everyday for refugees with your help #Donate now:

Ben Eltham ()
Good analysis from Paddy Manning today: the $60b JobKeeper bungle is confirmation for those millions of Australians who were excluded from the JobKeeper program that the Morrison government really does hate you
Adam Bandt ()
When Parl resumes in June, #Greens will introduce legislation to: ✅ extend JobKeeper eligibility to all who need it, like casuals, and ✅ pay coronavirus supplement to people on DSP & carers. Gov's already-allocated $60b should be used to ensure no-one's left behind.
Senator Murray Watt ()
I see the Govt keeps changing excuses for its $60B JobKeeper bungle. First it was because businesses got forms wrong. Then it was an accounting error. Now it's because of a "health miracle". Like a school kid changing excuses for late homework. No credibility.
News Breakfast ()
[email protected]: Will you front this Senate committee inquiry to explain this [$60b JobKeeper mistake] in detail? @JoshFrydenberg: You know this is just a political stunt from the Labor Party.
David Griffiths ()
Economists urge government to spend $60 billion JobKeeper windfall | The New Daily
Financial Review ()
Treasury overestimated the take-up of JobKeeper because the medical advice upon which it was based on and the need for prolonged business shutdowns turned out to be massively pessimistic.

Ben Eltham ()
Private universities are being given special access to JobKeeper eligibility, while public universities remain specifically excluded
💧Queen Victoria ()
If you want your economic house built to high standard, you'll need Labor to build it. If you hire Liberals, you'll get dodgy brothers cutting corners and delivering a defected, scrap heap not worth the money you put into it. Slow clap @ScottMorrisonMP.
Ben Cubby ()
Morrison accepts responsibility for JobKeeper blunder via @smh
Senator Penny Wong ()
The biggest budget mess in Australian history – and Scott Morrison is in hiding, just like during the bushfires. He and Josh Frydenberg need to take responsibility. Will the JobKeeper blunder's architect, Josh Frydenberg, have the courage to face the scrutiny of a Senate hearing?

Robert Maxwell ()
'Just a disaster': Government under pressure to pay spare JobKeeper billions to those overlooked | The New Daily
Ingrid M ()
#WhatThePapersSay the murdoch papers are reporting some of the presumed jobkeeper budgeted $60 billion will go toward the tourism industry. Ninefax says there is division in the caucus on what or if to spend it. #Insiders
Lynlinking ()
JobKeeper cheats are a big worry Full-time workers lost no hours or pay are illegally claiming JobKeeper for a small part-time casual job they have on the side, reports of pensioners getting it because they work a few hours a week exp via @newscomauHQ
Malcolm Grant ()
@MikeCarlton01 Stop with this bullshit that he's 'done well' He's already calling for interstate travel to recommence, schools to reopen & Jobkeeper to be wound back The premiers are rightfully ignoring him and keeping us safe.
Ingrid M ()
btw speculation that the government could or should extend the jobkeeper payment is opinion. If the government extends the payment to previously excluded sectors, that would be news. If the money is paid.
Dee Madigan ()
Because of the Govt's $60B mistake, many people who missed out on Jobkeeper emptied out their superannuation order to survive. The cost of this, of the lost compound interest, will be almost incalculable and will cost the future budget billions and billions in terms of pensions
Senator Murray Watt ()
JobKeeper - PM announces $130B, actually spends $70B Drought Fund - PM announces $7B, actually spends $2B Bushfire Fund - PM announces $2B, actually spends $250M Budget - PM announces "back in the black", except it wasn't. Anyone see a pattern? #marketingman
Ju Avril, Wage Subsidy for All Now ()
#jobkeeper was forecast at $130bn and lauded by media 1) excluded millions of workers 2) took weeks to come through 3) is same amount for all 4) backpaid to businesses who had to get loans 4) should have gone to workers 4) didn't cost $130bn at all. Well done #joshiefromaccounts
Prue MacSween ()
Confected outrage of Leftie media & @AlboMP re the Jobkeeper $60b budget adjustment. "Embarrassing bungle" are the cries rather than acknowledgement of a business reporting error. Calls to spend the money underline how little @AustralianLabor understands this economic crisis
💧Stavros™= Σταύρος© is staying home for now. ()
Great thread that questions Govts excuse for $60billion stuff up in JobKeeper
Sally McManus ()
Just a reminder: This Government proposed laws that would shut down unions for paperwork errors as minor as being a day late. #JobKeeper paperwork mega bungle
Peter van Onselen ()
The JobKeeper program is now high farce. The govt said it had to draw a line somewhere & did that at $130b. Turns out to be $70b, but it won't consider saving jobs of casuals, domestic workers of foreign companies or university staff. Totally arbitrary playing with peoples lives.
Peter van Onselen ()
So the JobKeeper package isn't helping people it's helping , costing $70b not $130b. An embarrassing data inputting error. The question now we be glad it's costing the budget less OR is this a good reason to expand it to casuals and unis for example? 🤷‍♂️