Leigh Sales Twitter Trend : Most Popular Tweets | Australia
@YaThinkN If only Leigh Sales could be as forthright about our PM as she was with Sarah Huckabee Sanders: (1st question) Can Donald Trump tell the difference between the truth and a lie? #auspol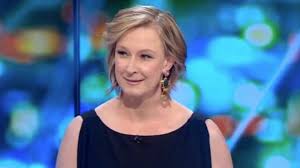 Leigh Sales on Twitter
MURRAY 🇺🇸🗽 ()
@leighsales Sarah Sanders is a disgrace & her career basically ended the day she signed up to the Trump Cult. Her "defense" of the Narcissistic Psychopath in the White House is embarrassing and shameful. Well done to Leigh Sales for calling out this shameless fraud!

Ewart Dave 🎺 ()
i hope leigh sales job on Huckabee will bring more votes for biden . that would be sweet
Dame Holly says #ThanksDan ()
So Leigh Sales is capable of interviewing people properly, she just chooses not to do it to people in power here.
Ruth is my hero ()
Q: How do journalists like Leigh Sales (here) & Jonathan Swan interview Trump (& his all stars') so flawlessly & fearlessly?? Answer: Simple, they're both Australian & have plenty of experience 'handling' terrifying monsters trying to kill you every second of every day!
StrayDog67 ()
America promoting Leigh Sales as a tough They really should google Emma Alberici✅ #Trump #auspol
Bernard Bolch ()
@Alzerz @Rosie Fair-dinkum Australian journos like Leigh Sales have crystal-clear bullsh!t filters, and take no prisoners. Remember Jonathan Swann in the Oval Office?
Federico Kukso ()
Tremenda entrevista y preguntas de la periodista australiana Leigh Sales.
Robin 🏡 NYC 💚🗽 ()
@gtconway3d Excellent interview by Leigh Sales. Outside the , Trump, his enablers & sycophants blatant lies, aggressive misinformation and regime narrative are transparent and are confronted, as they should be in a functioning democracy.
Volceltaire II ()
Leigh Sales is trending because she interviewed Sarah Huckabee Sanders and millions of average Americans were fucking blown away when she asked a follow up question. It's a foreign custom
Penny Treyvaud ()
@thekjohnston seems like our Aussie journos are not afraid to ask hard questions! leigh sales has been doing this for years, pity sarah's people did not do their homework before she agreed to be interviewed!
🚫 god free zone 🦘 ()
@SarahHuckabee Her christian faith is what makes her unsuitable for the role. She's a gullible simpleton. She's entitled to believe in whatever implausible rubbish she wants, but the moment she pushes that on others she breaches the constitution. Btw did you enjoy the Leigh Sales interview? 😂
Sir Peter the Bogan ()
Leigh Sales and now Pat Karvelas asking WA ministers about what they will do without a vaccine. See a pattern? #AfternoonBriefing
💧 Susan Smith ()
@YaThinkN If only Leigh Sales could be as forthright about our PM as she was with Sarah Huckabee Sanders: (1st question) Can Donald Trump tell the difference between the truth and a lie? #auspol
ElaineWziontek ()
@SarahHuckabee Tough interview with Australian journalist Leigh Sales. She asked how you square your Christianity with Trumo's lies and poor behaviour.

Janice Joplin ()
@sirisgonerogue Leigh Sales likes to do that, ask a question with answers she has thoughtfully provided to choose from. Cheap journalism but using good vocab to impress.
Francesca ()
This is ABC Leigh Sales - Tax funded by us, not reporting honestly or objectively! @gavmorris Why did you get rid of @albericie & keep people like Sales on OUR payroll?
Da_illiterate ()
@leighsales I thought Leigh Sales was tough only on Australian politicians. She went hard at Huckabee, justifiably & no one got hurt. It's fascinating how ppl compartmentalise their involvement. Like War criminals order massacres but go home 2 their families, like it was just a job.

Phillip Riley ()
@livo_sarah @abc730 In the same situation , different reality . Leigh Sales to Scott Morrison : Thank you for that outpouring of compassion , empathy and honesty .

SylviaD ()
Holocaust Leigh Sales Soros Daniel Andrews Scott Morrison Barnaby Joyce #auspol #COVID19

SylviaD ()
Holocaust Leigh Sales Soros Daniel Andrews Scott Morrison Barnaby Joyce #auspol #COVID19
MrSmith2018 ()
@mjrowland68 @leighsales I watched this interview, and the pathetic attempts by Leigh Sales to get an aggressive gotcha moment. Sarah was decent and civil #ABCLovesLefties
Keith Jackson AM ()
Just heard @ABC journalist Leigh Sales ask WA premier why he was punishing people by keeping borders closed in fight against Covid. The word should have been protecting. What is it about Oz journos to deny the gravity of the measures required to contain this dreadful disease
Jayzco ()
@leighsales I'm so sorry Leigh for the hate trolling by the Trump lovers. There is no way to have any reasonable interview with Trump lovers. I feel sorry that this was the interview that you were required to do tonight. Huckabee 'just read my book' wanted to up sales.
Prue Gressive ()
The thing that really struck me after the Leigh Sales interview with Mark McGowan, wasn't so much her lacklustre bias. It was more a feeling of pride in our Labor premiers. Looking after their people despite #ScottyTheBully and a biased MSM. #IStandWithOurLaborPremiers
Michelle Hood 💦🎀🎀 ()
@Leigh sales giving Trumps ex press secretary a grilling but never does this to @ScottMorrisonMP and his corrupt lot.
Jules M L ()
@iwideawakeagain Did u see Mark McGowan on 2nite?Leigh Sales was going for the ,he was tough & stood his was a real pitbull when questioning Sarah Huckabee-whatever about Trump lying to the American ppl over 20,000 was promoting her book
Cathy A ()
@sirisgonerogue I hope Mark McGowan explained clearly to Leigh Sales why the borders are closed. You would think a supposedly intelligent reporter would understand 'pandemic' and keeping us as safe as possible is the primary goal.
Rips ()
@sirisgonerogue Leigh Sales is a joke like most of the MSM in Australia, does anyone actually care what she has to say?
Emily ()
Well Leigh Sales was definitely out of her depth in that interview with Mark McGowan tonight. #abc730
Saffron ()
@BigA19711971 @leighsales Would love Leigh Sales to interview the Liberal Party this way.