#MasterChefAU Twitter Trend : The Most Popular Tweets | Australia
There should be a #MasterChefAU spinoff series where all the judges have to cook for Poh.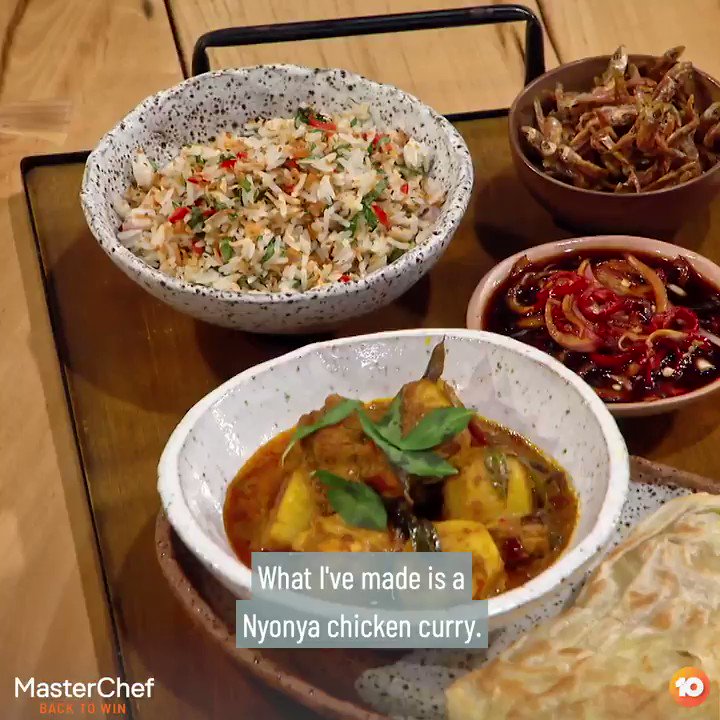 #MasterChefAU on Twitter
Colin Vickery ()
Ten's @masterchefau cruising nicely on 949,000 viewers five cap city last night. The Voice 703,000. Big Brother right on its tail with 695,000.
Masterchefau ()
The final Immunity of the season has been decided! Catch up on the latest Immunity challenge now on 10play #MasterChefAU 👇
Mads 🌈 ()
Is watching #MasterChefAU worth it if I have to keep seeing Bachelor in Paradise ads?
Great Sage ()
I think MasterChef seasons from now on should have @reece_hignell as a permanent fixture on the gantry, cheering everyone and bringing supportive and entertaining commentary. #MasterChefAU
Vik ()
What I've learned from the Bachelor in Paradise ads is that I won't be watching Bacheor in Paradise. #MasterChefAU
Joseph Luciano ()
Millsy: "Come on mi chiamo!" Reecey: "What does mi chiamo mean?" Millsy: "My name is." 🤣🤣🤣 Highlight of tonight's episode for sure!!!!! @reece_hignell @emeliajacksonMC #MasterChefAU
Fiza Zali ()
Reece directing his clap 😂 He is the final saving grace of this show, which is just as well given it's all coming to an end soon #MasterChefAU
Julia Zemiro ()
Reece looking for metaphors in The Snitch and Emelia Giving it the 'Mi chiamo' is just adorable #MasterChefAU ❤️
Masterchefau ()
Three amazing contestants - one spot in finals week ☝️ Who will get the final Immunity of the season? tonight on @Channel10AU #MasterChefAU
Mr doh ()
I can see why #MasterChefAU pushed POH along so much and why she was contracted, she did add a different level of interest and tension, the show is a bit flat without her.
Mommy downing gallons of booze in public ()
Which Coles do #MasterChefAU get their ingredients from cos I never seen any of this stuff at my local 🤔
Chloe ()
Yes Laura can cook, but personally she didn't hit the brief as well as the other contestants. Just because it's mushroom flavor it doesnt mean it evokes nature as much as the others I mean it's top 5 now, you have to be a little more inventive/imaginative. 🤷🏻‍♀️ #MasterChefAU
Jucjan 😷🦘🐨🌊🏄‍♀️ ()
I reckon someone should invent a show where Poh is featured just watching and critiquing Masterchef - I would watch the shit out of it #MasterChefAU
Jules LeFevre ()
Andy: You're a bit under the pump there aren't ya? Reynold: *no response* A: Reckon you'll be finished in time? R: *no response* A: Am I being a complete annoying fucking arsehole right now? R: *no response* #MasterChefAU
Bec Derrington ()
I have to say that as much as I love Callum, if he'd knocked over Reynold's shroom base, I would have raged. Just a little. #MasterChefAU
Brandon Black ()
Callum and Reynold are officially in violation of social distancing! 😂#MasterChefAU
Eeek ()
Is there a reason why Reynold can't liquid nitrogen that peen shaped poop? 💩#MasterChefAU
Shell 🌼💚 ()
I dunno what it but to me, Andy has become so annoying the last couple of weeks. #MasterChefAU
Caitlin ()
Callum is polite that if you punched him in the face, he would say "thank you, and here are some quick and fun ways that you might be able to improve your swing" We are not worthy #MasterChefAU
Callum Hann ()
My dish from last night's @masterchefau. Mushrooms, buckwheat noodles, mushroom and bonito broth, soy cured egg yolk, pancetta Furikake
Ryan Brink ()
I just caught up on #MasterChefAU. Poh truly is a national treasure and an absolute delight to watch. This season of @masterchefau has genuinely been a delight. 😌
The Cathy Wilcox ()
Just catching up on last night's #MasterChefAU . What a weirdly needlessly convoluted thing they had to cook! Potatoes cooked 45 ways into a vol au vent.
Masterchefau ()
Inspiration from nature and some amazing in-season ingredients now available @Coles. Would you look at that pantry! 🌱🍄🥬🍯 #MasterChefAU
Masterchefau ()
Aunty Poh has sadly left the #MasterChefAU kitchen 😢 Catch her full exit interview now on 10play 👉
Masterchefau ()
An elimination and another step closer to the Grand Final ✨ Watch the latest episode now 👉 #MasterChefAU
Adam Liaw ()
There should be a #MasterChefAU spinoff series where all the judges have to cook for Poh.
Julie Goodwin ()
I do not like this stressful show I do not want my friends to go. I do no like it Cal my pal I do not like it Reece the beast I do not like it Poh my bro I DO NOT LIKE THIS STRESSFUL SHOW! #MasterChefAU
Vikas Khanna ()
When I re-started my career in America 20 years ago. I was mostly introduced as "First Indian " Not many chefs were of my origin on those global platforms. But this moment 6 years ago on @masterchefau was surely a precious one "First Indian Guest Chef on MC Australia"
BlueDodoBird ()
@masterchefau @Coles Yesterday's news: NEW SWINE FLU WITH PANDEMIC POTENTIAL, oh and it's
Masterchefau ()
This is one dish that was made with an abundance of love 🧡 #MasterChefAU