#PrimarySTEMchat Twitter Trend : The Most Popular Tweets | Australia
@kjpips So many wonderful titles to brings facts to units and teach non fiction genre #PrimarySTEMchat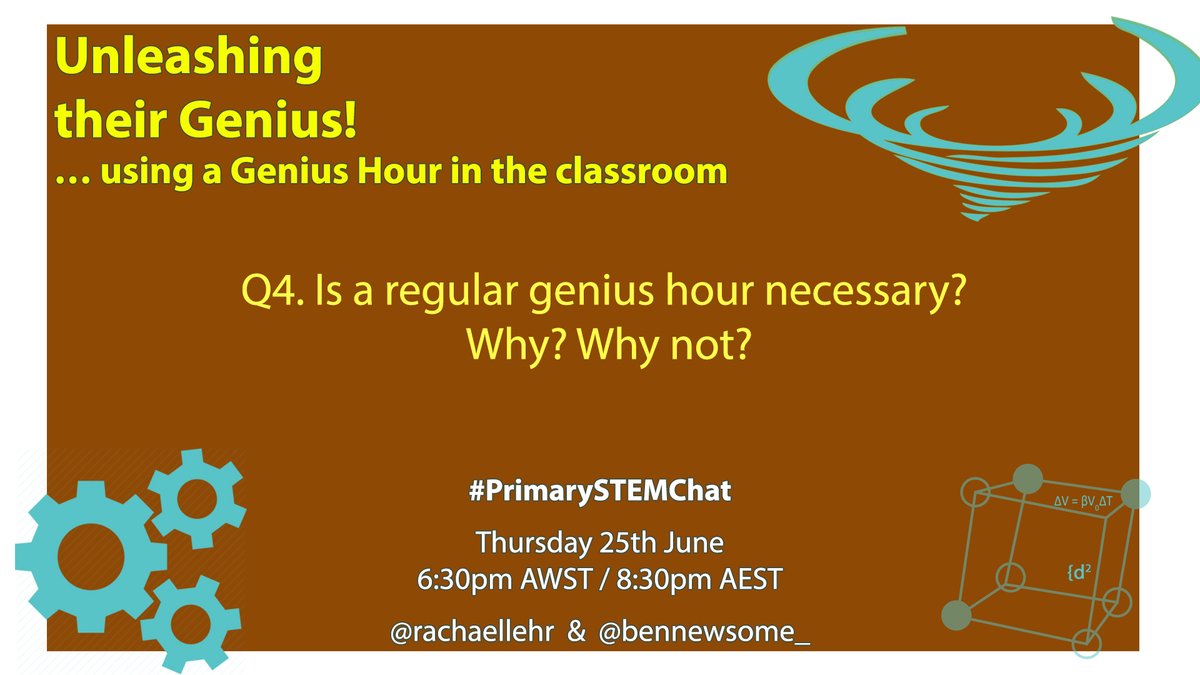 #PrimarySTEMchat on Twitter
Lisa Nielsen ()
@kjpips A1: #PrimarySTEMChat One picture book for STEM is The Most Magnificent Thing by @ashleyspires. I use it in an activity in which the students engage in productive struggle. They learn that struggle is where the magic happens and is actually necessary for meaningful learning.
Gracie ()
A1: Gracie is a primary read aloud that focuses on a young girl whose 🌍 changes when she learns to code. Students can recreate their own version of Gracie & GoBot's adventures with high or low tech coding options! #DiscoverGracie #PrimarySTEMChat
Raffeduteach ()
@kjpips #PrimarySTEMchat we could chat more about indigenous literature & STEM, topic for another time @rachaellehr, so many connections
Adam Brooks ()
Oh no! I had the time wrong. I will catch it one of these days. Dinner, bath, bed time is making it hard these days. #PrimarySTEMChat
Kristy Parkinson ()
@EmpowerDigiTech @SportandiAndres The learning is so much richer and deeper when it comes from the Ss #PrimarySTEMChat
DaNel Hogan ()
@kjpips @rachaellehr Thanks for hosting #PrimarySTEMchat! This was a great topic and I have only just scratched the surface of investigating the resources shared tonight. SO many ideas!
Raffeduteach ()
@rachaellehr @kjpips Whohoooo another brilliant #primarystemchat I kept awake yay, Now to go back and explore all the awesomeness shared 🎉🎉🎉
• A D A M K I N G • ()
A4 I'm in holiday mode and completely forgot #PrimarySTEMchat was on. I've been on 2 weeks leave and am back next week. I love kick starting units of work with books. My favourites are 'Not a Box' and 'The Most Magnificent Thing'.
Meridith Ebbs ()
@kjpips So many wonderful titles to brings facts to units and teach non fiction genre #PrimarySTEMchat
Andrea K ()
@BenNewsome_ A3. Preparing a student led inquiry question without too much guiding. Also the research side of things #PrimarySTEMChat
Talya Laufer ()
Q6: expectations yes, assessments no! Genius hour should be a time where students can learn that these ideas are not tied together. High standards for learning are important as is growth. Loving to learn for learnings best thing we can give them. #PrimarySTEMchat
Fiona Morrison ()
Thank you @BenNewsome_ @rachaellehr for another awesome #PrimarySTEMChat. A fantastic #PLN!
Dr Sarika Kewalramani ()
thanks for a great chat time! back to marking and other chores! thanks @rachaellehr @BenNewsome_ #primarystemchat
Rachael Lehr ()
@BenNewsome_ I am not sure Reflection/review by the students, but perhaps not a teacher #PrimarySTEMChat
Dr Sarika Kewalramani ()
your probably right. its just that teachers like to allocate or dedicate the genius hour time in their planning. Kids are curious all the time. not just an hour of the week :) #primarystemchat
Rachael Lehr ()
@TalyaLaufer This is such a great point. In my STEM Club at the moment, the girls have chosen whether they prefer to work alone or in pairs/groups. I was always the work alone type, so I hate pushing anything on Ss. #PrimarySTEMChat
Talya Laufer ()
A3: In Science we do "big topics" and then students design their own experimens based on interests. For example "Earth Day" or "The SDGs". We then run a fair showing our projects to the class or school. Best part: students authentically learn from their peers! #PrimarySTEMchat
Myles Webb ()
@BenNewsome_ A4 I think a regular opportunity promotes the values and improves the skills of the students so ideally yes #PrimarySTEMchat
Rachael Lehr ()
@michelledennis Great suggestions - I remember getting my Genius Hour students to choose how they shared their projects with the school/community - some chose Youtube, Assembly, class presentation etc. #PrimarySTEMChat
Ben Newsome ()
Q4. Is a regular genius hour necessary? Why? Why not? #PrimarySTEMChat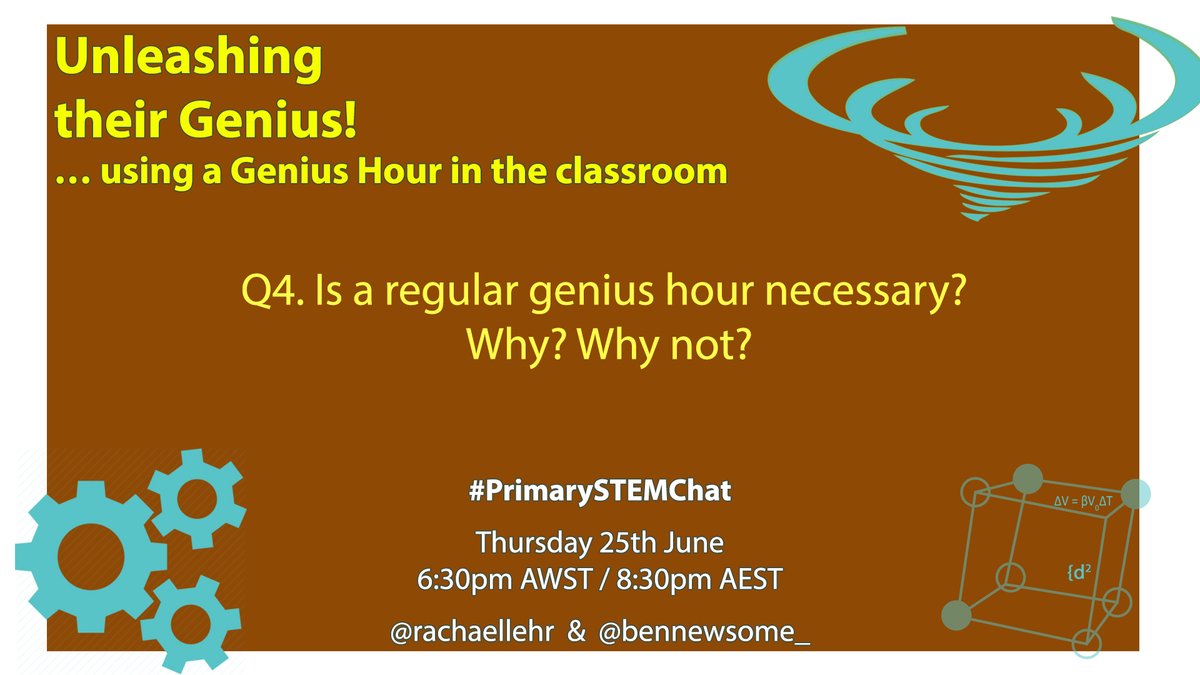 Andy Losik ()
@AshaRaoRMIT @SportandiAndres Definitely. Offering a menu of interests can help. Look at revenue from popular brands, music sales, tour revenue, theme park attendance. Lots of options. #PrimarySTEMChat
Ben Newsome ()
@yeates_mark It kind of like a safe space / time where Ss can break away from prescriptive teaching. A useful carrot perhaps for after other work? #primarystemchat
Melissa Gatt ()
Super excited to announce my new position at a new school as of next term. I'll be a Literacy and Numeracy coach as well as STEM learning and teaching coach! Woo hoo!! #PrimarySTEMChat #inquirymindset
Andy Losik ()
@BenNewsome_ 100%. Entrepreneurism is so STEM based. Understanding what people want or empathetic solutions to needs is the design process in a nutshell. #PrimarySTEMChat
Fiona Morrison ()
@SeedYouth Students choose a topic of interest and have time in the week to explore it. They choose an inquiry question (or two) to answer and then go and find the information; then they create soem form of documentation to present their findings. Students love it! #PrimarySTEMchat
MYDTECH ()
A3. So what are we afraid of? What is doing this all the time going to do? Is the sky going to fall? Are we going to prove that it works better than force feeding content! #PrimarySTEMChat
Ben Newsome ()
@mrlosik Love teaching about the practical realities around development. Combining STEM skills with entrepreneurial insights makes for a powerful combination #PrimarySTEMchat
Prof Asha Rao ()
@JesseChambers_ Works for adults too. That's how we structure our monthly sewing meets. Someone shows something and then we all have a play, and create. #PrimarySTEMchat
Fiona Morrison ()
A3. 'Time' is a huge barrier for many teachers; if the curriculum is already crowded, where does it fit in? My answer would be integration. Allow students to choose their own topic and integrate the english outcomes into it rather than giving them a topic #PrimarySTEMchat
Paulrayner 🚲 ()
A3 Assuming that we want kids to explore un-Googleable problems, great questioning skills become a barrier, until kids are taught those skills. #PrimarySTEMChat