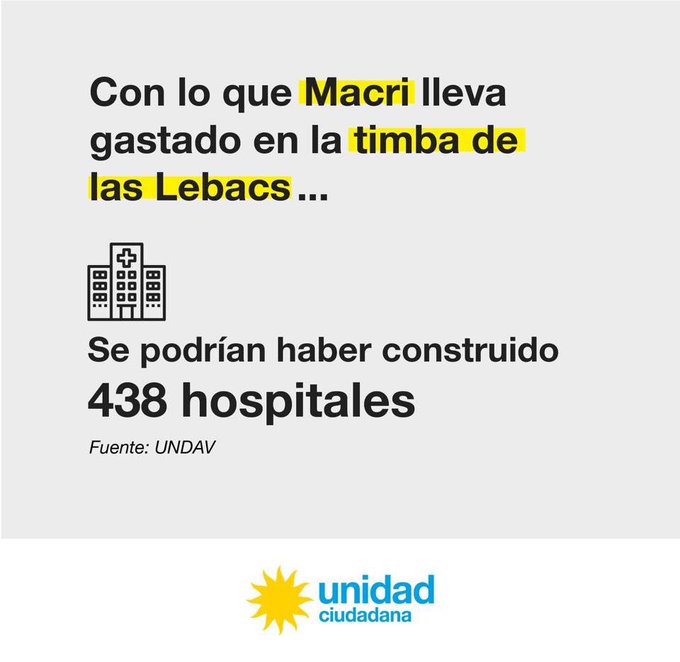 No matter how busy your day was, we can promise you, these top 10 tweets can brief about Argentina (16-May-2018) in a minute.
The best of Twitter Today In Argentina
1. Mayra Mendoza tweeted about Lebacs .


Hoy vencen #Lebacs por u$s30.000millones 💸 @mauriciomacri pagó $5.550 por segundo en intereses 😱
Qué se podría haber hecho para lxs Argentinxs?👇🏽
9513 escuelas
438 hospitales
146 centrales Atucha II
80 satélites Arsat
293 millones de AUH
57 millones de jubilaciones mínimas pic.twitter.com/yb05PPS9XV

— Mayra Mendoza 💚 (@mayrasmendoza) May 15, 2018
2. Andres Marocco tweeted about Delfín .


Que flojo nivel de los clubes colombianos en Libertadores y Sudamericana !!! @nacionaloficial el que sacaba la cabeza acaba de perder en Ecuador con Delfín. Consecuencias de un FPC bastante regular donde cualquiera le gana a cualquiera con muy baja inversión de los equipos.

— Andres Marocco (@andresmarocco) May 16, 2018
3. Miguel Ángel Pierri tweeted about Lavagna .


Recuerdo como recibieron el Pais Eduardo Duhalde y Néstor K: Y si se bañan en humildad y lo consultan al Dr Lavagna?

— Miguel Ángel Pierri (@miguepierri) May 14, 2018
4. Ricardo R Benedetti tweeted about Nico y Toto .


Se renovó el 95% de las LEBACS, dolar estable y a la baja. Dijeron Nico y Toto que colocamos 2 bonos en pesos a 5 y 8 años. Más firmes que nunca, el cambio es imparable pic.twitter.com/f9cETdagkI

— Ricardo R Benedetti (@RicBenedetti) May 15, 2018
5. Agustin Rossi tweeted about #AltaInflacion .


📺En @C5N con @Gatosylvestre analizamos la preocupante realidad económica que viven hoy los argentinos. #AltaInflacion pic.twitter.com/1YwnhyLy3y

— Agustín Rossi (@RossiAgustinOk) May 16, 2018
6. Luis Majul tweeted about Rosendo Fraga .


ESTA NOCHE 22h #4D x @A24COM.@PatoBullrich viene a defender al gobierno y a presentar una nueva denuncia.
En vivo.Cristiano Rattazzi, el empresario q estuvo con Macri hace horas, y el analista Rosendo Fraga.
Además.Una nueva denuncia contra la caja del Sindicato de Camioneros. pic.twitter.com/j1cLzCbrjx

— Luis Majul (@majulluis) May 15, 2018
7. Vero tweeted about carolina stanley .


No hay un sope y la Carolina Stanley sigue con la demagogia de urbanizar villas, premiando al ilegal, en la argentina la meritocracia paso de moda! Ser delincuente te va a ir mejor!

— Vero 💋 (@veroloren) May 16, 2018
8. Ricardo R Benedetti tweeted about #BuenMiercoles .


Un personaje simpático, máxime cuando le falla el pronóstico #BuenMiercoles pic.twitter.com/e8Ye0sMZrv

— Ricardo R Benedetti (@RicBenedetti) May 16, 2018
9. Ariel ™ 🇦🇷🇺🇸 tweeted about Unión Ferroviaria .


Tren Roca, ramal Cañuelas, interrumpido por piquete en Unión Ferroviaria. A ver si comenzamos a poner orden con estos vagos golpistas. BALA.

— Ariel ™ (@FalladoTW) May 16, 2018
10. jorge bermudez tweeted about #uelxespn .


Se viene la gran final de #UELxESPN . En vivo no se la pueden perder. pic.twitter.com/LKIDp7Kypb

— jorge bermudez (@patronbermudez) May 16, 2018