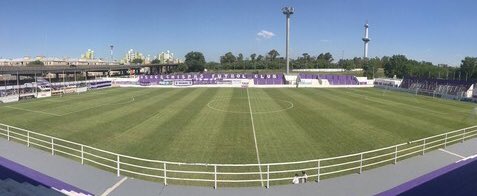 No matter how busy your day was, we can promise you, these top 10 tweets can brief about Argentina (23-May-2018) in a minute.
The best of Twitter Today In Argentina
1. Sacachispas tweeted about ducó .


Felicitamos al @CAHuracan por recibir a la Selección @Argentina este domingo en el Ducó. Desde @SacachispasOK invitamos a Messi y Cia. a jugar un fútbol-tenis al menos en nuestro estadio...de Ezeiza a Pque. Patricios, Soldati queda de paso pic.twitter.com/1d0gD89vEJ

— Sacachispas (@SacachispasOK) May 23, 2018
2. Marcelo Polino tweeted about Kiki .


#TodosConKiki Después de una larga espera Kiki ya está con sus papas. 😊🙏 pic.twitter.com/ld2Ony4vqU

— Marcelo Polino (@MarceloPolino) May 22, 2018
3. Mayra Mendoza tweeted about #AbortoLegalMiDerecho .


Todxs avisadxs!

El patriarcado se va a caer...
El feminismo va a vencer!! 💪🏽💚✌🏽#AbortoLegalMiDerecho #AbortoLegalEsSalud#AbortoLegalYa pic.twitter.com/utKjsT1Den

— Mayra Mendoza 💚 (@mayrasmendoza) May 20, 2018
4. Yas Nizetich tweeted about #VoleyEnTyCSports .


Vamos las panthers !!!!! 😍🇦🇷#VoleyEnTyCSports pic.twitter.com/PRPqhOnb7Q

— Yas Nizetich (@YasNizetich) May 22, 2018
5. Federico Bal tweeted about #intrusos .


Gracias @Intrusos por esta gran nota desde Tucumán, les agradezco por el espacio para difundir un lindo proyecto como @Rumboalmarfilm https://t.co/JxjTjpIb66

— Federico Bal (@balfederico) May 23, 2018
6. Federico Muiños tweeted about Enzo Pérez .


Tuve la suerte de cruzar unas palabras con Enzo Pérez. Este miércoles merece el apoyo de todo River! pic.twitter.com/0VWd9K8PPX

— Federico Muiños (@federubi_) May 23, 2018
7. JoseMontesano tweeted about #VoleyEnTyCSports .


#VoleyEnTyCSports #VNL Miércoles 8 AM @LasPanterasARG vs Brasil. Nueva presentación de la Selección Argentina en Ankara, Turquía. Estaremos por @TyCSports junto a @guillequaini y @jordangallichio

— JoseMontesano (@JoseMontesano) May 23, 2018
8. Diego Muraca ☧€∫ 🐍🕹 tweeted about #PES2019 .


#PES2019 Mas ESTADIOS!!! 🚂🚂🚂⚽️♥️ pic.twitter.com/QHFU4Bh8kT

— Diego Muraca ☧€∫ 🐍🕹 (@Snakeeater129) May 23, 2018
9. Nicolás Márquez tweeted about #novena .


"La igualdad de clases sociales es intrínsecamente injusta" (Márquez y Laje en la TV mexicana)https://t.co/FQkDL5fOFw#MarchaFederalEducativa #BuenMiercoles #FMIalCongreso #Intrusos#Novena

— Nicolás Márquez (@NickyMarquez1) May 23, 2018
10. Paparazzo RubroNegro tweeted about Fred Luz .


Será que a saída do Fred Luz já é pensando em candidatura? Ouvi que ele iria se meter na política também!

— Paparazzo RubroNegro (@PaparazzoRN) May 23, 2018