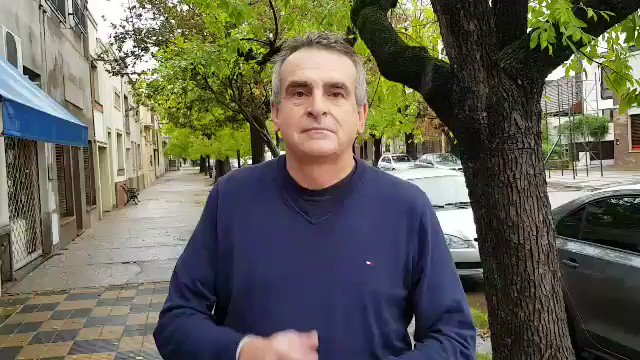 No matter how busy your day was, we can promise you, these top 10 tweets can brief about Argentina (06-May-2018) in a minute.
The best of Twitter Today In Argentina
1. Agustin Rossi had tweeted about #BuenDomingo .


Ya en la localidad de #Bragado iniciando el 2do día de recorrida. #BuenDomingo 🌧 pic.twitter.com/lBHRtIA1up

— Agustín Rossi (@RossiAgustinOk) April 29, 2018
2. Federico Bal had tweeted about Barcelona vs Real Madrid .


Barcelona vs Real Madrid! El clásico español miralo por Cablevisión, disfrutalo el domingo a las 15.45 h por Canal 8 / 600 HD !

— Federico Bal (@balfederico) May 4, 2018
3. Ricardo R Benedetti had tweeted about #FelizDomingo .


Superamos el golpe especulativo orquestado por operadores financieros, y sumado a la embestida del club político del helicóptero #FelizDomingo para todos
trama secreta del plan ordenado por Mauricio Macri para lanzar un "misilazo" contra la City financiera https://t.co/I6117O6una

— Ricardo R Benedetti (@RicBenedetti) May 6, 2018
4. UnionArgentinaRugby had tweeted about #SAR6N .


Argentina XV ya está en Asunción.#JugamosTodos #SAR6N pic.twitter.com/itWo945bdo

— UnionArgentinaRugby (@unionargentina) May 4, 2018
5. Mauro (Leproso) had tweeted about Sarandí .


6. Buti had tweeted about #AsicsGoldenRun .


Vamos por más kilómetros! Este domingo, en Palermo, la #ASICSGoldenRun 2018. Nos vemos allá! @ASICSamerica pic.twitter.com/PqOssIqERy

— Buti (@JuanButvilofsky) May 5, 2018
7. Buti had tweeted about #AsicsGoldenRun .


Otros #10k en la #AsicsGoldenRun en Palermo, probando zapas. Aprobadísimas, muy livianas las Road Hawk FF. Gracias por la invitación! pic.twitter.com/4htm7TxvcY

— Buti (@JuanButvilofsky) May 6, 2018
8. Belgrano had tweeted about #LunasDeAlberdi .


💙🌚 #LunasDeAlberdi baila con @EmilianoZerbini. pic.twitter.com/Pe8kxDUDK6

— Belgrano (@Belgrano) May 5, 2018
9. TC2000 had tweeted about #TC2000Concordia .


Tenemos que hablar...👥@LugonRodri #TC2000Concordia pic.twitter.com/EAZViz2ZuW

— TC2000 (@TC2000online) May 5, 2018
10. Ciudad de Mendoza had tweeted about #PeatonalDelVino .


Personas con mamelucos rojos y máscaras de Dalí aparecieron en la #PeatonalDelVino... pic.twitter.com/cERQeGVDzF

— Ciudad de Mendoza (@ciudaddemendoza) May 6, 2018