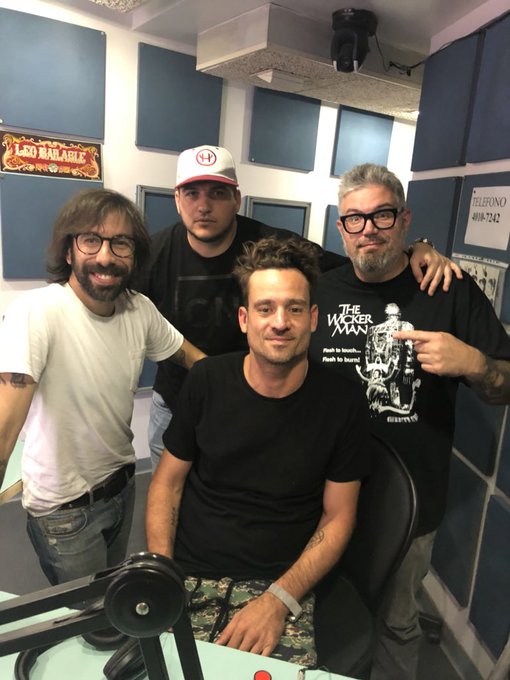 No matter how busy your day was, we can promise you, these top 10 tweets can brief about Argentina (25-Apr-2018) in a minute.
The best of Twitter Today In Argentina
1. Snap: FRED.B12 had tweeted about Alisson .


Mano do céu, será que o Alisson assistiu o DVD do Julio Cesar antes do jogo???

— FRED (@fred_b12) April 24, 2018
2. Thiago Ferri had tweeted about #DuduEstamosComVocê .


Depois do protesto contra Dudu ontem, a tag #DuduEstamosComVocê é 2º lugar no Trending Topics de São Paulo.

— Thiago Ferri (@b_ferri) April 24, 2018
3. Luis Majul had tweeted about Hugo y Pablo Moyano .


Anoche Pablo Moyano en el programa de @luisnovaresio amenazó con hacerme juicio.
Esta noche 22 h en #4D x @A24COM le respondo con información exclusiva y datos de él, su padre Hugo y el sindicato de camioneros.

— Luis Majul (@majulluis) April 18, 2018
4. CH❗️⚡️ had tweeted about #ChanoEnGenteSexy .


#ChanoEnGenteSexy regalamos una banda de entradas pic.twitter.com/pbYz0s9lBy

— CH❗️⚡️ (@CHANOTB) April 25, 2018
5. DIEGO MESTRE had tweeted about #BuenMartes .


Cada uno tiene su opinión sobre la interrupción voluntaria del embarazo. Y de eso se trata. De respetarnos , de poder intercambiar ideas sabiendo que al final cada aporte fortalecerá la democracia. #YoEscucho #BuenMartes pic.twitter.com/3i4JgEyXh8

— DIEGO MESTRE (@DiegoMMestre) April 24, 2018
6. Club Godoy Cruz had tweeted about #BuenMiercoles .


#Buenmiércoles 😎

Cada vez falta menos para volver a verte Godoy Cruz. #VamosTomba pic.twitter.com/Ru1v2XbnPo

— Club Godoy Cruz (@ClubGodoyCruz) April 25, 2018
7. Magui Bravi ▲ had tweeted about #BerlinEnDDM .


" Messi es una forma de explicar lo que es la magia " #BerlinEnDDM 👏

— Magui Bravi ▲ (@magdalenabravi) April 25, 2018
8. Diego Ruscitti had tweeted about Bernardi .


Me contaron: le dió una indicacación a Messi ( al parecer mala) y este dijo: y este quién es? Y parece q pidió q no esté más. Por eso Pablo Aimar se sumó al DT. Tengo entendido, que si Bernardi se va, tendrían todo arreglado con Beccacece. Por eso me parece q no va. Será verdad?

— Diego Ruscitti (@diegoruscitti) April 21, 2018
9. DEPORTV had tweeted about #Atalaya .


ALEGRÍA. Selfie y foto del equipo de #Atalaya, que ganó en su casa un verdadero partidazo y estiró la serie frente a #Regatas. ¡Felicitaciones! #FEDERALenDEPORTV pic.twitter.com/YAbamRqERy

— DEPORTV (@canaldeportv) April 25, 2018
10. DEPORTV had tweeted about #Atalaya .


¡Increíble final! Así se vivió el gran triunfo de #Atalaya frente a #Regatas (CDU) desde adentro y ante su gente. Habrá cuarto juego en la serie. #Playoffs #FEDERALenDEPORTV pic.twitter.com/aiYf64Oxqs

— DEPORTV (@canaldeportv) April 25, 2018