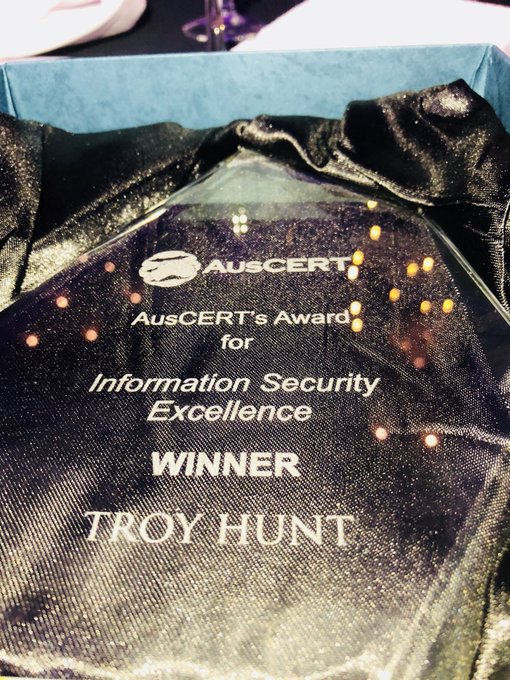 No matter how busy your day was, we can promise you, these top 10 tweets can brief about Australia (01-Jun-2018) in a minute.
The best of Twitter Today In Australia
1. Sam Dastyari tweeted about One Nation .


No Pauline, I'm not interested in running for One Nation. Sam Dastyari

— Sam Dastyari (@samdastyari) June 1, 2018
2. Troy Hunt tweeted about #auscert2018 .


Thanks #AusCERT2018, this is awesome! Very honored. pic.twitter.com/ULT7zeWhv6

— Troy Hunt (@troyhunt) May 31, 2018
3. Peter Helliar tweeted about #BodyHack .


Next time you visit us @theprojecttv @toddsampsonOz I want you to roll into the studio. I'll have the sword ready #BodyHack https://t.co/PppoKcWh2Q

— Peter Helliar (@pjhelliar) May 31, 2018
4. Astrokerrie tweeted about #MCVPAs .


I may not be at the @MCVPacific awards tonight but I am told my Aela cosplay was shown off on screen 😭😊😁 Very cool 💖💖💖
I hope everyone is having a wonderful night there!

📸 = @vestiigephoto#MCVPAs #Bethesda #Aelathehuntress pic.twitter.com/Ma6urUIyYW

— Astrokerrie 💖💜💙 (@Astrokerrie) May 31, 2018
5. Mat Jessep tweeted about #MCVPAs .


Awesome to be at #MCVPAs, flying the flags for @JessepSportsLaw & @EGAAUS

With thanks to @CadreonAU and @getFANDOM @bajopants & @hexsteph on 🔥 pic.twitter.com/ecR86x9wuP

— Mat Jessep (@MatJessep) May 31, 2018
6. EB Games Australia tweeted about #MCVPAs .


A huge thank you to our amazing community! ❤️

Thanks to you, we won the Community Team of the Year at this years @MCVPacific Awards! #MCVPAs pic.twitter.com/t7YsTJVUNg

— EB Games Australia (@EBGamesAus) June 1, 2018
7. Kelsey Gamble tweeted about #MCVPAs .


#INDUSTRY #MCVPAs #iconic #todayhurts pic.twitter.com/zb612sUbNE

— Kelsey Gamble (@kindofsquishy) June 1, 2018
8. John Pratt tweeted about #QandA .


Since the Whitlam years we have been experimenting with #Neoliberalism both major parties have been stuck on this now failing ideology.

Resulting in ecological destruction & inequality.

We need a New Deal!#ClimateChange #auspol #qldpol #Poverty #TheDrum #QandA pic.twitter.com/6btllnJucK

— John Pratt (@Jackthelad1947) June 1, 2018
9. Gladys Berejiklian tweeted about Taree .


Catching up with locals in Club Taree. pic.twitter.com/StQt3bxJIZ

— Gladys Berejiklian (@GladysB) May 31, 2018
10. Troy Hunt tweeted about #auscert2018 .


Watching @k8em0 talk bug bounties at #AusCERT2018 pic.twitter.com/Uasfm0jrWx

— Troy Hunt (@troyhunt) May 31, 2018