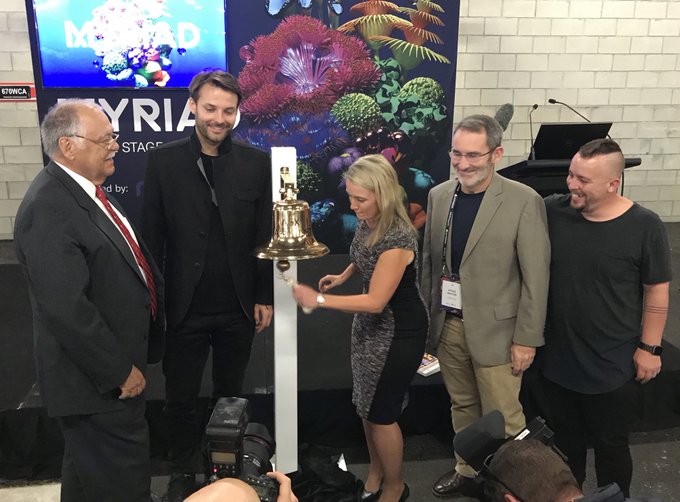 No matter how busy your day was, we can promise you, these top 10 tweets can brief about Australia (17-May-2018) in a minute.
The best of Twitter Today In Australia
1. Ewin Hannan tweeted about CFMEU .


Michaelia Cash should find a new whiteboard to hide behind after the withdrawal of blackmail charges against @CFMEUJohnSetka and Shaun Reardon. And Dyson Heydon can join her. Another remarkable own goal for Cash and the Coalition. My comment in @australian https://t.co/Q3KcxcFjRn

— Ewin Hannan (@EwinHannan) May 16, 2018
2. Deb Frecklington MP tweeted about #qldpol .


Well this is sad. Qld has the worst unemployment in the nation. A massive spike from 6.1% to 6.5%. This is what happens when you have a @QLDLabor Govt that has no plan for our great state. @AnnastaciaMP focus this week has been photo ops, my priority is jobs. #qldpol

— Deb Frecklington MP (@DebFrecklington) May 17, 2018
3. Kate Jones tweeted about #Myriad2018 .


For one of few times in history the ASX bell was taken out of Sydney for the opening of Myriad Festival today - a testament to the fact Qld has one of the most thriving startup economies in Australia. Thanks to @ASX Chairman Rick Holiday-Smith #myriad2018 #sbxr @AdvanceQld pic.twitter.com/awwe49Fyfh

— Kate Jones (@katejonesqld) May 16, 2018
4. Dan Ziffer tweeted about #bankingrc .


Do the crime... negotiate the time.

Petty crims go to jail. But executives at large financial institutions involved in stealing from their own customers? That's another story. This story. #bankingRC https://t.co/lQSbMDKLdL via @abcnews

— Dan Ziffer (@danziffer) May 17, 2018
5. Dean Pettit tweeted about Linda Meech .


100 winners for the season for Linda Meech.... superstar @Racing

— Dean Pettit (@deanpet74) May 17, 2018
6. Dean Pettit tweeted about Linda Meech .


Linda Meech putting on a clinic at Kilmore.. now Linda and Damien Lane both sitting on 99 wins for the season. @Racing

— Dean Pettit (@deanpet74) May 17, 2018
7. Zac Bailey tweeted about josh mansour .


Well played @PenrithPanthers who continue to produce the goods on the 🎥 front 👏🏽👏🏽👏🏽

... and great to see fan favourite @Josh_Mansour re-sign with the club who showed faith in him for another 3 years 🐾🐾🐾 https://t.co/BPtcI90P8J

— Zac Bailey (@ZacBailey14) May 17, 2018
8. Lisa Vincze tweeted about #DAA2018 .


Enjoying #DAA2018 with my fab colleagues from @UONPRCPAN @ProfCCollins @DietitianHannah @Bec_A_McKenna ....and thinking about #ICD2020 in South Africa! 🇿🇦 pic.twitter.com/ZxzcQkXjKZ

— Dr Lisa Vincze (@LisaVincze) May 17, 2018
9. Woodside Energy tweeted about #APPEA2018 .


Proud to accept the #APPEA2018 Safety Excellence Award tonight, which recognises an outstanding contribution to safety leadership and performance within the Australian oil and gas industry. pic.twitter.com/ysIFcYpqHr

— Woodside Energy (@WoodsideEnergy) May 16, 2018
10. Andrea Begley AdvAPD tweeted about #DAA2018 .


We need more public health nutrition champions like Patricia Carter Honorary Life Member Big congratulations @DAA_feed #daa2018

— Andrea Begley AdvAPD (@andreabegley) May 17, 2018