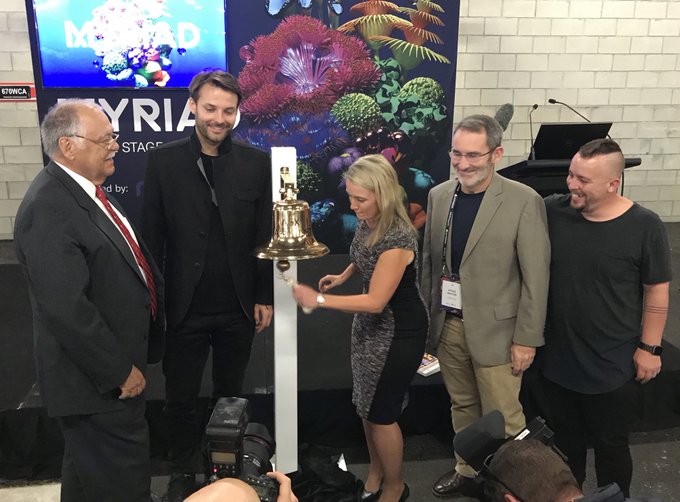 No matter how busy your day was, we can promise you, these top 10 tweets can brief about Australia (19-May-2018) in a minute.
The best of Twitter Today In Australia
1. Kate Jones tweeted about #Myriad2018 .


For one of few times in history the ASX bell was taken out of Sydney for the opening of Myriad Festival today - a testament to the fact Qld has one of the most thriving startup economies in Australia. Thanks to @ASX Chairman Rick Holiday-Smith #myriad2018 #sbxr @AdvanceQld pic.twitter.com/awwe49Fyfh

— Kate Jones (@katejonesqld) May 16, 2018
2. Nathan tweeted about #NRLStormManly .


Born & bred in Melbourne, but he's 100% Manly. Taking my 3-year old to his first ever @SeaEagles game tonight, against Storm.

Hope the boys put on a show.#WeAreManly #NRLStormManly pic.twitter.com/Muukntn4gn

— Nathan (@SeaEagleSpur) May 19, 2018
3. Adam McGrath tweeted about Morphettville .


Group 1 Goodwood day at Morphettville, surrounded by two of the best #Goodwood #Group1 #horseracing @Racing @James_Jordan pic.twitter.com/2qVOu44pat

— Adam McGrath (@AdamMcGrath89) May 19, 2018
4. Astrokerrie tweeted about #BAM10 .


And now for a completely different cosplay 💖😍😂 May Rose from @DimensionsVs at #BAM10 pic.twitter.com/rm0zNweCSt

— Astrokerrie 💖💜💙 (@Astrokerrie) May 19, 2018
5. Myf Warhurst tweeted about #SBSRoyalWedding .


Prepping for tonight's #SBSRoyalWedding broadcast with @joelcreasey & @RayMartin. YES THIS IS PREP I SWEAR pic.twitter.com/DGt8SYo9mC

— Myf Warhurst (@MyfWarhurst) May 19, 2018
6. VEC tweeted about Sally Capp .


Sally Capp was announced as the successful candidate for the Melbourne City Council Lord Mayor by-election tonight after the conduct of an electronic preference distribution https://t.co/Twz2b1KWld

— VEC (@electionsvic) May 18, 2018
7. Pulse Energy Highlanders tweeted about #WARvHIG .


30" | Nugget's back on #WARvHIG pic.twitter.com/lXKf9OfydW

— Pulse Energy Highlanders (@Highlanders) May 19, 2018
8. Pey-Chiann Hor tweeted about #LIVevents .


So proud again! Congratulations @libertysanger on your well deserved award for Mentor of the Year. Awesome nomination @EmmaStarkey4 and @Sarahnotarianni. @WeFightForFair #LIVevents pic.twitter.com/b0zmhN7QLn

— Pey-Chiann Hor (@PeyHor) May 18, 2018
9. Swettenham Stud tweeted about Santa Ana Lane .


PUISSANCE DE LUNE~best performed son of global supersire SHAMARDAL standing in Victoria~ Lope De Vega (SHAMARDAL)Group1 Goodwood winner Santa Ana Lane 👍🏻 pic.twitter.com/PxUcvII6yV

— Swettenham Stud (@SwettenhamStud) May 19, 2018
10. Dan Armanasco tweeted about Boom Time .


How have I got boom time beaten lst start? Was on to win a house deposit. FUCJING ruinous run on the horses. fuck them off

— Dan Armanasco (@armodan) May 19, 2018