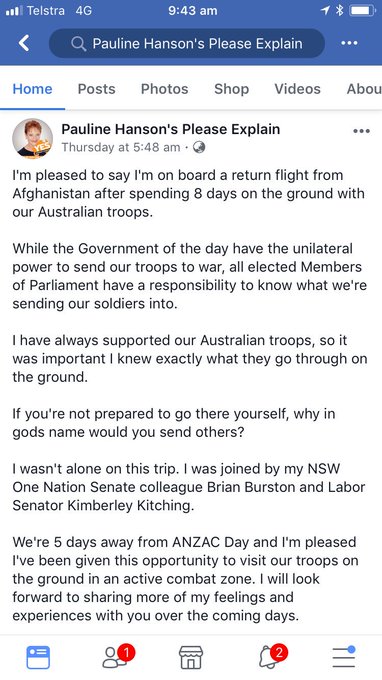 No matter how bad your day is going, we can promise you, these top 10 tweets can brief about Australia (22-Apr-2018) in a minute.
1. Gretchen Ho is tweeting about coach tai .


Thank you, Coach Tai!
You will be missed. 💙 https://t.co/8wwhBv4BKA

— Gretchen Ho (@gretchenho) April 21, 2018
2. Senator Murray Watt is tweeting about ANZAC .


The Hanson-A$hby money making machine is at it again. This time, using ANZAC Day and the ADF uniform to sell One Nation memberships. Appropriate? pic.twitter.com/6iBsZ2j7Bk

— Senator Murray Watt (@MurrayWatt) April 21, 2018
3. John Townsend is tweeting about #WAFL .


#wafl club board member had a crack at footy today over my lack of game promotion. Written 25 yarns in past month for @westaustralian. And half clubs don't return calls.

— John Townsend (@johnt237) April 21, 2018
4. Peta Ellis ? is tweeting about #swbundy .


I've hosted, facilitated,mentored and judged at over 20 #startupweekends this weekend I'm BundyBound for #SWBundy can't wait @eleanorcarey @GeneratorQLD right now north of Gympie is storming... promise not to bring it with me ☔️ ⛈ 🚙

— Peta Ellis 🌈 (@ellispeta) April 21, 2018
5. Ben Cuevas is tweeting about #blueandgold .


King of PARRAdise. #blueandgold pic.twitter.com/AHOrUdXUV1

— Ben Cuevas (@benjaminkcuevas) April 22, 2018
6. Senator Sue Lines is tweeting about #BankingRoyalCommision .


7. SheNoob @Melbourne Supanova ??? is tweeting about #melbnova .


Who let Blake loose in Melbourne? #Supanova #Melbnova #RWBY #cosplay pic.twitter.com/OC4PQooBUf

— SheNoob | ⭕️ Proud Deviant 😎🇦🇺🏳️‍🌈 (@She_Noob_) April 21, 2018
8. Zac Bailey is tweeting about Mitchell Pearce .


Terrible to hear Mitchell Pearce's season is all but over. He'll miss 16 weeks & needs surgery for a ruptured pec. He embraced his move north after leaving his boyhood club & has been the heartbeat of the @NRLKnights this year. Poor bloke.

— Zac Bailey (@ZacBailey14) April 22, 2018
9. Nursena Kahvecioglu is tweeting about #Ek40BinÖğrtAtansın .


10. SheNoob @Melbourne Supanova ??? is tweeting about #Supanova .


Waiting for the #RWBY panel with @ArrynZech & @The_JenBrown at #Supanova pic.twitter.com/TUkEk14EgJ

— SheNoob | ⭕️ Proud Deviant 😎🇦🇺🏳️‍🌈 (@She_Noob_) April 22, 2018