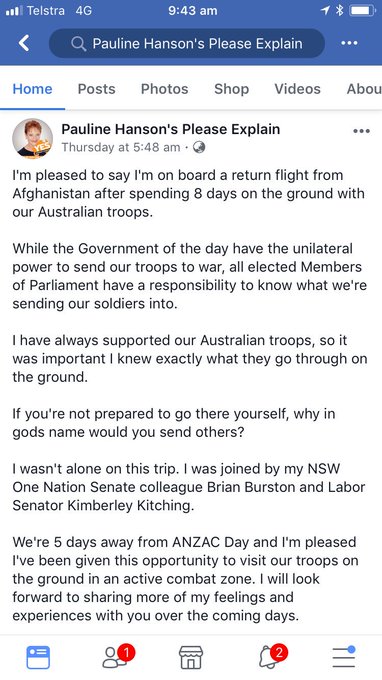 No matter how bad your day is going, we can promise you, these top 10 tweets can brief about Australia (23-Apr-2018) in a minute.
1. Quentin Dempster is tweeting about Royal Commission .


Banking Royal Commission is exposing what's known as "regulatory capture", where a regulator (ASIC, RBA, APRA) has been "captured" by the industry it is supposed to be regulating. Also exposed? Major integrity/accountability failure by the Commonwealth government.

— Quentin Dempster (@QuentinDempster) April 22, 2018
2. Terri Butler MP is tweeting about #bankingrc .


Malcolm Turnbull saying the govt would have got less grief if they hadn't opposed #BankingRC

Talk about missing the point. It's not about you, mate. The wrongdoing would have been exposed sooner, in the interests of consumers. That's why it was a mistake.

— Terri Butler MP (@terrimbutler) April 22, 2018
3. Zac Bailey is tweeting about Mitchell Pearce .


Terrible to hear Mitchell Pearce's season is all but over. He'll miss 16 weeks & needs surgery for a ruptured pec. He embraced his move north after leaving his boyhood club & has been the heartbeat of the @NRLKnights this year. Poor bloke.

— Zac Bailey (@ZacBailey14) April 22, 2018
4. Senator Murray Watt is tweeting about Anzac Day .


The Hanson-A$hby money making machine is at it again. This time, using ANZAC Day and the ADF uniform to sell One Nation memberships. Appropriate? pic.twitter.com/6iBsZ2j7Bk

— Senator Murray Watt (@MurrayWatt) April 21, 2018
5. Julian de Stoop is tweeting about Lindsay Thomas .


For what it's worth don't agree with the Burton decision, Cats have to appeal Selwood and can't understand how Mitchell is misconduct. Spot on with sending Lindsay Thomas to the tribunal though

— Julian de Stoop (@JDESTOOP80_FOX) April 23, 2018
6. Jason De Luca is tweeting about Joel Selwood .


I think we can see why Joel Selwood was booed. Awarded an Anzac medal in the same game he is found guilty of striking and tripping. #AFLPowerCats

— Jason De Luca (@DeLuca_JD) April 23, 2018
7. Alan Duffy is tweeting about #ScienceWeek .


The launch of @inspiringaus #ScienceWeek by @Vic_LeadSci at the HQ and now Victorian State institute for this epic event- none other than that fantastic @RoyalSocietyVic pic.twitter.com/fUSAznhJ7F

— Alan Duffy (@astroduff) April 23, 2018
8. Kingy is tweeting about Joel Selwood .


Chris Scott tells Fox Footy the Cats will "dissect the vision" of Joel Selwood's strike on Lindsay Thomas before deciding whether to challenge one-week suspension offer. @KrockFootball

— Kingy (@tom_king79) April 23, 2018
9. Kentaro Sakata is tweeting about #QClash .


10. George Mellor is tweeting about Jack Lester .


If anything, my admiration for Jack Lester has never been so high. You can argue he made mistakes but that is an absolute drop in the ocean when you consider the mess we're in. Fuck 'em. Fuck Off Ashley Carson. Roll on Salford Away.

— George Mellor (@georgemellor93) April 23, 2018