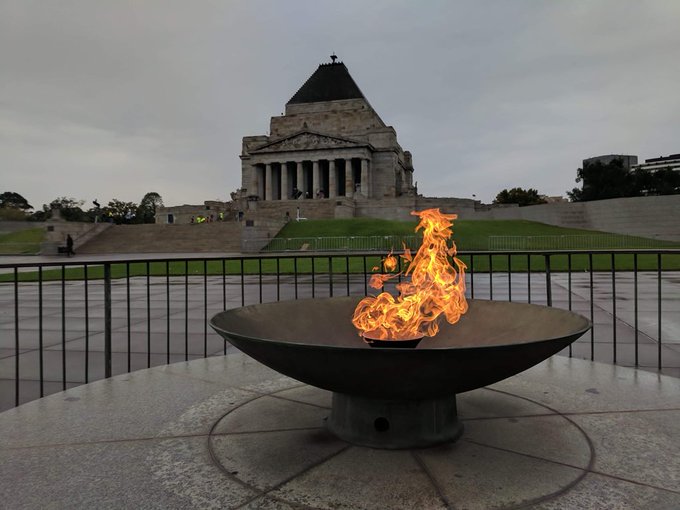 No matter how bad your day is going, we can promise you, these top 10 tweets can brief about Australia (24-Apr-2018) in a minute.
The best of Twitter Today In Australia
1. Terri Butler MP is tweeting about #BankingRC .


Malcolm Turnbull saying the govt would have got less grief if they hadn't opposed #BankingRC

Talk about missing the point. It's not about you, mate. The wrongdoing would have been exposed sooner, in the interests of consumers. That's why it was a mistake.

— Terri Butler MP (@terrimbutler) April 22, 2018
2. Melbourne FC is tweeting about #AFLDeesTigers .


Ron Barassi AM carries the torch, lit with the Eternal Flame, at @ShrineMelbourne.

The Creswick Light Horses will now make the journey to the MCG. ✨#AFLDeesTigers pic.twitter.com/y8n5fuL9AN

— Melbourne FC (@melbournefc) April 24, 2018
3. Katherine Kent is tweeting about #SciPath18 .


What a wonderful, heartwarming session run by @EMCRForum on "fostering kindness in science" at #SciPath18. Main discussion by our subgroup was "treat others how you want to be treated". Simple! pic.twitter.com/HWWzuE7vrv

— Katherine Kent (@drkatherinekent) April 24, 2018
4. Nathan Strempel is tweeting about #KingBogut .


One of our finest ever exports choosing to come home and play in the @NBL rather than continuing in the @NBA. Incredible!

Congrats on a top shelf NBA career and welcome home @andrewbogut. We're happy to have you!#Respect#NBL19#KingBogut pic.twitter.com/PHxvozLfKY

— Nathan Strempel (@nathanstrempel) April 24, 2018
5. Nursena Kahvecioglu is tweeting about #ErbakanÖdülleri2018 .


6. Nome is tweeting about #SciPath18 .


I've had an incredibly productive couple of days with excellent discussion, have identified potential routes for collaboration and made some great new friends. I think that's a winning forum. Thanks to the committee for organising. @EMCRForum #SciPath18 #ecr #ecrchat #emcr

— Dr Claws (@Dr_Nome) April 24, 2018
7. Drew Jones is tweeting about #afltribunal .


Lindsay Thomas given a 3 game ban #afltribunal

— Drew Jones (@DrewJonesFOX) April 24, 2018
8. Daniel Leach ??? is tweeting about Ross Glendinning Medal .


No Ross Glendinning Medal, just because there is no sponsor?!? Poor.@WestCoastEagles awarding a Ross Glendinning Medal to their own player post game whether they win/lose/draw?!? Odd.

On that basis…

BOG of the Western Derby for @freodockers should win the @PaulHasleby Medal

— Daniel Leach 📻🎙🎧 (@TheSportsFreak) April 23, 2018
9. Katherine Kent is tweeting about #SciPath18 .


Challenge accepted 1. Actively seek opportunities to show kindness. 2. Carve out daily snack writing time. 3. Sit down with colleagues and write personal goals, value & vision (NOT a 5y plan) 4. Lead by example by working with integrity in every aspect of my life #SciPath18 pic.twitter.com/GZopnveV8u

— Katherine Kent (@drkatherinekent) April 24, 2018
10. Anita Fox is tweeting about #insightsbs .


Tonight's #insightsbs is harrowing. I have never thought about this terrible experience before. Those telling their stories are lifting us all up with their bravery and truly remarkable resilience. Heartbreaking and inspiring all at once.

— Anita Fox (@neatafox) April 24, 2018