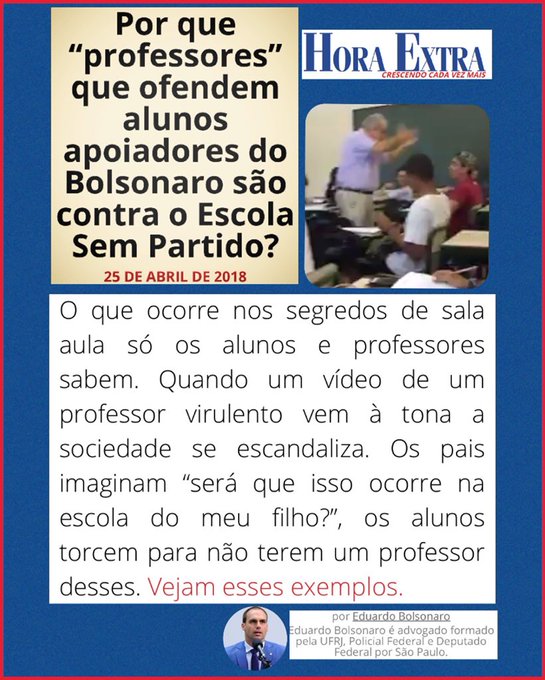 No matter how busy your day was, we can promise you, these top 10 tweets can brief about Brazil (27-Apr-2018) in a minute.
The best of Twitter Today In Brazil
1. cleytu had tweeted about #sextou .


sextou na minha cama e só quero acordar amanhã pfvr façam silêncio

— cleytu (@cleytu) April 21, 2018
2. Eduardo Bolsonaro had tweeted about #Gramsci .


Minha coluna para o @jornalhoraextra : militantes travestidos de professores se inspiram em Paulo Freire e Antonio Gramsci para humilhar alunos em sala de aula. Covardes!https://t.co/ypd1WDIGMU pic.twitter.com/q9T2WUhoZe

— Eduardo Bolsonaro (@BolsonaroSP) April 26, 2018
3. Dom Odilo Scherer had tweeted about Verdade e a Vida .


Disse Jesus:
"Eu sou o pastor das ovelhas, o caminho, a verdade e a vida.
Eu sou o Pastor, Bom Pastor,
conheço minhas ovelhas
e elas me conhecem.
Dou a vida por elas, a vida eterna dou a minhas ovelhas e jamais perecerão. Ninguém as roubará de minhas mãos"

— Dom Odilo Scherer (@DomOdiloScherer) April 22, 2018
4. Mari ✠ had tweeted about O VASCO É O TIME DA VIRADA .


É difícil, complicado, mas é Vasco! Pro Vasco n tem impossível, é o time da virada, do amor, da raça, superação e eu acredito enquanto houver esperanças! AQUI É VASCO!

— Mari ✠ (@mariicrvg_) April 27, 2018
5. Suzana GuaraniKaiowá had tweeted about Sala de Redação .


Só pra dizer que o Peninha estava no lugar certo para dizer o que disse:
O Sala de Redação se transformou em um encontro de velhos brochas machistas e homofóbicos. De nada.

— Suzana GuaraniKaiowá (@sudornelles) April 27, 2018
6. Viúva do Paulinho 14/45 had tweeted about Werley .


Galhardo (o único Galhardo possível) foi um GIGANTE em campo hj! Martin n precisamos nem comentar neh?! Boa partida do Werley tbm. O restante: medianos, exceto Henrique q tava mto mal e a expulsão provou q o nada eh melhor q Wellignton em campo!

— Juh (@jujubaBernardes) April 27, 2018
7. #ForSiℓvioSαntosSBT™ had tweeted about #APraçaÉNossa .


#APraçaÉNossa a Doutora Camomila para o Cazalbé: "Não sei o que está acontecendo com essa sociedade que não respeita mais a privacidade dos outros"... Tô mortaa! 👊😂🔥 pic.twitter.com/VMY5nLVosF

— #ForSiℓvioSαntosSBT™ (@Jacquelineldsr) April 27, 2018
8. Trendinalia Brasil had tweeted about #ConversaComBial .


9. Camila Bairros had tweeted about Azerbaijão .


Retrospectiva pro GP do Azerbaijão desse final de semana:

Hahaha espero que não hajam batidas como essa 😂@CavalcantiLito @sergiomaud @EstagiariodaF1 #MammaMia #AzerbaijanGP #F1noSportv pic.twitter.com/eQMD38v3AW

— Camila Bairros #PrayForBrazil🇧🇷 (@KakaBairros) April 27, 2018
10. #ForSiℓvioSαntosSBT™ had tweeted about #APraçaÉNossa .


E #APraçaÉNossa de hoje terminou 😂👍, Agora tem #TheNoite com @DaniloGentili no @SBTonline. pic.twitter.com/TDu81YrWXN

— #ForSiℓvioSαntosSBT™ (@Jacquelineldsr) April 27, 2018