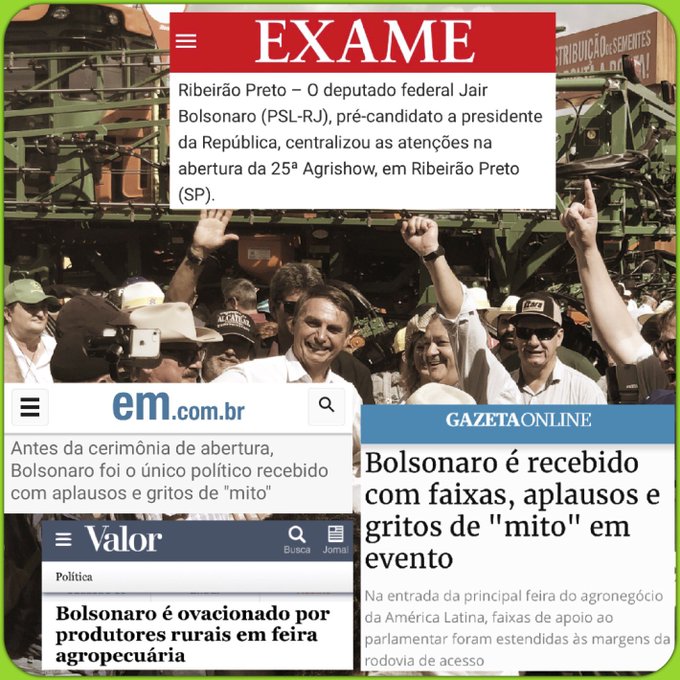 No matter how busy your day was, we can promise you, these top 10 tweets can brief about Brazil (30-Apr-2018) in a minute.
The best of Twitter Today In Brazil
1. Rene Silva had tweeted about René .


Fãs da @OficialGleiciD, o vídeo já está nas redes sociais do Voz das Comunidades!!! ♥️♥️♥️🙏🏽

— Rene Silva (@eurenesilva) April 30, 2018
2. Eduardo Bolsonaro had tweeted about Agrishow .


BOLSONARO É OVACIONADO POR PRODUTORES RURAIS NA MAIOR FEIRA DE AGRONEGÓCIO DA AM. LATINA

Dos R$ 67bi exportados em 2017, 44% foi por conta dos produtores rurais. O q o agronegócio quer é apenas respeito. Obrigado pelo carinho a tdos q estiveram na Agrishow em Ribeirão Preto-SP👍 pic.twitter.com/AC6Tduojjr

— Eduardo Bolsonaro (@BolsonaroSP) April 30, 2018
3. Alexandre Frota????☉☇? had tweeted about #Gera .


4. Vladimir Alves had tweeted about #ShowDosFamosos .


Elton John com caxumba passando na sua timeline #ShowDosFamosos pic.twitter.com/ATQ7vw3Kem

— Vladimir Alves (@VladimirAlves) April 29, 2018
5. Leonardo had tweeted about Jair Ventura .


Gilson antes de começar a ser improvisado no meio, por Jair Ventura, jogava bem e passava boa impressão pra torcida. Este ano, de volta a lateral, jogador vem mostrando personalidade e tem aproveitado a chance. Tomara que esse gol traga ainda mais confiança para o atleta.

— Leonardo (@leocareca87) April 28, 2018
6. Alexandre Frota????☉☇? had tweeted about Márcia Tiburi .


De um lado o Socialismo e do outro o Capitalismo segundo Marcia Tiburi. Ok mas acabei de ler que Nojo Toddynho vai fazer lipo e redução do estômago, isso só o Capitalismo pode dar a ela .Será que Toddynho quer ficar Riscado? Ou vai ficar Nescau Light???? pic.twitter.com/iVg3QlEgYt

— Alexandre Frota💛💚💛💚☉☇🌟 (@alefrotabrasil) April 30, 2018
7. Alexandre Ernst had tweeted about Lucca .


Acabamos de assistir a um abuso de autoridade no amarelo a Lucca, do #Inter. « Não me ameaça, não me ameaça », disse claramente o jogador colorado ao árbitro. Advertido! Que absurdo

— Alexandre Ernst (@Alexandre_Ernst) April 29, 2018
8. Alvaro Dias had tweeted about Detector de Corrupção .


🕵️‍♂️🕵️‍♂️ DETECTOR DE CORRUPÇÃO 😮😮

O Reclame Aqui criou um app que identifica que tem problemas na Justiça.

Como? 🤔

Basta colocar no aplicativo uma foto do político (tirada ao vivo ou armazenada no celular).

Pronto.https://t.co/YF4MGfY8Oz pic.twitter.com/7vpbn7AXar

— Alvaro Dias (@alvarodias_) April 30, 2018
9. Rodrigo Ferreira ★ had tweeted about Jair Ventura .


Aliás o Jair Ventura na sua maluquice de improvisar o Gilson no meio despertou uma ira da torcida contra o jogador por suas atuações ruins. Ele na sua posição de lateral é um jogador bem digno. Não pra ser titular mas é um reserva útil.

— Rodrigo Ferreira ★ (@RodFerreiraBFR) April 29, 2018
10. ADEMIR QUINTINO had tweeted about #deplaca .


Hoje estou no #Mais90 vou no #DePlaca amanhã (feriado desta terça-feira). https://t.co/oH1ckmDqza

— ADEMIR QUINTINO (@ademirquintino) April 30, 2018