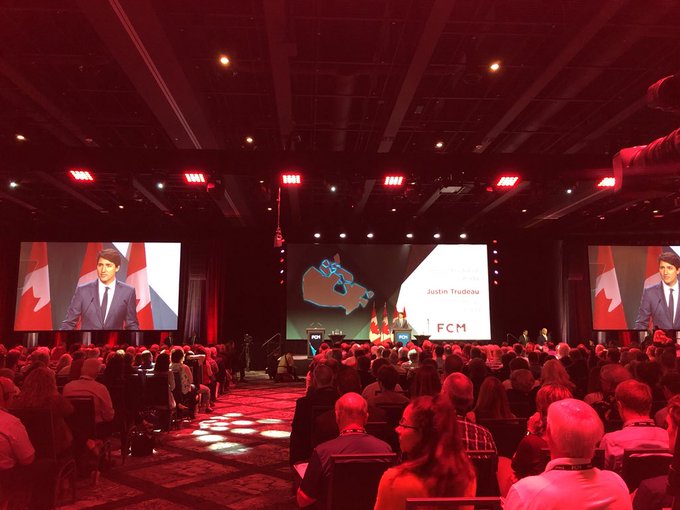 No matter how busy your day was, we can promise you, these top 10 tweets can brief about Canada (01-Jun-2018) in a minute.
The best of Twitter Today In Canada
1. Kevin Frankish tweeted about #ThanksKevin .


My final words #ThanksKevin https://t.co/OHpRPU65Sx

— Kevin Frankish (@KevinFrankish) June 1, 2018
2. Patrick Lagacé tweeted about Jacques Chagnon .


Je ne suis toujours pas revenu de la réponse méprisante de Jacques Chagnon. Ça se peut comme pas. Mais bon, libéral dans Westmount: pas comme si t'avais une chance d'être sanctionné par les électeurs. https://t.co/caSSDvoQpM

— Patrick Lagacé (@kick1972) May 31, 2018
3. FCM tweeted about #FCM2018AC .


"Communities and cities are essential partners in shaping Canada." PM @JustinTrudeau #FCM2018AC #CDNmuni pic.twitter.com/argxJVyWNu

— FCM (@FCM_online) June 1, 2018
4. Hamilton Tiger-Cats tweeted about #CFLGameDay .


GAMEDAY in TigerTown!

🆚 @TorontoArgos
📍 @TimHortonsField
⏰ 7:30PM
📻 @TSN1150
📺 @TSN_Sports 4 & 5#HamiltonProud | #CFLGameDay pic.twitter.com/brdhybHDoS

— Hamilton Tiger-Cats (@Ticats) June 1, 2018
5. MLSE PR tweeted about #GreyCup .


OFFICIAL: The first 6,500 fans in attendance at @TorontoArgos' season opener Rally at the Shipyards on June 23 will receive a replica #GreyCup championship ring. 🚨💍🏈#PullTogether | #CFLKickoff pic.twitter.com/rm56BboSFM

— MLSE PR (@MLSEPR) June 1, 2018
6. United Way Ottawa tweeted about #CBYA2018 .


"Tonight's Community Builder of the Year has long played a vital and critical role in all of Ottawa's neighbourhoods" - @JimWatsonOttawa. Congratulations to the Ottawa Coalition of Community Houses! #UWOtt #CBYA2018 pic.twitter.com/JgL9bfU5Ga

— United Way Ottawa (@UnitedWayOttawa) June 1, 2018
7. United Way Ottawa tweeted about #CBYA2018 .


Congratulations to @ORCC_Tweets for receiving the Healthy People, Strong Communities Award. You are helping empower so many survivors in our community and we are grateful for what you do. #CBYA2018 #UWOtt pic.twitter.com/MuEfQYGJbB

— United Way Ottawa (@UnitedWayOttawa) June 1, 2018
8. Stampeders Outriders tweeted about #CFLGameDay .


It's (Pre-Season) Game Day!! Come out to McMahon Stadium tonight to cheer on the @calstampeders against the @BCLions @ 7 pm. #CFLPreseason #CFLGameDay #GoStampsGo pic.twitter.com/ayEHeovzZx

— Stampeders Outriders (@StampOutriders) June 1, 2018
9. Virgin Radio MTL tweeted about #ChildrensRadiothon .


A grand total of $1,315,000 will be donated thanks to our generous listeners! That's a wrap at this year's #childrensradiothon ❤️ pic.twitter.com/zqvKRoLo8F

— Virgin Radio MTL (@VirginRadioMTL) May 31, 2018
10. Leanne Gibson tweeted about #TwitterFronts .


Thank you @KayMadati #TwitterFronts https://t.co/MIfnOmeBon

— Leanne Gibson (@leannekgibson) May 31, 2018