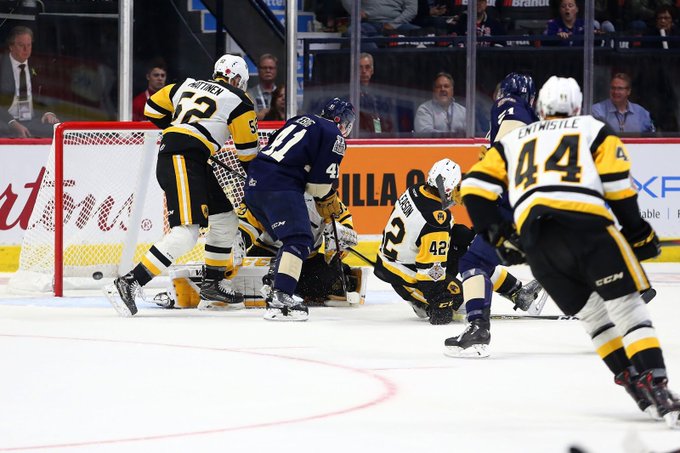 No matter how busy your day was, we can promise you, these top 10 tweets can brief about Canada (19-May-2018) in a minute.
The best of Twitter Today In Canada
1. Rod Pedersen tweeted about Regina Pats .


That's ONE! The Regina Pats topped the Hamilton Bulldogs 3-2 in the Memorial Cup-opener Friday in the Brandt Centre. @CoorsLight Recap: https://t.co/M9xQWcNmcB pic.twitter.com/Ewd1yJpGne

— Rod Pedersen (@rodpedersen) May 19, 2018
2. SC Broncos tweeted about #MMC100 .


#SCB hits the ice at @MCMemorialCup and Swift is in the house! #MMC100 pic.twitter.com/63CaFq92pE

— SC Broncos (@SCBroncos) May 19, 2018
3. Winnipeg Police tweeted about #IMAwards .


Celebrating the best of Indigenous music tonight at the #IMAwards. A fantastic showcase. #manitoahbee https://t.co/1GHjrmlCfL pic.twitter.com/PSXirYP9MI

— Winnipeg Police (@wpgpolice) May 19, 2018
4. Paul Frank tweeted about Kendrys Morales .


Suggestion:

Kendrys Morales should change his walk up music from "TNT" by AC/DC to "Zero" by The Smashing Pumpkins.#BlueJays

— Paul Frank (@pwgfrank) May 19, 2018
5. Michael Newman tweeted about #CloverdaleRodeo .


The @CloverdaleRodeo parade is about to kick off. And our very own @GlobalBC anchors @SoniaSunger @PaulHaysom are riding in class! @GlobalBC_Comm pic.twitter.com/Bejhc7scsn

— Michael Newman (@MrMichaelNewman) May 19, 2018
6. Access Communications tweeted about #MMC100 .


Day 2 of the #MMC100 ! The @SCBroncos @ABTitan are next to face off! We have our Pre-Show LIVE on CH. 7 & 70 at 1:30 PM 🏒 pic.twitter.com/jH2DCMCfmb

— Access Communications (@MyAccessCA) May 19, 2018
7. Russ Siemens tweeted about #MCMemorialCup .


Pregame meal with these two @SCBroncos fans prior to the @MCMemorialCup @MrMikesOnline ...every table is filled with Broncos fans #OurTeamOurTown pic.twitter.com/7MGdlOuH7e

— Russ Siemens (@russ_siemens) May 19, 2018
8. Blue Nose Marathon tweeted about #BlueNose2018 .


3...2..1... GIV'ER! #bluenose2018 @KidsRunClub_DNS @Doctors_NS pic.twitter.com/3uw8pRmfis

— Blue Nose Marathon (@BNMarathon) May 19, 2018
9. Dale Steeves tweeted about #CloverdaleRodeo .


Staffing the media photo pit @CloverdaleRodeo. Keep your heads up! Those bulls aren't camera shy. #CloverdaleRodeo pic.twitter.com/24kv3X4q7S

— Dale Steeves (@DaleSteeves) May 19, 2018
10. Benny Walchuk tweeted about Nick Henry .


Big win for the Pats. Former MJHL Rookie of the Year Nick Henry with the GWG. Swan Valley Stampeder draft pick Max Paddock outstanding between the pipes #MCMemorialCup

— Benny Walchuk (@BennyGX94Sports) May 19, 2018