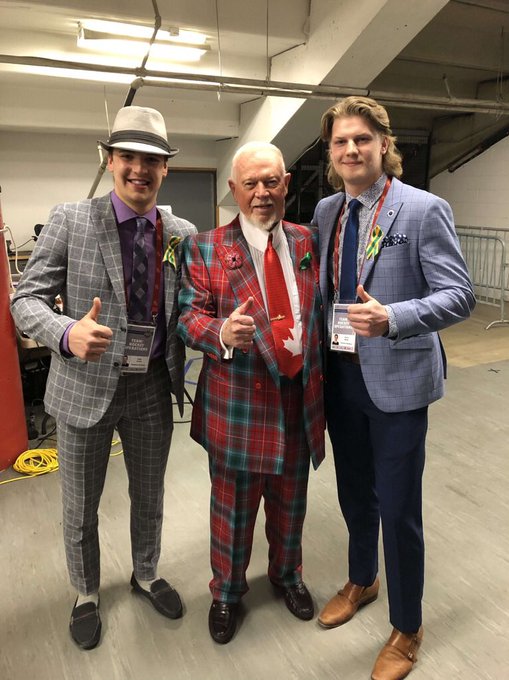 No matter how busy your day was, we can promise you, these top 10 tweets can brief about Canada (23-May-2018) in a minute.
The best of Twitter Today In Canada
1. Hamilton Bulldogs tweeted about Bulldogs .


Bulldogs @kadelandry and @navrin_mutter ran into a friend during intermission at tonight's game! pic.twitter.com/02ABeZ9emm

— Hamilton Bulldogs (@BulldogsOHL) May 22, 2018
2. John Barlow tweeted about #cdnag .


Here's to all of our farmers, working hard this long weekend. Thanks for all you do to grow the best food for our tables! #farming #Plant18 #cdnAg #alberta #maylong pic.twitter.com/zcWRrsBbgb

— John Barlow (@JohnBarlowMP) May 21, 2018
3. PEO Erin Urquhart tweeted about #biketo .


Good afternoon #Toronto. Great day for some #BikeTO riding ☀️ been working overtime like a maniac so excuse my reduced presence on SM but I'll have some content to share with you all later from my patrols of the #bikelanes. 🚲Stay tuned 🤓 & stay cool today ! #IRequireShade 😂 pic.twitter.com/mcN4L6Epaq

— PEO Erin Urquhart (@TPS_BikeHart) May 23, 2018
4. Jeff Veillette tweeted about Mark Hunter .


5. Stéphane Bergeron tweeted about françois legault .


Les maires de @MTL_Ville, @Val_Plante; @laval311, @MarcDemers_; @VilleLongueuil, @SylvieParent_; @VilleRepentigny, @CD_Repentigny; et @VilleVarennes, @MartinDamphouss, ont envoyé une lettre au chef de la CAQ pour mettre les points sur les «i»... https://t.co/AsKCDgCSjT

— Stéphane Bergeron (@sbergeron) May 20, 2018
6. Marcel Groleau tweeted about #Tousruraux .


«Nous sommes tous un peu ruraux» selon @Ricardocuisine Participez au Grand rassemblement #TousRuraux à Québec le 23/05. Avec @fredpellerin et de nombreux intervenants de renom. Vous avez jusqu'à demain #mercredi pour vous inscrire https://t.co/rttF0Q2YcU pic.twitter.com/kWgSkMvpPz

— Marcel Groleau (@GroleauM) May 15, 2018
7. CASIE STEWART ☀️ tweeted about #teamtelus .


In Vancouver for an hour and already on @cactusclubcafe patio having a margarita and ceviche w/ @chancesmommy. Vancouver, ILY. ☀️💕✈️ Looking forward to #TeamTelus dinner tonight! pic.twitter.com/5zIhowBujz

— CASIE STEWART ☀️ (@casiestewart) May 22, 2018
8. Jesse Hitchcock tweeted about #peipoli .


#peipoli drinking game for tonight: drink when you hear the words 'democracy', 'electoral' or 'referendum', and when you see a page deliver coffee.

— Jesse Hitchcock (@jessehitchcock) May 22, 2018
9. Bin Lau tweeted about #yegcc .


Why @CityofEdmonton award-winning open data approach makes better, accessible and more open local govt - @danaditomaso https://t.co/L32DAC1lzk #yeg #yegcc #yegdata #cdnmuni pic.twitter.com/68XdTM1Wkm

— Bin Lau (@thebinster) May 23, 2018
10. The GM Tim – Year of the Queer tweeted about #yearofthequeer .


Tonight at #QuestsandQueers we toasted @CityofVancouver for proclaiming 2018 to be the #yearofthequeer #yotq very cool. And look the lighting was #pride just for the #selfie. #gaymers #boardgames #LGBTQ #gamingislife #vancouver pic.twitter.com/qQIhxJECYo

— The GM Tim (@thegmtim) May 23, 2018