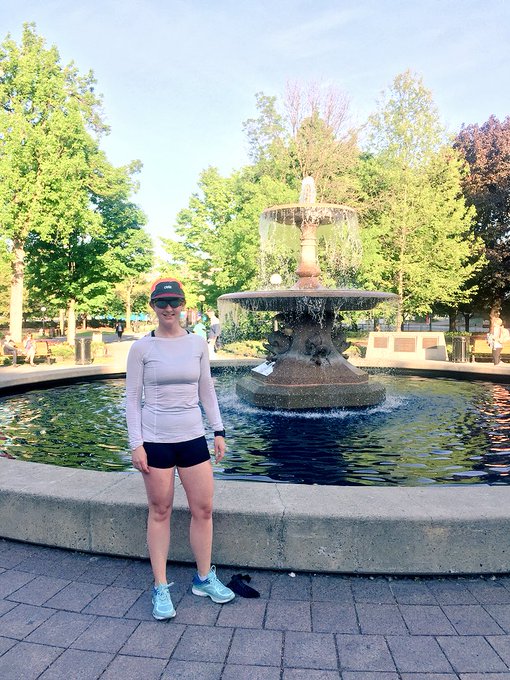 No matter how busy your day was, we can promise you, these top 10 tweets can brief about Canada (24-May-2018) in a minute.
The best of Twitter Today In Canada
1. Felix Seguin tweeted about #NousSommesLesSeries .


Bon, je vais le dire. J'adore entendre clou de girofle (Koutcherov) et l'harceleur (Lars Eller) quand je regarde un match. #NousSommesLesSeries

— Felix Seguin (@felixseguin) May 24, 2018
2. Hannah Manning tweeted about #RunOttawa2018 .


Final training run in the books! 6km at race pace along the canal. Confederation Park is getting all set up. Excitement is real! 🙌🏻 #teamawesome2018 #runottawa2018 #runwithrr pic.twitter.com/91zHapuGZG

— Hannah Manning (@hannahkgm) May 24, 2018
3. Ryan Jespersen tweeted about #WeBelieveBenefit .


"Make sure you have folks around you with alternative perspectives on what justice looks like. And practice deep listening when you engage with them." Inspiring, challenging message from #metoo founder @TaranaBurke at @sacetalks #WeBelieveBenefit. #SVAM2018 #yeg pic.twitter.com/o9dfzRuNw4

— Ryan Jespersen (@ryanjespersen) May 24, 2018
4. Stéphane Bergeron tweeted about François Legault .


Les maires de @MTL_Ville, @Val_Plante; @laval311, @MarcDemers_; @VilleLongueuil, @SylvieParent_; @VilleRepentigny, @CD_Repentigny; et @VilleVarennes, @MartinDamphouss, ont envoyé une lettre au chef de la CAQ pour mettre les points sur les «i»... https://t.co/AsKCDgCSjT

— Stéphane Bergeron (@sbergeron) May 20, 2018
5. Emil Starlight tweeted about #NihisgakaOgha .


It's not a legitimate indigenous event unless @LowaBeebe is there doing what she does!! #NihisgakaOgha #ForOurChildren pic.twitter.com/8cMQCOEU5M

— Emil Starlight (@EmilStarlight) May 24, 2018
6. Patrice Bernier tweeted about #NousSommesLesSeries .


Est ce l'année d'un ancien Ovechkin ou du nouveau @GoldenKnights ? #NousSommesLesSeries #NHLPlayoffs2018

— Patrice Bernier (@pbernier10) May 24, 2018
7. Billey tweeted about Nick Henry .


Our @Avalanche scouts deserve a big raise these last couple years. Nick Henry looks like a mid round steal!! Great finish there! #MemorialCup

— Billey (@ColterBilley) May 24, 2018
8. Kurt Leavins tweeted about Evander Kane .


That Evander Kane deal, if it's real/accurate...what a gamble. Sharks ignoring all the danger signs.

— Kurt Leavins (@KurtLeavins) May 24, 2018
9. Erin Blaskie tweeted about #ImpactAIOttawa .


Hanging out at #ImpactAI with approximately 500 other tech and business folks. 🚀

Thank you @mindbridge_ai for pulling this together today! @LSPARKGlobal is happy to be a proud supporter of #IMPACTAIOTTAWA 🙌#LSPARK pic.twitter.com/oJJa0taOhO

— Erin Blaskie (@ErinBlaskie) May 24, 2018
10. Philippe Couillard tweeted about #Tousruraux .


Allocution au Grand rassemblement #Tousruraux ! Pour écouter en direct: https://t.co/9mHuoaCJQ5 #PolQc @upaqc pic.twitter.com/KasKEvynY6

— Philippe Couillard (@phcouillard) May 23, 2018