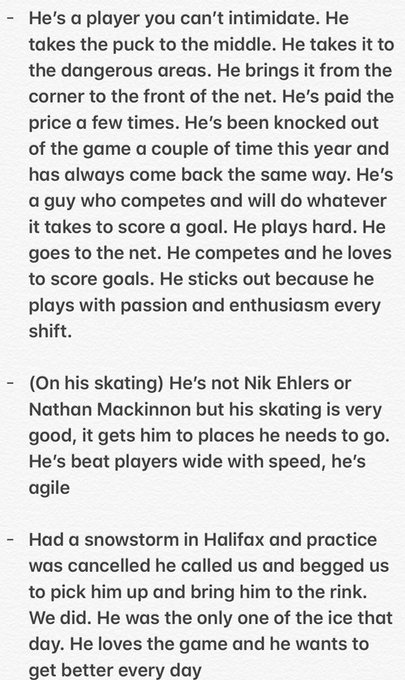 No matter how busy your day was, we can promise you, these top 10 tweets can brief about Canada (08-May-2018) in a minute.
The best of Twitter Today In Canada
1. Tony Marinaro had tweeted about Filip Zadina .


I spoke with @HFXMooseheads GM Cam Russell about RW Filip Zadina who is a top prospect going into 2018 NHL Amateur Draft. This is what he had to say about Zadina #TSN690 pic.twitter.com/DcaLM0jX1o

— Tony Marinaro (@TonyMarinaro) May 3, 2018
2. Ricky Forbes had tweeted about #skstorm .


One of my all time FAV shots. Absolutely incredible supercell storm we chased near Creelman, SK. #TornadoHunters #SKstorm 🌪 🌪 pic.twitter.com/0WPkpshwzy

— Ricky Forbes (@ForbesRicky) May 8, 2018
3. JanetDirks had tweeted about #PandaPassage .


Here he is, the big daddy of Pandas, Da Mao. #calgaryzoo #PandaPassage pic.twitter.com/AHRmUBLzBJ

— JanetDirks (@janetdirks) May 7, 2018
4. Ken Wiebe had tweeted about Bryan Little .


#NHLJets F Bryan Little is coming out for the pre-game warmup

— Ken Wiebe (@WiebeSunSports) May 8, 2018
5. Caroline Décoste had tweeted about #leschefs .


Lever un bar? Je fais ça vraiment facilement avec mon interprétation de Heartbreaker au karaoké. #leschefs

— Caroline Décoste (@Carolinelasnob) May 8, 2018
6. Catherine Swift had tweeted about #SBS18 .


Heading to @TheGlobeEvents #SBS18 to participate in a panel on "Is Small Business Under Attack?" The answer is yes! Will be debating some folks on the left. Should be fun!

— Catherine Swift (@Swiftie01) May 8, 2018
7. Sgt Kerry Schmidt had tweeted about Dixie .


Update Road Closure: #Hwy401 WB express at Dixie Rd to remain closed until approx. 6pm for sign removal pic.twitter.com/SO2TqmIqvZ

— Sgt Kerry Schmidt (@OPP_HSD) May 8, 2018
8. Lisa MacLeod had tweeted about Vanier .


Wow. Same Liberal candidate who approached me about Tory nomination in GPR now crapping on Vanier as a place for cops and robbers. Was in Ottawa Vanier last Friday to visit La Cite. Sure didn't look like that. #insultingtoottawa #nojudgement #whatdoesnataliethink https://t.co/dIovc9Xdt7

— Lisa MacLeod (@MacLeodLisa) May 8, 2018
9. Roxanne S. had tweeted about #SDSNCanada .


Had a lovely day with some of my fellow #GoHelp lab members as we volunteereed at the #SDSNCanada launch. #QEScholars pic.twitter.com/eIkwVmg3qv

— Roxanne S. (@RoxySpringer) May 8, 2018
10. Joshua Marshall had tweeted about #HNIC .


I give @KellyHrudey a lot of credit for going to Toronto for 2 months without a day off to cover the #StanleyCup playoffs. Being away from your family for 2 months or longer is tough, for those that do it in all types of work great on you. #HNIC

— Joshua Marshall (@JMarshyBosco93) May 8, 2018