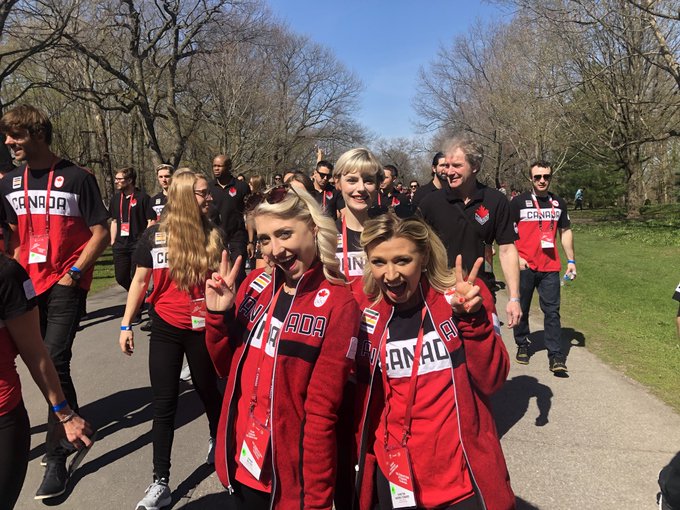 No matter how busy your day was, we can promise you, these top 10 tweets can brief about Canada (09-May-2018) in a minute.
The best of Twitter Today In Canada
1. Team Canada had tweeted about #TeamCanada .


Canada's PyeongChang 2018 Olympic team is back together for the #TeamCanada celebration. 🎉🇨🇦 pic.twitter.com/8uEzedsfZl

— Team Canada (@TeamCanada) May 9, 2018
2. Ricky Forbes had tweeted about #skstorm .


One of my all time FAV shots. Absolutely incredible supercell storm we chased near Creelman, SK. #TornadoHunters #SKstorm 🌪 🌪 pic.twitter.com/0WPkpshwzy

— Ricky Forbes (@ForbesRicky) May 8, 2018
3. Rachel Homan had tweeted about Rideau Hall .


Olympic celebrations today @ Rideau Hall https://t.co/l0jvWXe2OM

— Rachel Homan (@RHoman89) May 9, 2018
4. Canadian Geographic had tweeted about #WildlifeWednesday .


Did somebody say it's #WildlifeWednesday? • 📸 by #ShareCanGeo Instagrammer @randy_tremblay. pic.twitter.com/1DSii6zWsb

— Canadian Geographic (@CanGeo) May 9, 2018
5. Anthony Carricato had tweeted about #ottpoli .


I'm officially launching my campaign for #CapitalWard on Friday. Looking forward to meeting residents and discussing your priorities 🤝 #ottpoli #ottawa pic.twitter.com/S4lawRDywq

— Anthony Carricato (@TonyCarricato) May 9, 2018
6. 🔬science.sam had tweeted about #OIRMSymposium .


A gene with a funny name - Sonic hedgehog - is teaching researchers like Dr. Caroline Brun how to improve the way stem cells in the muscle regenerate #OIRMSymposium pic.twitter.com/kP1Pp4F3Yz

— 🔬science.sam (@heysciencesam) May 9, 2018
7. Bob Sumner had tweeted about #TonightforTomorrow .


Happy Humpday and also "Tonight for Tomorrow" @MealshareYYC @Winebarkensi in with a great bite. @ContainerBarYYC is one of many spots I'll be at tonight. @devillainess #yyc #TonightForTomorrow pic.twitter.com/1O60jRQ0Vo

— Bob Sumner (@Newsbob) May 9, 2018
8. Devin Heroux had tweeted about Rideau Hall .


Spotted! Canadian Olympians and Paralympians downtown Ottawa. They're heading to Rideau Hall for this morning's celebration. So am I. So, I'm not late.

— Devin Heroux (@Devin_Heroux) May 9, 2018
9. Rachel Homan had tweeted about Parliament House .


Headed to Parliament House of Commons #olympiccelebrations @… https://t.co/HC28VOmmvu

— Rachel Homan (@RHoman89) May 9, 2018
10. David Seal had tweeted about #ShopifyUnite .


Had a great time at #ShopifyUnite meeting with our partner and developer community. Congrats to the @Shopify crew who helped make it a giant success 🎉 pic.twitter.com/o7eKFPu3ob

— David Seal (@davidseal) May 9, 2018