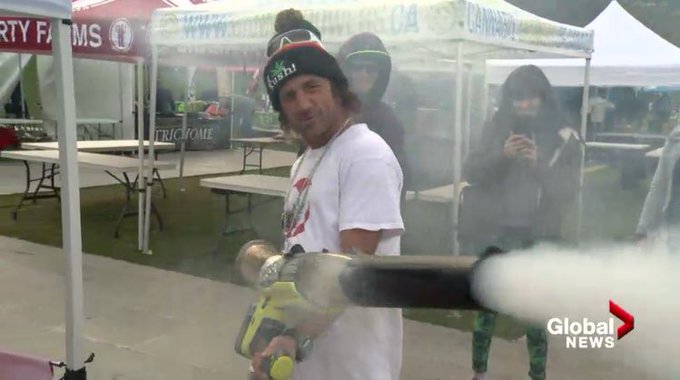 No matter how bad your day is going, we can promise you, these top 10 tweets can brief about Canada (21-Apr-2018) in a minute.
1. Toronto Raptors is tweeting about Raptors .


Coach Popovich, we are thinking of you and your family at this difficult time, and sending you all our love and best wishes.

— Toronto Raptors (@Raptors) April 19, 2018
2. Jordan Armstrong is tweeting about #420Vancouver .


This man has converted a leaf blower to burn & blow marijuana. He calls it "The Love Cannon". #420vancouver @GlobalBC pic.twitter.com/IOgzZc0eBm

— Jordan Armstrong (@jarmstrongbc) April 20, 2018
3. David Akin ?? is tweeting about #Lib2018 .


The LPC govt is led by a millionaire and the finance minister is a multi-millionaire. But Trade Min @FP_Champagne tells #lib2018 that the #CPC is the party that cares only about millionaires not everyday Canadians.

— David Akin 🇨🇦 (@davidakin) April 21, 2018
4. Sgt Kerry Schmidt is tweeting about Oakville .


Street racing incident on #QEW through Oakville last night at 12:30am. Toyota crashed near Guelph Line. 1 man with life threatening injuries, 2 Audi cars fled the area. Anyone with info call 905-681-2511 or Crime Stopper 1-800-222-TIPS pic.twitter.com/JknIEVeEQn

— Sgt Kerry Schmidt (@OPP_HSD) April 21, 2018
5. Jeremiah Vandermeer is tweeting about #420Vancouver .


#SunsetBeach looks amazing the day after #420Vancouver despite absolute lies being spun by the @ParkBoard. All garbage gone after volunteers cleaned late last night & this morning. $28,000 we spent on deck to protect the field was well worth it. Grass looks great & almost no mud! pic.twitter.com/Hd3dAwxMDE

— Jeremiah Vandermeer (@JFromTheLake) April 21, 2018
6. Mike McIntyre is tweeting about Ehlers .


#NHLJets coach Paul Maurice said Nikolaj Ehlers was held out tonight because he "just wasn't feeling right." I asked if that meant he was battling an illness instead of an injury. "Just kind of a malaise." No other info offered. #wfp

— Mike McIntyre (@mikemcintyrewpg) April 21, 2018
7. erin arnold is tweeting about #AdvocacyWorks .


Honoured to be at @bctf Advocacy Works conference. I believe in public education! Parents and teachers 👨‍🏫 together for BC kids! #AdvocacyWorks 🌈📚🍎#bced #vanpoli pic.twitter.com/0YDIaGOSot

— erin arnold (@erinarnolddream) April 21, 2018
8. SocMed Breakfast YYC is tweeting about #SMByyc99 .


#SMByyc99 @andrewphung giving a round of applause to @donnamct for building this amazing community in #yyc #SMByyc99 pic.twitter.com/RHidc9EbN1

— SocMed Breakfast YYC (@smbyyc) April 20, 2018
9. Kamal Khera is tweeting about #HopeAndHardWork .


Prime Minister @JustinTrudeau shares his vision to create well-paying jobs and make life easier for hardworking #middleclass Canadians. #CdnPoli #hopeandhardwork #RealChange pic.twitter.com/dCfrQtdEcC

— Kamal Khera (@KamalKheraLib) April 21, 2018
10. Ken Wiebe is tweeting about Mark Scheifele .


2nd assist goes to Andrew Copp after some nice nice work behind the net by Mark Scheifele. 4 goals on 10 shots on goal now for #NHLJets and Alex Stalock is coming in for #mnwild

— Ken Wiebe (@WiebeSunSports) April 21, 2018