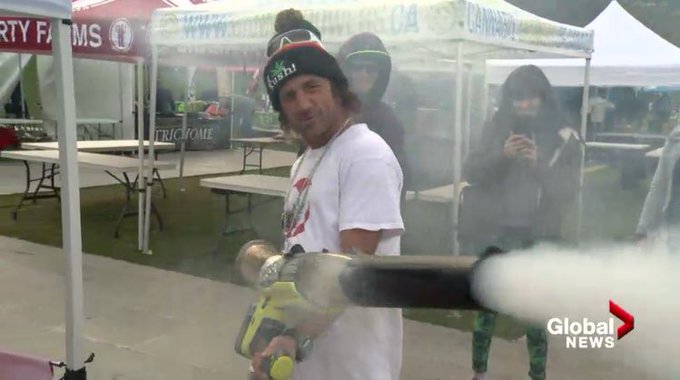 No matter how bad your day is going, we can promise you, these top 10 tweets can brief about Canada (22-Apr-2018) in a minute.
1. David Akin ?? is tweeting about #Lib2018 .


The LPC govt is led by a millionaire and the finance minister is a multi-millionaire. But Trade Min @FP_Champagne tells #lib2018 that the #CPC is the party that cares only about millionaires not everyday Canadians.

— David Akin 🇨🇦 (@davidakin) April 21, 2018
2. Jordan Armstrong is tweeting about #420Vancouver .


This man has converted a leaf blower to burn & blow marijuana. He calls it "The Love Cannon". #420vancouver @GlobalBC pic.twitter.com/IOgzZc0eBm

— Jordan Armstrong (@jarmstrongbc) April 20, 2018
3. Patrice Bernier is tweeting about #IMFC .


Merci @1642Montreal pour l'expérience🙌🏾 et revivre au Stade. Malgré la défaite, j'ai adoré votre énergie. Voix, chant, sauter 🤪. Ressenti comme si j'étais sur le terrain. #IMFC 💪🏾💥💥💥 pic.twitter.com/72r9NYHeev

— Patrice Bernier (@pbernier10) April 21, 2018
4. Winnipeg Goldeyes is tweeting about #NOC2018 .


We won we won! Your Winnipeg Goldeyes have won the @WinnipegNews Open Team of the Year Award for the second year in a row! 🥇🏆 #NOC2018 https://t.co/wMM9Bpn5dM

— Winnipeg Goldeyes (@Wpg_Goldeyes) April 22, 2018
5. Winnipeg Goldeyes is tweeting about #NOC2018 .


Did you know the Goldeyes are up for Team of the Year tonight? #noc2018 https://t.co/Q0V1bSevsQ

— Winnipeg Goldeyes (@Wpg_Goldeyes) April 21, 2018
6. gratonvincent is tweeting about #endirectdelunivers .


Il y a des soirs qui te branchent branchent au ❤️.
Merci Béatrice Picard! #EnDirectDeLunivers

— gratonvincent (@gratonvincent) April 21, 2018
7. Toronto Wolfpack is tweeting about Barrow .


75' Don't worry Wolfpack fans just an UPDATE...
The Wolfpack are on the front foot near the Barrow line her with just 5 minutes to go.@BarrowRaiders 12-16 @TOwolfpack #runwiththepack

— Toronto Wolfpack (@TOwolfpack) April 22, 2018
8. Dawn Lupul is tweeting about #BetWoodbineTB .


Beee-youtiful Sunday in #Toronto @WoodbineTB - suntanning and racing time! #BetWoodbineTB pic.twitter.com/RuHNmYv6W5

— Dawn Lupul (@WoodbineDawn) April 22, 2018
9. sarbjit kaur is tweeting about #CleanToronto .


Here until 2 pm with @OurPlaceON for the #Etobicoke Centennial Park clean up! join us! #CleanToronto #EarthDay18 pic.twitter.com/uDJuXmCwSZ

— sarbjit kaur (@sarbjitkaur1) April 22, 2018
10. Klarans is tweeting about Meunier .