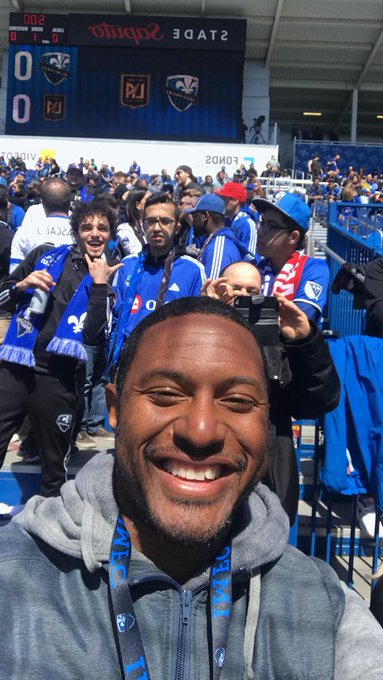 No matter how bad your day is going, we can promise you, these top 10 tweets can brief about Canada (23-Apr-2018) in a minute.
1. David Akin ?? is tweeting about #Lib2018 .


The LPC govt is led by a millionaire and the finance minister is a multi-millionaire. But Trade Min @FP_Champagne tells #lib2018 that the #CPC is the party that cares only about millionaires not everyday Canadians.

— David Akin 🇨🇦 (@davidakin) April 21, 2018
2. Patrice Bernier is tweeting about #énergie .


Merci @1642Montreal pour l'expérience🙌🏾 et revivre au Stade. Malgré la défaite, j'ai adoré votre énergie. Voix, chant, sauter 🤪. Ressenti comme si j'étais sur le terrain. #IMFC 💪🏾💥💥💥 pic.twitter.com/72r9NYHeev

— Patrice Bernier (@pbernier10) April 21, 2018
3. Ed the Sock is tweeting about #IJoinedTwitter .


#IJoinedTwitter so that every day, several times a day, I am reminded why humanity needs me more than ever.

— Ed the Sock (@EdtheSock) April 22, 2018
4. Roger Millions is tweeting about Giordano .


Giordano, Hamonic, Monahan will be among #Flames on hand for Bill Peters announcement as Head Coach.

— Roger Millions (@RogMillions) April 23, 2018
5. Député Pascal Bérubé is tweeting about #TLMEP .


À propos du projet-pilote lancé par @yfblanchet et moi en 2014 qui permettait aux restaurateurs de servir du gibier. Malheureusement abandonné par le Gouvermemt actuel. https://t.co/FxBabOJ9Pi #TLMEP

— Pascal Bérubé (@PascalBerube) April 23, 2018
6. ChoosingWiselyCanada is tweeting about #CWC2018 .


Thank you to the clinicians, leaders, patients & students who participated in today's #choosingwisely National Meeting! #CWC2018 pic.twitter.com/7Ar6WYrjsf

— ChoosingWiselyCanada (@ChooseWiselyCA) April 23, 2018
7. LHMAAAQ is tweeting about #CoupeTELUS .


Direction Sudbury pour les @CantonniersAAA... @HC_CoupeTELUS @HC_TELUSCup #coupetelus #teluscup pic.twitter.com/1tYoUXifoA

— LHMAAAQ (@LHMAAAQ) April 22, 2018
8. Chantal Deschamps is tweeting about #transportcollectif .


Au Forum sur la #Mobilité et le #TransportCollectif en compagnie de mes collègues maires de la couronne Nord et de la ministre responsable de #Lanaudière #SolutionRéseau pic.twitter.com/xINjBSKpYs

— Chantal Deschamps (@CD_Repentigny) April 23, 2018
9. Gail Johnson is tweeting about Kenley Jansen .


Kenley Jansen, NL Comeback Player of the Year. #Dodgers

— Gail Johnson (@GJOH29) April 23, 2018
10. austin toombs is tweeting about #chi2018 .


So much awkward, uncomfortable laughter during this keynote. The kind of laughter where you can tell most people are thinking "is this a joke? This is a joke, right?" #chi2018

— austin toombs (@altoombs) April 23, 2018