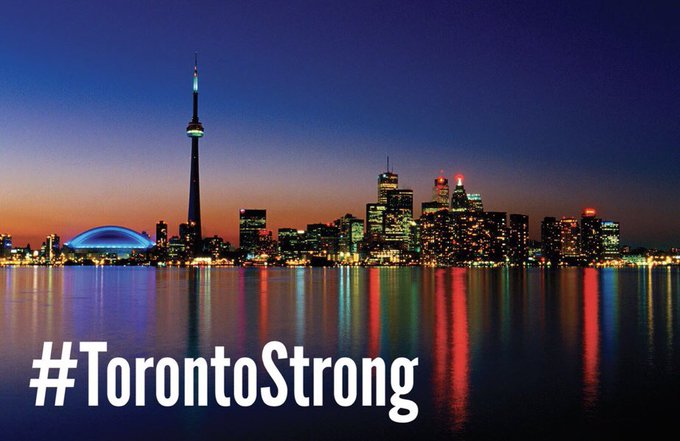 No matter how bad your day is going, we can promise you, these top 10 tweets can brief about Canada (24-Apr-2018) in a minute.
The best of Twitter Today In Canada
1. Marilyn Denis is tweeting about First Love .


Prayers for the love ones that were taken today, and for their families that will not see them again. Praying for those that witnessed the tragedy first hand and praise to all who assisted immediately. #TorontoStrong #Toronto pic.twitter.com/yezmVeHQTo

— Marilyn Denis (@MarilynDenisCTV) April 23, 2018
2. Don Iveson is tweeting about #yegcc .


Heartfelt condolences to the Hayter family, with gratitude for Ron's service to #yeg. We'll light the bridge City blue tomorrow night in his memory. #yegcc https://t.co/mj5kqARXXy

— Don Iveson (@doniveson) April 22, 2018
3. Danielle Michaud is tweeting about #TorontoTheGood .


Wanted to share this statement from the D'Amico family on Anne Marie because it so beautifully describes the kind of person she was. More importantly, they ask us to 'fight with that same altruism, rather than hatred and anger' ❤️ @CityNews #TorontoTheGood pic.twitter.com/OEONdpdh7c

— Danielle Michaud (@CityMichaud) April 24, 2018
4. Député Pascal Bérubé is tweeting about #tlmep .


À propos du projet-pilote lancé par @yfblanchet et moi en 2014 qui permettait aux restaurateurs de servir du gibier. Malheureusement abandonné par le Gouvermemt actuel. https://t.co/FxBabOJ9Pi #TLMEP

— Pascal Bérubé (@PascalBerube) April 23, 2018
5. Gerald (globalguy) is tweeting about Ralph Goodale .


University of Toronto blames "White Men" for the attack.
So, I assume you mean guys like Justin Trudeau, Ralph Goodale, promo Bill, hehr, etc ?

— Gerald (Nationalist - wexit / Gilets Juanes) (@GeraldGgallant) April 24, 2018
6. ChoosingWiselyCanada is tweeting about #CWC2018 .


Thank you to the clinicians, leaders, patients & students who participated in today's #choosingwisely National Meeting! #CWC2018 pic.twitter.com/7Ar6WYrjsf

— ChoosingWiselyCanada (@ChooseWiselyCA) April 23, 2018
7. Denise Shrivell is tweeting about #4corners .


Other countries doing just that as they follow the evidence, the science & the revenue. It's your world that is the crazy one #4corners #auspol

— Denise Shrivell (@deniseshrivell) April 24, 2018
8. Mack Male is tweeting about #AccelerateAB .


"Since 2002, over $40 million has been invested in #AI in Alberta which is why Edmonton is #3 in the world." @CameronSchuler #AccelerateAB #yeg

— Mack Male (@mastermaq) April 24, 2018
9. Caroline Décoste is tweeting about #LesChefs .


Le filet à jambon, un accessoire utile pour la pêche au jambon. #LesChefs

— Caroline Décoste (@Carolinelasnob) April 24, 2018
10. TECTERRA is tweeting about #AccelerateAB .


"We're looking to invest half a million dollars in the right company with the right project." - TECTERRA's own Andrew House @AccelerateAB #AccelerateAB Come Talk to Us! pic.twitter.com/YiiQoMfKJc

— TECTERRA (@TECTERRA) April 24, 2018