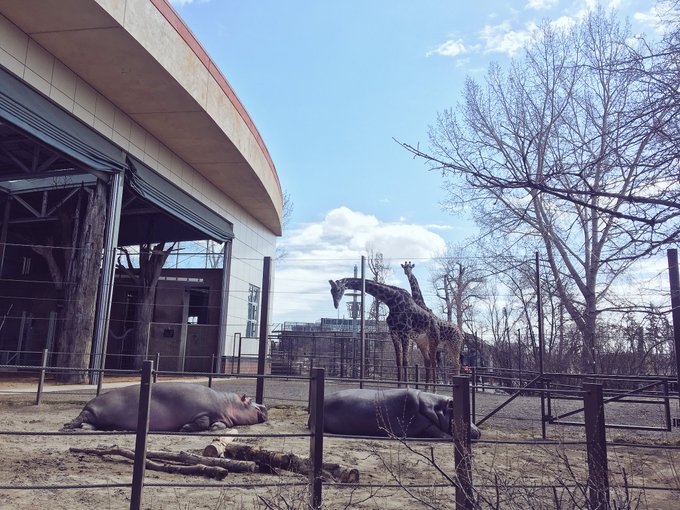 No matter how busy your day was, we can promise you, these top 10 tweets can brief about Canada (26-Apr-2018) in a minute.
The best of Twitter Today In Canada
1. Vanessa Gagnon had tweeted about #RTC2018YYC .


What an inspiring day! Started with 40 partners @calgaryzoo in a workshop helping build our brand, then on to #RTC2018YYC and @PTertzakian's keynote, now taking in @DaveKellyLive! I ❤️ this city so very much! #capturecalgary #loveyyc #DKL18 pic.twitter.com/HaE07Zwm8Q

— Vanessa Gagnon (@nessincalgary) April 26, 2018
2. Mocha Frap had tweeted about #northovereverything .


See u in Washington Friday to wrap up this series 🙌🏾 @raptors 🏀 #Toronto 🔥 #WeTheNorth 🇨🇦 #NorthOverEverything 💫 #RTZ 👊🏾 pic.twitter.com/AHvw1JCtFn

— Mocha Frap (@mochafrap) April 26, 2018
3. ᴄʀᴀᴄᴋᴍᴀᴄs had tweeted about #CaptureCalgary .


Yeah man. #LouStillGotIt#capturecalgary #CalgaryExpo pic.twitter.com/XcHQcf2RFm

— crackmacs (@Crackmacs) April 26, 2018
4. Neil Zeller had tweeted about #CaptureCalgary .


Holy H*ck!! Hanging out with. @LouFerrigno!! Oh, @andrewphung is here too. #LouStillGotIt #capturecalgary #calgaryexpo pic.twitter.com/UBZOXqaCAN

— Neil Zeller (@Neil_Zee) April 26, 2018
5. LP Guy ? had tweeted about Patrick Roy .


Patrick Roy a les Remparts tatoués sur le coeur.
Tant mieux pour toi Remparts, Patrick Roy est ta toué.#jeudemotdujour

— LP Guy #DSLM⏰📻 (@LPGeek) April 26, 2018
6. Devin Heroux had tweeted about Round 6 .


Korea defeats Canada 8-5 to go undefeated in round-robin play.

Canada finishes 6-1 and is now heading into the playoffs. I'll have a preview of what you need to know from the Mixed Doubles world curling championship later today. #cbccurl @CBCOlympics https://t.co/757eSnVHCm

— Devin Heroux (@Devin_Heroux) April 26, 2018
7. Christiane Germain had tweeted about #oeildudragon .


Je vous jure que je suis une meilleure conductrice dans la vie. #oeildudragon

— Christiane Germain (@chgermain) April 26, 2018
8. Malavika Kumaran had tweeted about #MaRSxGoogle .


@JJGreenwood announcing the Employment Pathway Platform - an important initiative by @MaRSDD and @Googleorg to prepare individuals for and enable them to participate in the #futureofwork #MaRSxGoogle pic.twitter.com/JEx7BRQzbz

— Malavika Kumaran (@MalavikaKumaran) April 26, 2018
9. Danielle Torrie had tweeted about #RTC2018YYC .


"#YYC is one of the top 5 places to live. We have an incredible quality of life, even with a 9 month long winter." So true @nenshi! So proud of this city that I call home. #LoveYYC #RTC2018YYC pic.twitter.com/jxk7iB4GT7

— Danielle Torrie (@danielletorrie_) April 26, 2018
10. Justin Morgenstern had tweeted about #EMU2018 .


Urinary obstruction? Watch for post obstruction diuresis - defined as 200ml/hr for 2 hours after bladder initially emptied. Rare but important. Needs admission. #emu2018

— Justin Morgenstern (@First10EM) April 25, 2018