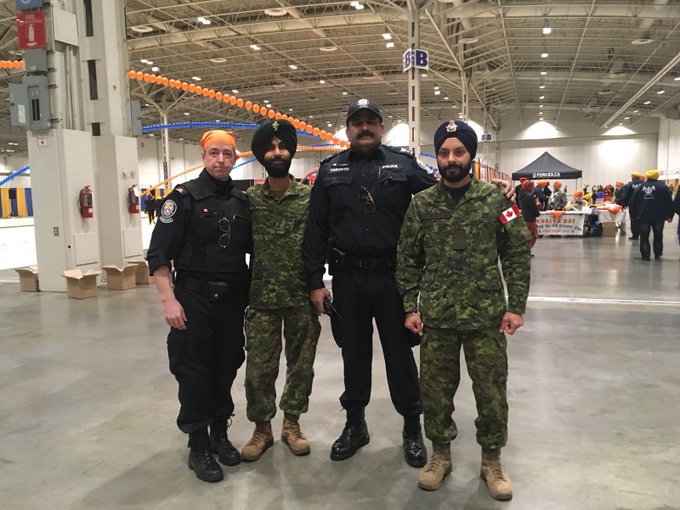 No matter how busy your day was, we can promise you, these top 10 tweets can brief about Canada (29-Apr-2018) in a minute.
The best of Twitter Today In Canada
1. Blair Rhodes had tweeted about Nicholas Butcher .


Jury finds Nicholas Butcher guilty of second degree murder. #nscourt

— Blair Rhodes (@CBCBlairRhodes) April 28, 2018
2. Borat simoneau had tweeted about #ImpactTVASports .


Atlanta écrase tout le monde depuis 6 matchs et sont puissants à domicile ... on s'en va là avec un seul DC et aucun vrai 9 mais on dure pendant 70 minutes ... je sais que l'air est nauséabond en ce moment mais faut rester lucide ! #IMFC #ImpactTvaSports

— Borat Simoneau (@JamesSimoneau) April 28, 2018
3. TPS Aux Marine Unit had tweeted about #khalsaday .


Marine Auxiliary Officers out celebrating #KhalsaDay! pic.twitter.com/kzf1ln92F6

— TPS Aux Marine Unit (@TPSAuxMU) April 29, 2018
4. Hadeel B Ibrahim had tweeted about #ajasgala .


Repping the @Aquinian at the Atlantic Journalism Awards tonight! If I didn't write for the AQ I wouldn't have chosen journalism as a career. Student journalism matters!! #ajasgala pic.twitter.com/nz8kPsxAf2

— Hadeel Ibrahim (@HadeelBIbrahim) April 28, 2018
5. Paul J. Henderson had tweeted about #mamurray18 .


Proud to say the @TheProgress just won Gold as the best newspaper in our circulation category at the @NewspapersWest #MaMurray18 awards. pic.twitter.com/rMwWP0PakE

— Paul J. Henderson (@PeeJayAitch) April 29, 2018
6. Jim Watson had tweeted about #moesbeanfest .


Special performance tonight by #Elvis at Blacktie Beanfest #moesbeanfest with @MICHAELCTV pic.twitter.com/5M2ausIGUt

— Jim Watson (@JimWatsonOttawa) April 29, 2018
7. Valentina.V.M had tweeted about #edcampldn .


I can't express how incredible #edcampLDN was!!! I'm grateful to have done an ignite talk with @dtangred and to have met so many hardworking teachers! (You know who you are😉) and discussed plenty of topics with them! #EdCamp #Empathy #StudentVoice @SBsharksAdmin @TVDSB https://t.co/uuzY42FhF3

— Valentina.V.M (@vvirvmed) April 29, 2018
8. Ontario Chamber had tweeted about #OCCAGM .


We would like to acknowledge our accredited chambers of commerce and boards of trade across the province. We are the voice of business in Ontario. #OCCAGM #ONChamberNetwork pic.twitter.com/wBSfFKKUuO

— Ontario Chamber (@OntarioCofC) April 29, 2018
9. Gina Uppal had tweeted about #khalsaday .


Gorgeous day celebrating the Khalsa Day parade in #Toronto with my Sikh community. Messages of unity, service, and resilience everywhere #TorontoStong #KhalsaDay pic.twitter.com/2lRo26kgXg

— Gina Uppal (@ginauppal) April 29, 2018
10. Heidi Solway ?? had tweeted about #edcampldn .


Did anyone catch a picture of @kraekerc at #edcampldn today? Wow! He was incredibly helpful! He jumped right in to lend a hand with everything from session sorting to lunch service etc! Thank you, Cliff! pic.twitter.com/6jnjyIipbQ

— Heidi Solway 🇨🇦 (@HSolway) April 28, 2018