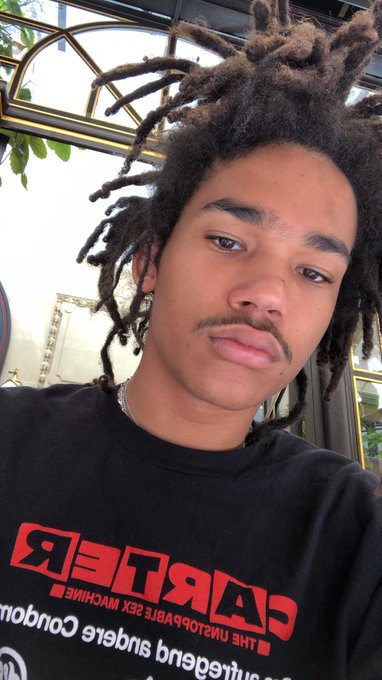 No matter how busy your day was, we can promise you, these top 10 tweets can brief about France (04-May-2018) in a minute.
The best of Twitter Today In France
1. luka fallback sabbat had tweeted about #Weather .


My skin hittin right now.
And the weather in paris is beautiful pic.twitter.com/c1dVtaB36y

— luka fallback sabbat (@whoisluka) May 2, 2018
2. Toifilou Maoulida had tweeted about Denis Balbir .


eeeeeehhhhhh c'est ça L'OM... Aaaahh !!! Et qui on est nous...
Qui on est nous...L'Olympique de Marseille...On craint dégun 💪🏽💪🏽
Eh ouiii Rolando...Eh ouii minot 👏🏽@OM_Officiel @TeamOM_Officiel @lephoceen @OMLaProvence @balbir_denis #FCSOM #NotreHistoireContinue #AllezLOM pic.twitter.com/oQHM1GGfp3

— Toifilou Maoulida (@filoumaoulida) May 3, 2018
3. Julien Denormandie had tweeted about #Pari .


🏠👉👨‍👩‍👧 Je lance un appel aux propriétaires qui ont un logement ni occupé ni loué : mettez votre bien en location avec #Solibail ! L'Etat vous garantit sa location en toute tranquillité et avec un abattement fiscal. Faites le pari de la confiance ! pic.twitter.com/pGo6A42Hc0

— Julien Denormandie (@J_Denormandie) May 3, 2018
4. Benjamin Griveaux had tweeted about #démarretastory .


On lui disait : «Tu vas gâcher ta vie si tu fais ça» Aujourd'hui, ce salarié de @Schmidt_Groupe me raconte comment l'#apprentissage lui a permis, au contraire, de trouver sa voie. Lutter contre les idées reçues, les apprentis en sont les meilleurs ambassadeurs ! #demarretastory pic.twitter.com/wHs4ef5iIu

— Benjamin Griveaux (@BGriveaux) April 25, 2018
5. Laurent Marsick had tweeted about #RTLradio68 .


RTL-Non-Stop 1968 . Ph Bouvard s'adressant à @JohnnySjh « quel est votre souhait le plus cher ? » . -Johnny : « avoir une fille... » émission à réécouter avec Johnny en direct du grand studio @RTLFrance (et qui chantait en direct) les 3/4 mai https://t.co/ql01q5Byha #RTLradio68 pic.twitter.com/kGsWKConXH

— Laurent Marsick (@lmarsick) April 29, 2018
6. Manon | Boo -6 had tweeted about #23balaispourBoostee .


Eh, demain on lance #23balaispourBoostee ? 😶
Même si on le monte pas en TT au moins on lui mets tous des messages dessus il pourra les trouver facilement comme ça 😋

— Manon 🌻 (@_M_a_n_o_n_) May 3, 2018
7. MHSC had tweeted about #FCNMHSC .


#FCNMHSC 🎙 Vitorino #Hilton "On a encore une petite chance de finir européens, il nous reste 3 matchs... pourquoi pas 3 victoires d'affilée ! On a tous envie de bien finir »

— MHSC (@MontpellierHSC) May 4, 2018
8. SIG Strasbourg had tweeted about Crédit Mutuel Forum .


Un point d'étape majeur vient d'être annoncé avec l'engagement du @CreditMutuel auprès de la @sigstrasbourg pour la réalisation de ce Crédit Mutuel Forum. #SIGArena pic.twitter.com/RyYEaid1fG

— SIG Strasbourg (@sigstrasbourg) May 4, 2018
9. Laurence Crespel had tweeted about #DefiLExpress .


#fiersdenosetudiants @audencia_com @NantesExpress sur le podium du #DefiLexpress des grandes écoles. Bravo les Petits Lu! pic.twitter.com/OMoYG2BIKG

— Laurence Crespel (@Lcrespel) May 3, 2018
10. Francesca Brienza had tweeted about #Marsiglia .