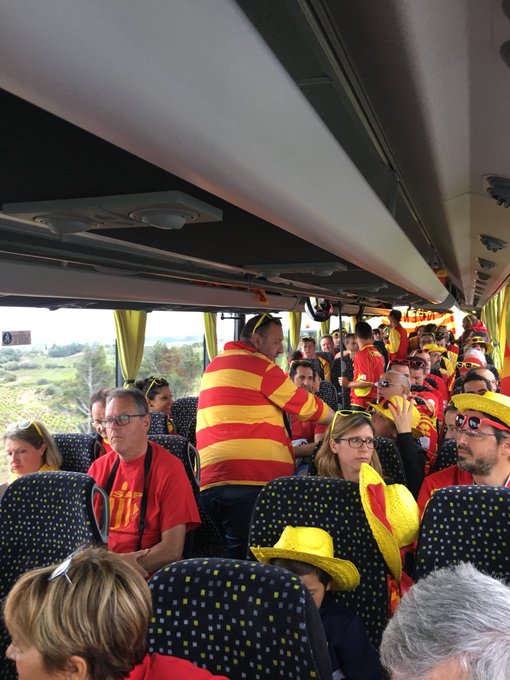 No matter how busy your day was, we can promise you, these top 10 tweets can brief about France (06-May-2018) in a minute.
The best of Twitter Today In France
1. Bilel Ghazi had tweeted about Championnat .


@lequipedusoir Comme en Championnat, les groupes de supporters marseillais seront parfaitement encadrés jusqu'au stade. Le risque, ce sont les supporters marseillais isolés qui viendront des 4 coins de la France et qui s'aventureront dans la vie. Oui, pour eux, c'est inquiétant

— Bilel Ghazi (@BilelGhazi) May 4, 2018
2. ASM Rugby had tweeted about Espoirs .


💪🏻À fond avec nos Espoirs qui jouent cet après-midi la demi-finale du Championnat de France face au @agen_rugby ! ##ASMAcademy

— ASM Rugby (@ASMOfficiel) May 6, 2018
3. Les Farfadets USAP had tweeted about #USAPFCG .


#usap #USAPFCG @usap_officiel @bfanny66 on est laaaaa pic.twitter.com/j8TAfKR0VI

— Les Farfadets USAP (@Farfadetsusap) May 6, 2018
4. gilles jacob had tweeted about Pierre Rissient .


Si les gens du monde entier que Pierre Rissient a aidés faisaient la queue depuis la Croisette, il faudrait ouvrir la frontière italienne pour les laisser défiler, Bertrand, Clint, Jane, Jerry, Lino, Sydney, Mehboob, Gutruk, Edward, Hou, John, Fritz, Marco, King Hu... en tête.

— gilles jacob (@jajacobbi) May 6, 2018
5. Emilie Dudon had tweeted about #COUSO .


7 filles en tribune de presse à Pierre-Antoine pour couvrir #COUSO... Là aussi on voit que le rugby change. Et c'est bien ! 🙂 XV @Sarah_TNey @JSoula @Amaia_Cazenave

— Emilie Dudon (@emiliedudon) May 5, 2018
6. Julien Plazanet had tweeted about #LOUMHR .


À la mi-temps, @LeLOURugby mène 17-10 face au @MHR_officiel un peu contre le cours du jeu, mais pour l'heure le #LOU est qualifié en phases finales du #Top14 dans un #Gerland qui vibre, comme par le passé... #LOUMHR pic.twitter.com/tHrkElcEiV

— ⭐️ Julien Plazanet ⭐️ (@JulienPlazanet) May 5, 2018
7. EY Carrières France had tweeted about #CNE18 .


Félicitations à notre partenaire @EJE_ENSAE, Junior-Entreprise de @ENSAEParisTech pour avoir remporté le Prix d'Excellence, Meilleure Junior-Entreprise de France 2018 @cnje #CNE18 #WeAreJE pic.twitter.com/6yjuiwp9ZF

— EY Carrières France (@EYRecrute) May 5, 2018
8. Rudz had tweeted about #SRSFP .


Dernière fois de me vie que je suis pour Montpellier #SRSFP https://t.co/ayhyyie8yM

— Rudz (@RudzSR) May 5, 2018
9. MHSC had tweeted about #FCNMHSC .


Balade avant le repas #FCNMHSC 🔷🔶 #MHSC ⚽️ pic.twitter.com/TKWNMrtVTH

— MHSC (@MontpellierHSC) May 6, 2018
10. Section Paloise Béarn Pyrénées had tweeted about Espoirs .


Mi-temps à St Sever et nos Espoirs mènent 20-0 face au @AssoABrugby !#DemiFinaleEspoirs #EnVertEtContreTous pic.twitter.com/lckK2rbno1

— Section Paloise Béarn Pyrénées (@SectionPaloise) May 6, 2018