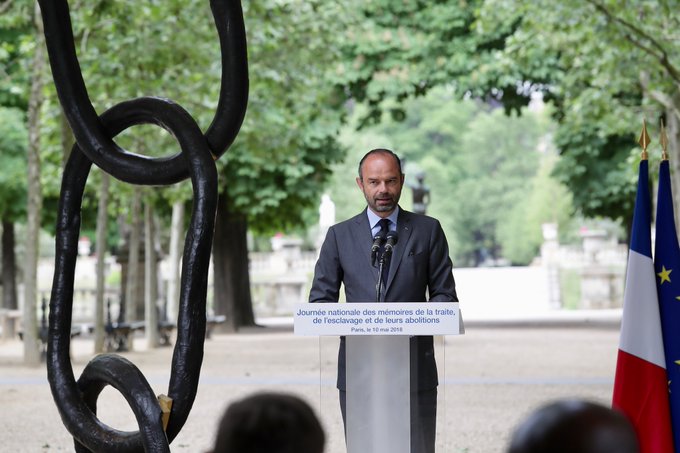 No matter how busy your day was, we can promise you, these top 10 tweets can brief about France (11-May-2018) in a minute.
The best of Twitter Today In France
1. Edouard Philippe had tweeted about #10mai .


Le devoir de mémoire commence à une échelle communale. Il faut inscrire la mémoire de l'esclavage dans le paysage urbain, dans le calendrier républicain et dans la conscience collective. #10mai pic.twitter.com/2PQ7UG54wp

— Edouard Philippe (@EPhilippePM) May 10, 2018
2. MissMalini had tweeted about #TakePleasureSeriously .


Just when we thought we were done with the news for this season, @ManishMalhotra proves us wrong! Looks like @ManishMalhotra is making the most of his indulgence in Cannes as he poses with the delectable @magnumIND. #TakePleasureSeriously #MagnumCannes #ad pic.twitter.com/2nl9Pf7rVr

— MissMalini (@MissMalini) May 10, 2018
3. fiaf3europe had tweeted about #FIAF3 .


On the coming weekend, the 2018 @fiaf3europe season will be kicked off at @GPdePau. At the traditional and demanding 2.76 street circuit located in Southern France, the 23 young guns will contest the first three races of the season: https://t.co/fWQS7cgbSK #FIAF3 #FIA pic.twitter.com/SIxO0TLyew

— Formula_EM (@Formula_EM_) May 9, 2018
4. Gil Alma had tweeted about #AffaireConclue .


Hey! Tu m'as pris pour un meuble #Ikéa ?...
Ce soir #AffaireConclue sur @France2tv 😘 pic.twitter.com/N1sivG9UNs

— Gil Alma (@gilalma) May 10, 2018
5. Remy Buisine had tweeted about #Arceuil .


Tensions à Arceuil entre policiers et bloqueurs au centre des examens où se déroule ce matin les partiels délocalisés des étudiants de l'université de Nanterre.

Utilisation de gaz lacrymogènes pour repousser les manifestants devant l'entrée du bâtiment. pic.twitter.com/EQAGDoWMKR

— Remy Buisine (@RemyBuisine) May 11, 2018
6. Team Direct Energie had tweeted about #4JDD .


#4JDD - Le staff du #TeamDirectEnergie ce sont aussi de grandes tablées et de très bons moments de convivialité 😁#DirectEnergieFamily pic.twitter.com/lVAR5yyftF

— Team Direct Energie (@TeamDEN_fr) May 10, 2018
7. PREMA had tweeted about #FIAF3 .


An exclusive look at one of the most sacred moments of a team... mechanics debriefing #FIAF3 @GPdePau #goodnight pic.twitter.com/gqQA8w31gc

— PREMA (@PREMA_Team) May 10, 2018
8. Team Direct Energie had tweeted about #4JDD .


#4JDD - En complément de @thibautmace et de @BenoitGenauzeau nos Directeurs Sportifs, @PetitAdrien62 apporte son expérience et sa connaissance de la région lors du briefing du jour ! 👍🏻#AllezDirectEnergie pic.twitter.com/0wX73IuFOu

— Team Direct Energie (@TeamDEN_fr) May 11, 2018
9. Erwann Pecheux had tweeted about #FPOPMU .


Direction La Grande Motte pour le #FPOPMU @PMU_Poker & @TexapokerLive , 1ère sortie officielle du nouveau coéquipier @Corback_ & de nombreux invités de prestige participeront au tournoi : @DocSevenTV @MorganNiquet @AntoineRuimy @minutebuzz @NadRichHard @Taupe10videos @nino_arial

— Erwann Pecheux (@ErwannPecheux) May 7, 2018
10. Nabil Djellit had tweeted about Telenovela .


Selon son père Neymar veut quitter le PSG. Bientôt les confidences de son coiffeur, de son chien etc... Il va rester au PSG. La presse espagnole en mode telenovela avant le #Mondial2018 pic.twitter.com/Pla5gNQyyb

— Nabil Djellit (@Nabil_djellit) May 11, 2018