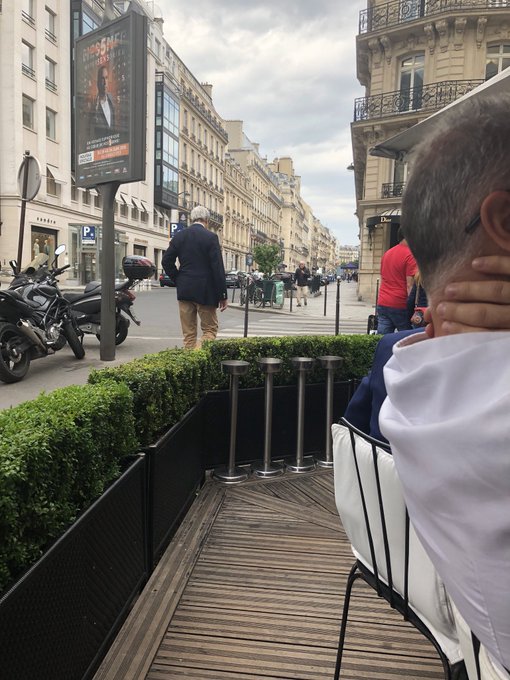 No matter how busy your day was, we can promise you, these top 10 tweets can brief about France (13-May-2018) in a minute.
The best of Twitter Today In France
1. Jason Osborne had tweeted about #París .


So John Kerry just left a meeting @ L'Avenue in Paris w/3 Iranians. A friend was sitting next to their table and heard JK blasting @realDonaldTrump. The Iranians had a 5 person security detail and left in diplomatic vehicles. Is he FARA registered? @seanhannity @TuckerCarlson pic.twitter.com/vVYwDQTPNb

— Jason Osborne (@_JasonOsborne) May 12, 2018
2. Allu Sirish had tweeted about #Suriya37 .


Excited to be onboard for #Suriya37. As a @Suriya_offl fan its a dream come true to share screen space with him. Honoured to be sharing screen space with Lal sir again. Thx @anavenkat sir for giving me this opportunity. pic.twitter.com/9xIKz4Mc28

— Allu Sirish (@AlluSirish) May 13, 2018
3. Vivek Agnihotri had tweeted about #MumbaiAttacks .


In Pakistan News comes only 10 years late. #MumbaiAttacks #26/11 pic.twitter.com/EtUJHlWKgj

— Vivek Agnihotri (@vivekagnihotri) May 12, 2018
4. ASM Rugby had tweeted about Espoirs .


#FinaleEspoirs nos espoirs décrochent le 6ème titre de leur Histoire en s'imposant 24-19 face à la @SectionPaloise ✌🏻👏🏻👏🏻👏🏻👏🏻 CHAMPIONS DE FRANCE 🇫🇷ESPOIRS 2018 !!!!

— ASM Rugby (@ASMOfficiel) May 12, 2018
5. Pierre Ménès had tweeted about Bein .


Parce qu'on s'en branle de son papier

— Pierre Ménès (@PierreMenes) May 11, 2018
6. Printant Ghislain had tweeted about #ASMASSE .


Quel honneur d'entraîner un grand gardien tel que Stéphane RUFFIER. Un des meilleurs au poste. Un très grand. Et un plaisir d'être aux côtés de JL Gasset un homme et un entraîneur aux grandes compétences (tactique et humaine)👍. Bravo et Merci à eux 🍀 #ASMASSE @ASSEofficiel pic.twitter.com/LYozcbYJry

— Printant Ghislain (@GPrintant) May 13, 2018
7. Gérard Collomb had tweeted about #Monsigny .


Je retrouve à l'hôpital Georges Pompidou les policiers qui ont neutralisé en quelques minutes l'assaillant de la rue #Monsigny.
Ils ont fait honneur à leur uniforme, fidèles à la devise de la @PoliceNationale : « Ils veillent pour la patrie ». pic.twitter.com/ttsqGd59wh

— Gérard Collomb (@gerardcollomb) May 13, 2018
8. Nicolas DHUICQ had tweeted about #attaqueaucouteau .


#Attaque #attaqueaucouteau #attaqueParis le meurtrier était né en Tchétchénie. Il y a environ 4.000 Tchétchènes combattants islamistes en #Syrie. Quand nos dirigeants comprendront-ils l'intérêt d'un partenariat avec la #Russie qui connaît le terrorisme venu du #Caucase ?

— Nicolas DHUICQ (@NicolasDHUICQ) May 13, 2018
9. Benjamin Griveaux had tweeted about #LeGrandJury .


Lorsque l'on empêche la tenue des examens, lorsque l'on casse et saccage des universités, on ne défend pas les étudiants.@RTLFrance @LCI @Le_Figaro #LeGrandJury pic.twitter.com/I8kH1ZJ18c

— Benjamin Griveaux (@BGriveaux) May 13, 2018
10. Benjamin Griveaux had tweeted about #LeGrandJury .


La meilleure des politiques sociales, c'est le travail, et que le travail paye mieux. C'est le cœur du projet d'@EmmanuelMacron.
Il ne suffit pas de réparer les inégalités, il faut les attaquer à la racine.#LeGrandJury pic.twitter.com/0bTOnyejA0

— Benjamin Griveaux (@BGriveaux) May 13, 2018