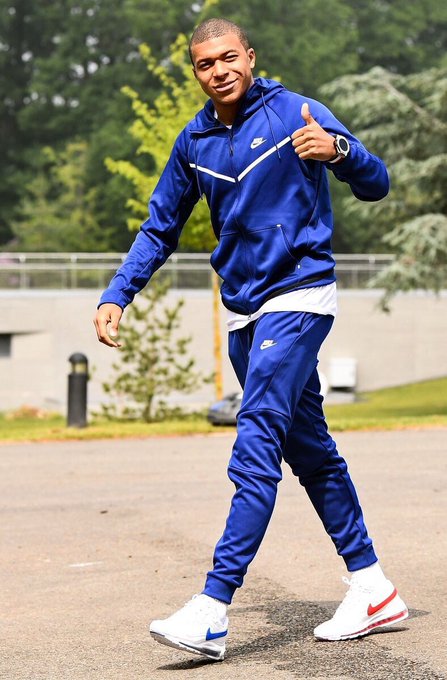 No matter how busy your day was, we can promise you, these top 10 tweets can brief about France (23-May-2018) in a minute.
The best of Twitter Today In France
1. Kylian Mbappé had tweeted about Clairefontaine .


Clairefontaine 👍🏽😃 @equipedefrance pic.twitter.com/30J1HoyuAg

— Kylian Mbappé (@KMbappe) May 23, 2018
2. Pierre Ménès had tweeted about #Rabiot .


Rabiot ne veut pas être réserviste. Si on peut comprendre sa déception on peut être sûr que Deschamps va adorer ça. Ce garçon fait de bien mauvais choix

— Pierre Ménès (@PierreMenes) May 23, 2018
3. Wang Xiang had tweeted about #XiaomiFrance .


Xiaomi is now officially in France! So thrilled to be taking this huge step forward in our global journey, expanding further in Western Europe after we entered Spain last November. #XiaomiFrance pic.twitter.com/STRuzhQKk1

— Wang Xiang (@XiangW_) May 22, 2018
4. Bilel Ghazi had tweeted about Adrien Rabiot .


Adrien Rabiot semble donc avoir signifié la fin de sa carrière internationale à seulement 23 ans... Enfin, on verra dans les prochaines années si son cas fera l'objet de la même fermeté qui touche d'autres internationaux français...

— Bilel Ghazi (@BilelGhazi) May 22, 2018
5. Edouard Philippe had tweeted about #directan .


Conduite sans permis, sous emprise de stupéfiants, d'alcool, avec téléphone portable...notre plan sécurité routière, ce n'est pas que les 80km/h. #DirectAN #SauvonsPlusDeVies pic.twitter.com/g7lPWQ7iQt

— Edouard Philippe (@EPhilippePM) May 22, 2018
6. Valérie Boyer had tweeted about borloo .


Pour le président de la république l'origine est une compétence etre un #HommeBlanc signifie pour #Macron être incompétent.
Il faut donc être « racisé » pour parler des banlieues...c'est la vulgate des associations communautaristes qui est reprise ...#Borloo appréciera https://t.co/Cx5o2CcP22

— Valérie Boyer (@valerieboyer13) May 22, 2018
7. GF38 Officiel had tweeted about #GF38FBB01 .


#GF38FBB01 Yessss.... Une première étape de franchie.. Ce ne fut pas simple, mais Grenoble finit par arracher la victoire ... (Sotoca, Belvito, et Begue pour Bourg) pic.twitter.com/gAxe3zSYdZ

— Grenoble Foot 38 (@GF38_Officiel) May 22, 2018
8. Charles Prats ☥ن had tweeted about #VerrouDeBercy .


⚖️ Le lendemain de la condamnation pour fraude fiscale et blanchiment de l'ancien ministre du budget Jérôme #Cahuzac le gouvernement s'oppose au Sénat à la suppression du #VerrouDeBercy qui empêche la justice de poursuivre librement la #fraudefiscale au pénal #symbole 😑

— Charles Prats ☥ن (@CharlesPrats) May 16, 2018
9. Tony O. Elumelu had tweeted about #TechForGood .


10. Cédric Villani had tweeted about #ParisSaclaySpring .


Visite du @CEA_List, fleuron français de la robotique et de l'intelligence artificielle appliquées à l'industrie #ParisSaclaySpring pic.twitter.com/CKvpaYOMmY

— Cédric Villani (@VillaniCedric) May 23, 2018