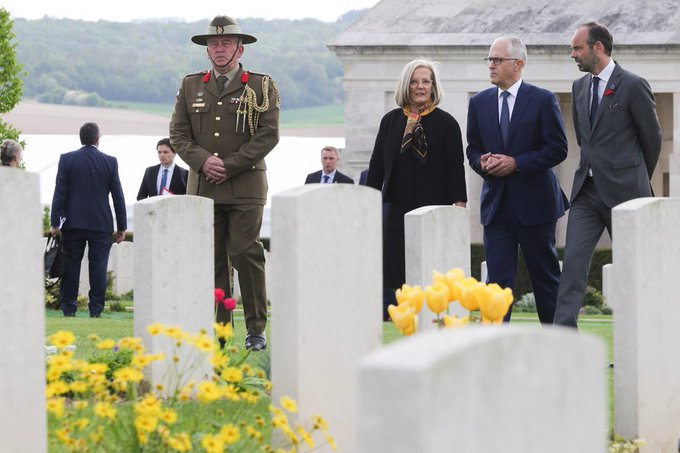 No matter how busy your day was, we can promise you, these top 10 tweets can brief about France (25-Apr-2018) in a minute.
The best of Twitter Today In France
1. Edouard Philippe had tweeted about #AnzacDay2018 .


Il y a cent ans, 313 000 Australiens sont venus combattre en France et en Belgique. Un sur six n'est jamais retourné au pays. #AnzacDay2018 pic.twitter.com/JM7OYDOtcx

— Edouard Philippe (@EPhilippePM) April 24, 2018
2. Snap : JulienTellouck had tweeted about #TEAMG1 .


Rendez vous demain dans #TeamG1 de 15h à 17h en direct ! Notre invité sera le youtubeur @Mstrbtman 🤗 pic.twitter.com/yUWauQxBTL

— JulienTellouck (@JulienTellouck) April 24, 2018
3. Taras Berezovets had tweeted about Донбасса .


ПАСЕ официально закрепила за временно оккупированными районами Донбасса статус «territories under effective control by the Russian Federation» (территории под контролем РФ) взамен «non-government controlled territories» (не контролируемые государством территории).

— Taras Berezovets (@TarasBerezovets) April 24, 2018
4. Xavier Bertrand had tweeted about Sir John Monash Centre .


Pour tous ceux qui se sont engagés,
Pour tous ceux qui se sont battus,
Pour tous ceux qui sont tombés,
We will never forget Australians. 🇦🇺

Le Centre Sir John Monash à Fouilloy, à visiter absolument. pic.twitter.com/OWo68Mc8fD

— Xavier Bertrand (@xavierbertrand) April 24, 2018
5. Sébastien LECORNU had tweeted about #éolien .


Point sur les dossiers en cours dans @paris_normandie : impact de la réforme #SNCF pour les normands, #éolien en mer, centrale @EDFofficiel du @LH_LeHavre et politique normande pic.twitter.com/5ynWacTYIA

— Sébastien Lecornu (@SebLecornu) April 15, 2018
6. Stade Brestois 29 had tweeted about #SB29CF63 .


#SB29CF63 Cri de joie dans les vestiaires après la victoire amplement méritée des Brestois ! Bravo les gars 🔴⚪️👏👏👏 pic.twitter.com/I3pqAuJ43A

— Stade Brestois 29 (@SB29) April 24, 2018
7. Mesptitsboutsdumonde had tweeted about #WAT18 .


Une partie de la Team #Auvergne au salon des blogueurs voyage !! « We Are Travel » @Auvergne @WeAreTravel_FR #aveyronemotion #wat18 pic.twitter.com/w4rDIz0zfg

— Mesptitsboutsdumonde (@MesPtitsBouts) April 24, 2018
8. Corinne Durand ? had tweeted about #WAT18 .


[#WAT18]
Le #Viaduc ! 😍👌
Une vue bien méritée ! 😉#Salondesblogueurs pic.twitter.com/cARfkARWTm

— Corinne Durand 💬 (@CDtlse) April 24, 2018
9. Mathieu Grégoire had tweeted about Stéphane Guy .


Sinon Stéphane Guy est en roue libre 😉 « un poète estonien » #LIVASR

— Mathieu Grégoire (@Serguei) April 24, 2018
10. WikiResearch had tweeted about #TheWebConf .


"YAGO: A Core of Semantic Knowledge Inifying WordNet and Wikipedia" receives the Seoul Test of Time Award at #TheWebConf https://t.co/R0umsJY8Ys pic.twitter.com/QE0ekBdmyU

— WikiResearch (@WikiResearch) April 25, 2018