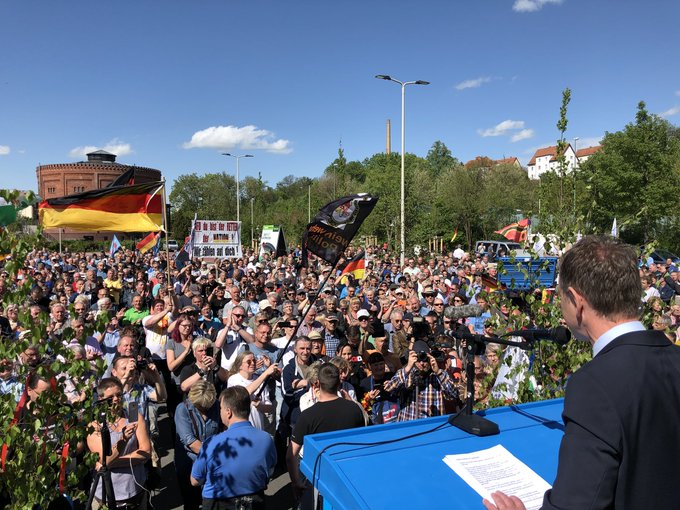 No matter how busy your day was, we can promise you, these top 10 tweets can brief about Germany (02-May-2018) in a minute.
The best of Twitter Today In Germany
1. Simone Lange had tweeted about Tag der Arbeit .


Mehr als 7 Mio Menschen in Minijobs,mehr als 1 Mio Menschen in Leiharbeit, jedes Jahr mehr Rentnerinnen u. Rentner,die dazu verdienen müssen und jedes Jahr mehr Menschen,die trotz Arbeit arm sind! Lasst uns am Tag der Arbeit für bessere Arbeit kämpfen!

— Simone Lange (@Simone_Lange) April 30, 2018
2. Björn Höcke had tweeted about Kundgebung .


Heute in #Zwickau zur Kundgebung der #AfD Sachsen. pic.twitter.com/ci9kWWlgvz

— Björn Höcke (@BjoernHoecke) April 30, 2018
3. SEP ? PietSmiet had tweeted about Geiles Spiel .


Das wird ein richtig geiles Spiel 🤩😁 #RMAFCB

— SEP 💚 PietSmiet (@kessemak2) May 1, 2018
4. Hilde Mattheis had tweeted about Investitionen .


#Schwarze Null als oberstes Ziel von Finanzminister Scholz! Wir brauchen keinen #"Schwäbischen Hausmann", sondern einen Finanzminister, für den es einen Unterschied zwischen privaten Schulden und öffentlichen Investitionen gibt.

— Hilde Mattheis (@HildeMattheis) May 2, 2018
5. Benjamin Laufer had tweeted about Revolutionäre 1 .


Hamburgs revolutionäre Mai-Demo geht mit Feminismus-Sprechchören entspannt zu Ende #Maischalte #1Mai #1MaiHH pic.twitter.com/cT6snwHcPv

— Benjamin Laufer (@rakeeede) May 1, 2018
6. Friedemann Karig had tweeted about #stage1 .


Rechts, links, Pop, Propaganda? Ab 11 Uhr geht es bei der #rp18 um alles. Mit Samira El Ouassil @samelou, Stefan Niggemeier @niggi, Nils Markwardt @FJ_Murau und mir: https://t.co/dH0QblNoba #stage1 pic.twitter.com/U6IUi5NMqo

— Friedemann Karig (@f_karig) May 2, 2018
7. Der Wurfschuh had tweeted about #Eurofighter .


Nur vier "Eurofighter" der Bundeswehr sind einsatzfähig!
Und noch schöner:
Es gibt NIEMANDEN, gegen den man sie einsetzen müsste.

— Der Wurfschuh (@Wurfschuh) May 2, 2018
8. Eva Horn @rp18 had tweeted about Mannschaften .


Sympathielevel: Wünsche mir, dass beide Mannschaften 0:5 verlieren aber irgendwas ist ja immer. #RMAFCB

— Eva Horn (@habichthorn) May 1, 2018
9. Nacht Floh had tweeted about Revolutionäre 1 .


Revolutionäre #1erMai Demo
Böller auf Polizisten geworfen– Festnahmen! https://t.co/TtIQqW8KOG @bzberlin @BILD_Berlin @J_Schilde @BZcat030 @BZPolizei @TomSchreiberMdA @Djeron7 @GdP_Berlin @4_strauchi @Sperber04 @Majonnchen @Josephine006 @DerUrBerliner @Ciderfan15 @ichinis #b0105 pic.twitter.com/0kIsJy71Py

— Nacht Floh (@BZ_NachtFloh) May 1, 2018
10. ute korinth had tweeted about #ice847 .


Auf dem Weg zur #rp18. Personenschaden, Blinddarmentzündung und nach drei Stunden Warteteit ist die Laune trotzdem noch gut 😉 Unfreiwilliges, digitales #prepublica Vorglühen oder so... #rp18 #ice847 pic.twitter.com/h8qTHkeSO5

— ute korinth (@ruhrpottagentin) May 1, 2018