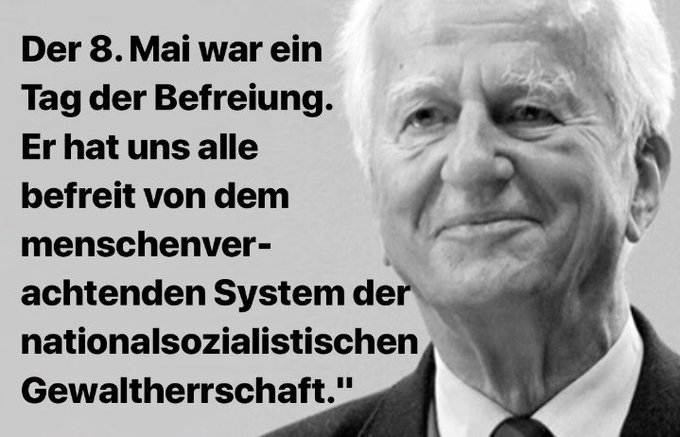 No matter how busy your day was, we can promise you, these top 10 tweets can brief about Germany (09-May-2018) in a minute.
The best of Twitter Today In Germany
1. Atif Tauqeer had tweeted about Ahsan Iqbal .


زیادہ اہم سوال یہ ہے کہ جس ملک کے وزیر خارجہ پر ڈیرہ فٹ کے فاصلے سے سیاہی پھینکی جائے، سابق وزیراعظم پر قریب سےجوتا اچھالا جائے، وزیرِداخلہ کو گولیاں ماری جائیں، وہاں یا تو سکیورٹی ادارے انتہائی نااہل ہیں یا "خلائی مخلوق" انتہائی طاقت ور۔#Pakistan #Ahsan_Iqbal #PMLN

— Atif Tauqeer (@atifthepoet) May 7, 2018
2. Özcan Mutlu had tweeted about #niewieder .


#TagDerBefreiung #8Mai #NieWieder pic.twitter.com/paqW0NfudG

— Özcan Mutlu (@OezcanMutlu) May 8, 2018
3. Herrbett had tweeted about #GPN18 .


Das #GPN18 WLAN ist dieses Jahr noch näher an den Teilnehmern dran! pic.twitter.com/7bfDaL76Zt

— Herrbett (@Herrbett) May 9, 2018
4. obelix had tweeted about #GPN18 .


Der #GPN18 Aufbau hat angefangen. pic.twitter.com/M1tbKCIU1k

— obelix (@cloelkes) May 9, 2018
5. ATAKIZI 🇹🇷 had tweeted about #kimineseri .


İşte akpnin gerçek kahraman seçmelerinden biri
Son emperyalist bükücü
Cehaletin dile gelmiş hali 🙂

Size 1 Milyon kere T A M A M

"Bak vallahi 155'i ararım biz kürtaj yapayı burada " #kimineseri pic.twitter.com/J9jeO71QPF

— ATAKIZI 🇹🇷 (@ATAKIIZI) May 8, 2018
6. Königin👸🏻von Bonn had tweeted about Hitze .


7. Carina Kontio had tweeted about #femalefutureforce .


Nun, ich glaube ich verrate noch nicht zu viel, wenn ich Euch kurz 1 Einblick in meine Vortragsvorbereitung für morgen Abend gönne 🦆 Seid ihr dabei? Wen treffe ich? Ich freue mich schon megakrass auf Euch (und bin voll superschlimm aufgeregt). @EditionF_com #FemaleFutureForce pic.twitter.com/ozhdoH7cpL

— Carina Kontio (@enormgruen) May 7, 2018
8. LMB Berlin had tweeted about #dmb18 .


Hans-Jörg Czech fasst die #DMB18 zusammen und meint "Die Haltung eines Museums wird greifbar in der Arbeit der Vermittler_innen. Ihnen sollte mehr Aufmerksamkeit zuteil werden. #mutigeMuseen #vermittlung

— LMB Berlin (@lmb_berlin) May 8, 2018
9. Christian had tweeted about Hitze .


Meine Chefin hat einen neuen »Assistenten«, mit dem ich mich mal in der Schwulenkneipe hier in Rostock unterhalten habe. Und ich kann mich nicht mehr richtig erinnern und er sieht aus wie mein letzter Exfreund omg dann noch diese Hitze draußen fml 😅😫

— Christian (@ponyhof_leben) May 9, 2018
10. 🌹Çapulcu B🐾 had tweeted about Socke .


"Projekt" Pina wird zur coolen Socke, schreitet voran. 😎🐕👍💙 #Reisehunde in #Eltville pic.twitter.com/EM2Dszq0Ci

— 🌹Çapulcu B🐾 (@_blickwinkel_) May 9, 2018