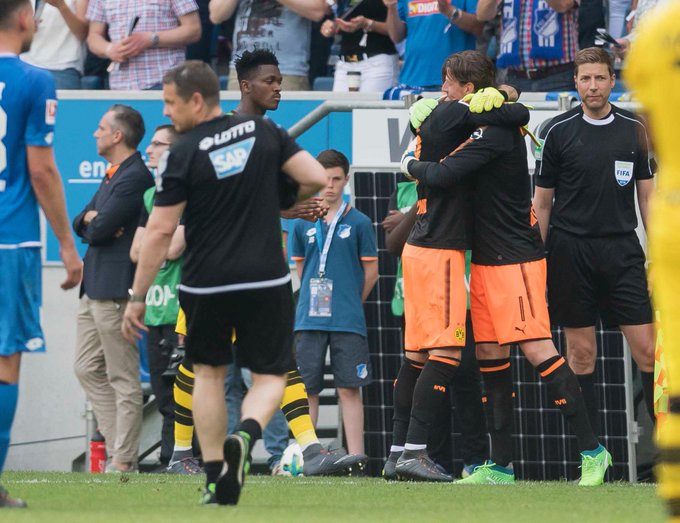 No matter how busy your day was, we can promise you, these top 10 tweets can brief about Germany (13-May-2018) in a minute.
The best of Twitter Today In Germany
1. Borussia Dortmund had tweeted about #TSGBVB .


👏 Danke, Roman! #TSGBVB pic.twitter.com/F0IOhy63nq

— Borussia Dortmund (@BVB) May 12, 2018
2. Lars Klingbeil had tweeted about #wirmachenneu18 .


Zwei große HoffnungsträgerInnen der SPD. Und ich. #wirmachenneu18 pic.twitter.com/IpAtkX94V8

— Lars Klingbeil 🇪🇺 (@larsklingbeil) May 11, 2018
3. ZDF Sport had tweeted about Abstieg .


⚽️ Tag der Wahrheit für den @HSV!
Was glaubt Ihr, Abstieg oder doch Relegation?
So erreicht der @HSV die Relegation: 👇🏻#HSVBMG pic.twitter.com/WViSaVrHWP

— ZDF Sport (@ZDFsport) May 12, 2018
4. Ralf Heimann had tweeted about #kt18 .


"Da, schau sie dir an. Für so was ist in einem christlich-liberalen Europa im Jahr 2018 einfach kein Platz mehr."
"Du, ähm, ich glaub, das sind Nonnen." #kt18 #katholikentag pic.twitter.com/Y3SRr6drSb

— Ralf Heimann (@ralfheimann) May 12, 2018
5. Eintracht BS had tweeted about #KSVEBS .


Finalspiel in Kiel: Alle gemeinsam für den Klassenerhalt!#KSVEBS#wirsindeintracht pic.twitter.com/IlqPrx0d9g

— Eintracht BS (@EintrachtBSNews) May 13, 2018
6. FC Carl Zeiss Jena had tweeted about #KSCFCC .


Was für ein Spiel! Unser #FCC siegt zum Saisonabschluss mit 3:2 beim @KarlsruherSC! Den verdienten Siegtreffer besorgte Dominik #Bock. Klasse, Jungs. #KSCFCC pic.twitter.com/QfZ27Tg8r8

— FC Carl Zeiss Jena (@fccarlzeissjena) May 12, 2018
7. Mario Sixtus 馬六 🇪🇺🇭🇰 had tweeted about Bäcker .


8. Entropia e.V. had tweeted about #gpn18 .


Wir haben die Lost&Found Kiste verloren m) #GPN18

— Entropia e.V. (@entropiagpn) May 12, 2018
9. F.C. Hansa Rostock had tweeted about #CFCFCH .


Hurra, hurra, die Rostocker sind da! 💪🏻🔵⚪️❤️ #ahu #CFCFCH pic.twitter.com/wEeUOH8LKl

— F.C. Hansa Rostock (@HansaRostock) May 12, 2018
10. Chris Pyak had tweeted about #bpt18 .


20 Millionen Menschen in unserem Land haben Wurzeln in anderen Teilen der Welt. Ohne sie würde unsere Wirtschaft zusammenbrechen und unser Leben wäre ärmer.

Zeit für #Wertschätzung gegenüber #MeritGermans.https://t.co/q3ZV5bCG9w#bpt18

— Chris Pyak (@chris_pyak) May 12, 2018