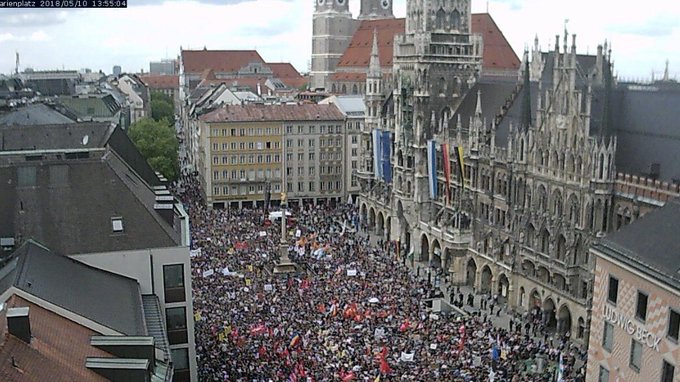 No matter how busy your day was, we can promise you, these top 10 tweets can brief about Germany (22-May-2018) in a minute.
The best of Twitter Today In Germany
1. Christian Ströbele had tweeted about #pfingsten .


Wie kann sein, daß Haus in Berlin in kommunalem Eigentum völlig entgegen Wohnungs-Poltik des rot-rot-grünen Senats jahrelang leer steht, Pfingsten geräumt wurde. Senat kann Geschäftsführung anweisen oder auswechseln und Räumung verweigern. Muß er nur wollen. Korrektur ist nötig

— Christian Ströbele (@MdB_Stroebele) May 22, 2018
2. Daniel Mack 🇪🇺🦅 had tweeted about #meisterfeier .


Links: #NoPAG-Demo.

Rechts: #Meisterfeier @FCBayern #München, Marienplatz pic.twitter.com/AXMjTi4BuC

— Daniel Mack (@danielmack) May 20, 2018
3. Mario Sixtus 馬六 🇪🇺🇭🇰 had tweeted about #dsgvo .


4. Anja Tißen 🇪🇺 had tweeted about Arbeitswoche .


Guten Morgen Ihr Lieben, mit dieser wirklich klugen Weisheit starte ich in die kurze Arbeitswoche und Euch wünsche mit dieser Erkenntnis einen wunderbaren Tag und liebe Menschen um Euch 😘❤️. pic.twitter.com/BwtrqNPvpu

— Anja Tißen 🇪🇺 (@Antiss69) May 22, 2018
5. depressed had tweeted about pele wollitz .


6. Simone Theilacker had tweeted about #BSOTotenhaus .


Endlich mal wieder Premierengast im alten "zu Hause". #BSOTotenhaus gleich @bay_staatsoper. Und aufgrund des frühen Vorstellungsbeginns stelle ich mich mal auf ne ordentliche Premierenfeier ein... 🍻

— Simone Theilacker (@dauertrotzer) May 21, 2018
7. Robert Braunmüller had tweeted about #BSOTotenhaus .


"Ich bin eigentlich dem Royalismus zugewandt": Frank #Castorf über #Dostojewski und Janáceks "Aus einem Totenhaus" am #Nationaltheater #BSOTotenhaus @bay_staatsoper https://t.co/4IkicUrL9W pic.twitter.com/gOYi8onzdx

— Robert Braunmüller (@RBraunmueller) May 19, 2018
8. Dominik had tweeted about #ksvwob .


Ach man. Voll schade. #KSVWOB pic.twitter.com/0v0jT5CJz9

— Dominik (@Domeso180) May 22, 2018
9. Lochi_LE had tweeted about #bsgfco .


Das ist einfach nur geil, perfekter Tag, perfektes Wochenende!!! Meine @nur_die_bsg im DFB-Pokal!!! Danke ihr geilen Typen!!!!💚💚💚 jetzt kann am 30.06. Kommen was wolle!!! #BSGFCO #FinaltagDerAmateure #tagderamateure #NiemandWieWir #Chemie #BSGE #WieDerWindUndDasMeer #AKS

— Lochi_LE (@Lochi_LE) May 21, 2018
10. LARS KRANENKAMP had tweeted about #finaltagderamateure .


Hatte irgendwie sowas Echtes - Der #FinalTagDerAmateure mit @sportschau & @DasErste war richtig gut. TOP! ⚽️📺

— LARS KRANENKAMP (@kranenkamp) May 21, 2018