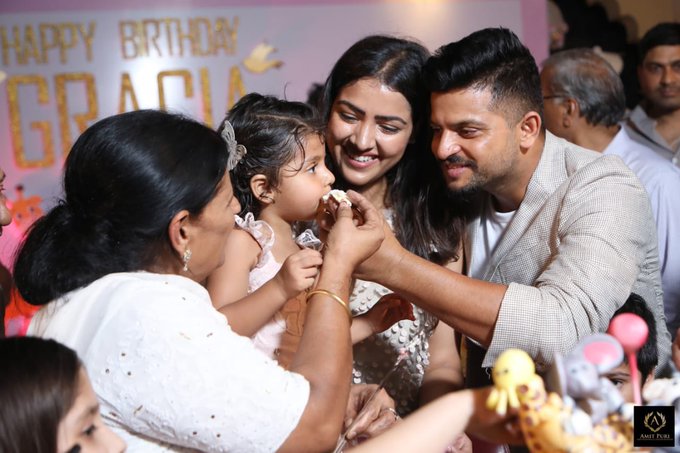 No matter how busy your day was, we can promise you, these top 10 tweets can brief about India (16-May-2018) in a minute.
The best of Twitter Today In India
1. Suresh Raina tweeted about #Gracia .


My pearl, my daughter #Gracia already turned 2! Can't imagine how quickly she is growing!
Thank you everyone for making her birthday really special and sharing this joy with us! Big thanks from Gracia, Priyanka & my side!@rainagracia @priyankacraina pic.twitter.com/TthNDbidPz

— Suresh Raina🇮🇳 (@ImRaina) May 16, 2018
2. Chetan Bhagat tweeted about Chetan Bhagat .


Don't say it out of context. 1) we are in a hung house, there's no disney solution here. 2) horse trading doesn't have to involve money, can just be real politics, 3) tossing a CM post to a 38 seat party you hated before results is just as bad as horse trading https://t.co/wMbiW2NXjA

— Chetan Bhagat (@chetan_bhagat) May 16, 2018
3. Aditya Raj Kaul tweeted about #May15WithArnab .


Rahul Gandhi has now proven to be the ultimate brand ambassador of Congress Mukt Bharat. #May15WithArnab #KarnakataElections2018

— Aditya Raj Kaul (@AdityaRajKaul) May 15, 2018
4. Aditya Raj Kaul tweeted about #May15WithArnab .


Waiting for the *moral victory* speech of Rahul Gandhi. Best gift he can give Congress today to revive the party is to quit and let the Gandhi dynasty take a backseat. How much does it take to get a reality check? #May15WithArnab

— Aditya Raj Kaul (@AdityaRajKaul) May 15, 2018
5. Arvind Jha tweeted about VVPAT .


Huge news. This is why 25% audit of VVPAT and EVM count is MUST. EC has to take stock of data and climb down from its anti democracy stand. https://t.co/HoSpadPGvF

— Arvind Jha (@jalajboy) May 15, 2018
6. Aditi Rao Hydari tweeted about #Sammohanam .


Throw me a challenge... 🤸‍♂️
Dubbing for my first film in a language that I don't know... hope I can do it correctly and you'll all be happy❤️
Working extra hard especially since I was born in Hyderabad... #Telugu #Debut #Sammohanam #Sameera pic.twitter.com/xT5mHtzoa4

— Aditi Rao Hydari (@aditiraohydari) May 16, 2018
7. Preeti Sharma Menon tweeted about Panel .


Here is your CM, Ministers and MLAs fighting Modi Sarkar for womens safety.

As against some television panel activists who scream whenever there is a headline causing incident and then disappear. #LGDontStopCCTVs https://t.co/QZjBXCXCSN

— Preeti Sharma Menon (@PreetiSMenon) May 14, 2018
8. MadhyaPradeshTourism tweeted about Bhopal .


Situated at a hilltop near Lalghati Bhopal, Manuabhan Tekri is a panoramic view point in the city of lakes. With beautiful sights, twinkling lights, this locale provides a scenic view of Bhopal.
Thank you Asif Mohammed for capturing this captivating view.#MPTourism pic.twitter.com/LdRJQflsc4

— MadhyaPradeshTourism (@MPTourism) May 15, 2018
9. Gopal Rai tweeted about #AbBadlegaRajasthan .


आम आदमी को BJP और कांग्रेस मिल-जुलकर बारी-बारी से लूटते आ रहे हैं, अब समय आ गया है कि आम आदमी ख़ुद अपनी सरकार बनाए, जिससे कि विश्वस्तरीय शिक्षा-स्वास्थ्य सेवाएँ, किसानों-मज़दूरों को उनका हक़, बिजली-पानी जैसी बेसिक ज़रूरतें उसे ईमानदारी के साथ मिल सकें।#AbBadlegaRajasthan

— Gopal Rai (@AapKaGopalRai) May 16, 2018
10. Shraddha das tweeted about #blueplanet2 .


#blueplanet2 premiere with the #sassysisters @bajwa_poonam @shefu444 @preetishism @real_NishaA @RomitaRoy pic.twitter.com/GDF7oiG8aO

— Shraddha das (@shraddhadas43) May 16, 2018