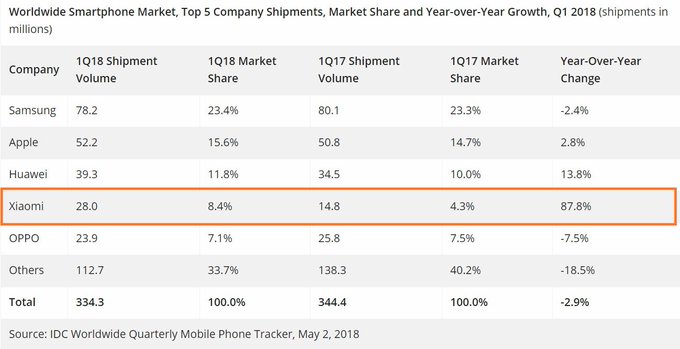 No matter how busy your day was, we can promise you, these top 10 tweets can brief about India (03-May-2018) in a minute.
The best of Twitter Today In India
1. Suresh Raina had tweeted about #maharashtraday .


Happy #MaharashtraDay to all the lovely and hospitable people of Maharashtra. To all the others happy mahaRESTra day 😉

— Suresh Raina🇮🇳 (@ImRaina) May 1, 2018
2. Samantha Akkineni had tweeted about #IrumbuThiraiFromMay11 .


#MahanatifromMay9 #IrumbuThiraiFromMay11 🙏🙏🙏 😁😁😁 Am I being greedy ? HELL YEAH !!! #GodGiveMe #2hits.... #nopressure .. lol truth is I am dying inside 😂🤯

— Samantha Akkineni (@Samanthaprabhu2) May 3, 2018
3. Aakash Chopra had tweeted about #DDvRR .


You see a little bit of Yuvi and a little bit of Raina in him. One of the cleanest hitters of the cricket ball. Hits sixes for fun. Rishabh Pant. #DDvRR #IPL

— Aakash Chopra (@cricketaakash) May 2, 2018
4. Anil Kapoor had tweeted about #Tareefan .


The Veeres taking over my playlist!#Tareefan https://t.co/xw5ui7Cui7 @Its_Badshah #KareenaKapoorKhan @sonamakapoor @ReallySwara @ShikhaTalsania @Its_Badshah @TheFarahKhan @qaranmehta @ZeeMusicCompany @RheaKapoor @ektaravikapoor @Nikhil_Dwivedi @balajimotionpic @saffronbrdmedia

— Anil Kapoor (@AnilKapoor) May 2, 2018
5. Manu Kumar Jain had tweeted about #Xiaomi .


Growth is never by mere chance. It comes through continuous efforts and hard work!

Happy to share #Xiaomi is 4th largest & the fastest growing smartphone brand in the world - 87.8% YoY growth! - @IDC 💪

Thank you Mi Fans for making this happen. 🤘 pic.twitter.com/kBWd3phLHV

— Manu Kumar Jain (@manukumarjain) May 3, 2018
6. Ajaz Indian Khan had tweeted about #VikramadityaMotwane .


Apna Super Hero Bole To Ek Dum Jhakkas @HarshKapoor_ #BhaveshJoshiSuperhero! #VikramadityaMotwane @FuhSePhantom @ErosNow @RelianceEnt #VikasBahl @MadhuMantena @anuragkashyap72 pic.twitter.com/zQJ4poZS4G

— Ajaz Khan (@AjazkhanActor) May 2, 2018
7. Dia Mirza had tweeted about #VikramadityaMotwane .


"Hero paida nahi hota, बनता है।" We need our own superheroes! Love this https://t.co/X1XmRu1gEY#VikramadityaMotwane @HarshKapoor_ @ErosNow @RelianceEnt #VikasBahl @MadhuMantena @anuragkashyap72 @Ashishsverma @ItsAmitTrivedi @priyanshu29

— Dia Mirza (@deespeak) May 2, 2018
8. Shobha Karandlaje had tweeted about #FLYOVER .


While B'luru ranked a dismal 63rd in the country in pollution, @siddaramaiah denotified 2.39 acres of tree filled land near Lalbagh meant for a park&public use , in favour of a builder . They even wanted to cut 800 trees for its Steel Flyover Project. #CongressLootsBengaluru

— Shobha Karandlaje (@ShobhaBJP) May 2, 2018
9. Bengaluru FC had tweeted about #BENvAIZ .


The Blues go again, one last time at the Fortress this season, as they take on @AizawlFC in an @AFCCup Group E encounter today. Head over! Tickets: https://t.co/ZEVWbuZpbX #BENvAIZ 🔵 pic.twitter.com/EC4GkNmMyg

— Bengaluru FC (@bengalurufc) May 2, 2018
10. Ashok Chandna had tweeted about #happybirthdayashokgehlot .


विराट व्यक्तित्व के धनी, अखिल भारतीय कांग्रेस कमेटी के महासचिव, राजस्थान के पूर्व लोकप्रिय मुख्यमंत्री श्री @ashokgehlot51 जी को जन्मदिन की हार्दिक शुभकामनाएं।
—ईश्वर से आपके स्वस्थ एवं दीर्घायु होने की प्रार्थना करता हूँ। #HappyBirthdayAshokGehlot pic.twitter.com/McHJ426bx0

— Ashok Chandna (@AshokChandnaINC) May 3, 2018