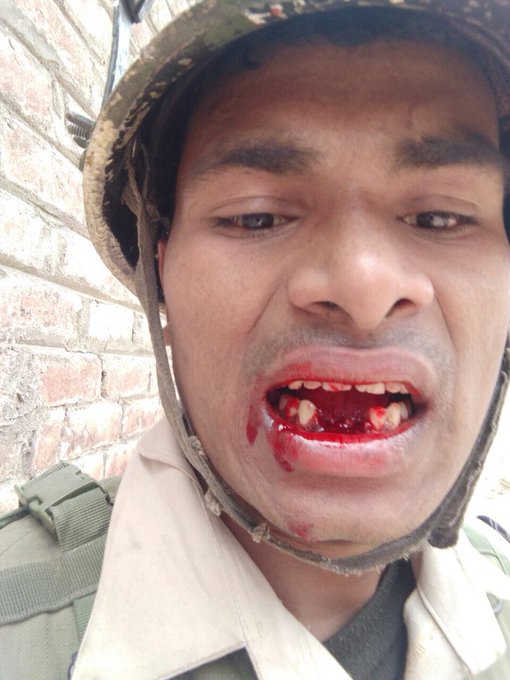 No matter how busy your day was, we can promise you, these top 10 tweets can brief about India (07-May-2018) in a minute.
The best of Twitter Today In India
1. Aditya Raj Kaul had tweeted about Kashmiris .


Just look how mercilessly fringe stone pelters on pay rolls of separatists target @crpfindia jawans in Srinagar. It is bravery of the @crpf_srinagar jawans from across India that keeps Kashmiris safe, yet the goons attack them for pleasing their masters in Pakistan. Salute! 🇮🇳 pic.twitter.com/AajQx3htN7

— Aditya Raj Kaul (@AdityaRajKaul) May 5, 2018
2. Aditya Raj Kaul had tweeted about Shopian .


SSP Shopian Shailendra Mishra appeals to terrorists in Shopian to surrender since terror and violence will lead to no end result. Instead terrorists respond by firing back at the forces. Four terrorists reportedly killed till now. pic.twitter.com/tDuxQtzMIv

— Aditya Raj Kaul (@AdityaRajKaul) May 6, 2018
3. Atul Khatri had tweeted about Air India .


4. Sreedhar Pillai had tweeted about #NivethaPethuraj .


At last @actor_jayamravi's eagerly awaited #TikTikTik has a release date - June 22. A solo date. #TikTikTikFromJune22 @ShaktiRajan @JabaksMovies @immancomposer #NivethaPethuraj pic.twitter.com/WmBBQ6k6ee

— Sreedhar Pillai (@sri50) May 5, 2018
5. Dia Mirza had tweeted about #RajkumarHiraniFilms .


This is how I saw him on set the first day! Was so amazing! #RanbirKapoor as #Sanju. One man many lives. True story releases on the 29th of June. @RajkumarHirani #RajkumarHiraniFilms @VVCFilms @foxstarhindi pic.twitter.com/yLdUtO6oif

— Dia Mirza (@deespeak) May 7, 2018
6. Sumit kadel had tweeted about #Shamshera .


#RanbirKapoor upcoming film lineup is a GAME CHANGER. #Sanju #Brahmastra #Shamshera . Welcome to Mass gallery Ranbir. Your ERA has begun . pic.twitter.com/3ylNJa0pvS

— Sumit M kadel (@SumitkadeI) May 7, 2018
7. Aakash Chopra had tweeted about #MondayMotivation .


The Four beautiful thoughts of life.........
Look back & get experience.
Look forward & see hope.
Look around and find reality.
Look within & find confidence.
Have a great day 😊🙌 #MondayMotivation

— Aakash Chopra (@cricketaakash) May 7, 2018
8. Randeep Singh Surjewala had tweeted about #startup .


Today we are in Bengaluru,which has been labelled the Most Dynamic City of the world.That is a well-deserved title for this city which is the cradle of science, IT & https://t.co/Z7fZ7yp9ub is the startup capital of India.- Dr Manmohan Singh #INC4Karnataka pic.twitter.com/RJOCtqQrfH

— Randeep Singh Surjewala (@rssurjewala) May 7, 2018
9. Sumit kadel had tweeted about #Deadpool2Hindi .


Superstar @RanveerOfficial will be voice of @VancityReynolds in #Deadpool2Hindi . Its gonna be a great fun .. #Deadpool2 pic.twitter.com/UruT87YhCP

— Sumit M kadel (@SumitkadeI) May 7, 2018
10. DEV Entertainment Ventures had tweeted about #RabindranathTagoreJayanti .


"I slept and dreamt that life was joy. I awoke and saw that life was service. I acted and behold, service was joy." - Rabindranath Tagore.

Remembering the Legend on his 157th Birth Anniversary.#RabindranathTagore #RabindranathTagoreJayanti pic.twitter.com/KLwWRQ6uq6

— DEV Entertainment Ventures (@DEV_PvtLtd) May 7, 2018