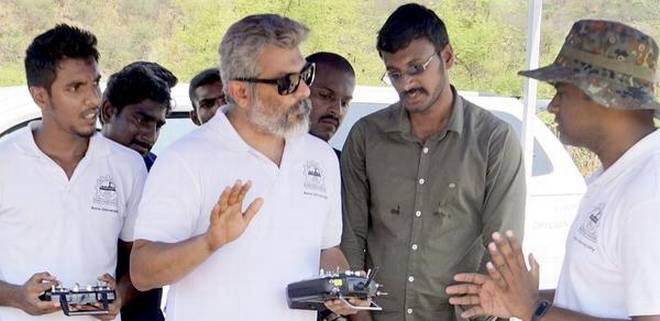 No matter how busy your day was, we can promise you, these top 10 tweets can brief about India (11-May-2018) in a minute.
The best of Twitter Today In India
1. Anil Kapoor had tweeted about #BhangraTaSajda .


Rocking the Bhangra Veere style!! Love it! #BhangraTaSajda out now: https://t.co/NJR71P0eaz#KareenaKapoorKhan @sonamakapoor @ReallySwara @ShikhaTalsania @ZeeMusicCompany @iAmNehaKakkar @shashwatology @MainHoonRomy @sirfgaurav @AJSKOfficial @vdwthefilm

— Anil Kapoor (@AnilKapoor) May 10, 2018
2. Sreedhar Pillai had tweeted about #AnnaUniversity .


#Ajith will help #MIT build an advanced UAV for Medical Express-2018 UAV Challenge, a prestigious competition to be held in Queensland Australia in Sep 2018. #AnnaUniversity has cleared his appointment. pic.twitter.com/jmmmzAZpbW

— Sreedhar Pillai (@sri50) May 4, 2018
3. Aditya Raj Kaul had tweeted about Kashmir .


#Exclusive: Stone-pelters attack Karnataka judges vacationing in Jammu & Kashmir; Judges escape unhurt. #Watch my conversation with the Kartatanka judges a day after 22-year-old Thirumani was killed by pelters in Kashmir. https://t.co/HlSX491IiP

— Aditya Raj Kaul (@AdityaRajKaul) May 9, 2018
4. Rachit Seth had tweeted about Dear Karnataka .


B Sriramulu -close associate of the Reddy-Yeddy Gang - who has 3 cases pending against him is now caught in a sting offering bribe to a judge?

Dear Karnataka,Would you want to hand over keys to such a Chowkidaar Modi who has given tickets to such thieves? #ReddyStingBJPExposed pic.twitter.com/UZvZHmJ6OW

— Rachit Seth (@rachitseth) May 10, 2018
5. Aditya Raj Kaul had tweeted about Himanshu Roy .


Shocking. Mumbai Top Cop Himanshu Roy commits suicide at his residence. Fired at himself from service revolver reportedly after depression from a prolonged illness. Roy was a very committed and popular police officer. Shock waves all across after the news. More details awaited. pic.twitter.com/8pue58T4Yb

— Aditya Raj Kaul (@AdityaRajKaul) May 11, 2018
6. Sumit kadel had tweeted about #Parmanu .


People are talking about #Race3 trailer delay, here #Parmanu trailer is releasing tomorrow 15 days before the film release.

— Sumit M kadel (@SumitkadeI) May 10, 2018
7. BJP MadhyaPradesh had tweeted about राष्ट्रीय प्रौद्योगिकी .


भारत ने आज ही के दिन प्रधानमंत्री श्री अटल बिहारी वाजपेयी जी के सानिध्य में राजस्थान के पोखरण में स्वदेशी तौर पर निर्मित शक्ति-ए परमाणु मिसाइल का सफलतापूर्वक परीक्षण किया गया।राष्ट्रीय प्रौद्योगिकी दिवस की शुभकामनाएं#अटलइरादे pic.twitter.com/Jcql9cmZNz

— BJP MadhyaPradesh (@BJP4MP) May 11, 2018
8. TIMES NOW had tweeted about Senior Journalist .


You belong to anti-RSS camp, you should accept this honestly, says @RakeshSinha01, RSS Idealogue to @_sabanaqvi, Senior Journalist | #PlotToKillPM

— TIMES NOW (@TimesNow) May 10, 2018
9. Dia Mirza had tweeted about #TheInvisibles .


It was these two amazing change makers amongst others who have deeply inspire me. These 17 year olds have not just survived their own challenges, but have emerged as insipiring examples. Saleha - https://t.co/B3p53AvNFS #TheInvisibles https://t.co/dhkLuHEyXI

— Dia Mirza (@deespeak) May 11, 2018
10. Dia Mirza had tweeted about #TheInvisibles .


I think it breaks hearts to see little children in street situations. Many people look away, not because they don't care but because they can't handle how this harsh reality makes them feel. Fact is EACH one of us can make a big difference in the lives of #TheInvisibles https://t.co/A5A8BRA3c9

— Dia Mirza (@deespeak) May 11, 2018