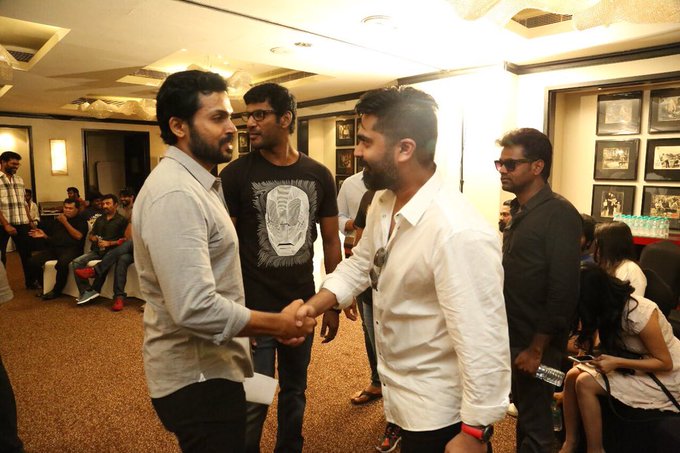 No matter how bad your day is going, we can promise you, these top 10 tweets can brief about India (21-Apr-2018) in a minute.
1. Aditya Raj Kaul is tweeting about #PurohitWasFixed .


Former Maharashtra ATS Inspector Mehboob says RDX was planted on Lt. Col. Purohit by Police and system. Says, top IPS officers of the state and politicians of Congress from state and centre involved in fixing Army officer. Massive newsbreak on @Republic TV. #PurohitWasFixed

— Aditya Raj Kaul (@AdityaRajKaul) April 20, 2018
2. Aditya Raj Kaul is tweeting about #PurohitWasFixed .


Army wrote a letter in 2008 saying Lt. Col. Purohit was on Military Intelligence assignment with his sources and Army was in loop. Brig. Kumar, Nodal Officer MI, coraborates, saying Army was under pressure from Congress Govt since elections were round the corner. #PurohitWasFixed

— Aditya Raj Kaul (@AdityaRajKaul) April 20, 2018
3. Sumit kadel is tweeting about #WithPK .


. @RGVzoomin shouldn't have insulted @PawanKalyan sir. By insulting pk, RGV has lost all the credibility he has earned over the years. Whole nation is with PK sir on this issue. More power to legend of telugu cinema. #WithPK #IamwithPAWANKALYAN

— Sumit M kadel (@SumitkadeI) April 20, 2018
4. Dinesh Gundu Rao is tweeting about Gandhinagar .


The KPCC is holding a candle light protest against the brutality, silence and injustice of the Unnao and Kathua rape incidents.

Time: 7pm, Today
Venue: Gandhi Statue near Maurya Hotel, Gandhinagar

Stand with us in solidarity. #SpeakUp

— Dinesh Gundu Rao (@dineshgrao) April 14, 2018
5. Dia Mirza is tweeting about #anushkasharma .


A film dear to us all! #DuttBiopic Teaser and Title unveiling on the 24th of April ❤️ @RajkumarHirani @duttsanjay #RanbirKapoor @mkoirala @SirPareshRawal @bomanirani @AnushkaSharma @sonamakapoor @vickykaushal09 @jimsarbh @KARISHMAK_TANNA @foxstarhindi @VVCFilms @TSeries https://t.co/eT32DFD6NE

— Dia Mirza (@deespeak) April 21, 2018
6. Sreedhar Pillai is tweeting about #NadigarSangam .


#NadigarSangam meeting in progress. The idea mooted by @VishalKOfficial is to bring down production cost and actors reducing their salaries to suit the budget. pic.twitter.com/nM6LhpVqGX

— Sreedhar Pillai (@sri50) April 21, 2018
7. Rajasekar is tweeting about #SaahoActionBegins .


#SaahoActionBegins - #Prabhas and the #Saaho team all set to shoot a high octane action sequence from today in Dubai. pic.twitter.com/V4r7IbbZ9G

— Rajasekar (@sekartweets) April 21, 2018
8. Bhupesh Baghel is tweeting about #विकास_चोरी_हो_गया_है .


पेंड्रा में कांग्रेस का संकल्प शिविर जेनरेटर के भरोसे करना पड़ा। पेंड्रा भी उसी छत्तीसगढ़ का हिस्सा है जिसे रमन सिंह सरप्लस स्टेट कहते हैं। कहां है विकास नाम की चिड़िया? #विकास_चोरी_हो_गया_है pic.twitter.com/bRZRwKgRZi

— Bhupesh Baghel (@bhupeshbaghel) April 21, 2018
9. Santosh Shukla is tweeting about #DoNotTouch .


Haha…this is so true of both kids and adults. That's why it's always important to be protected. @goodknightin #DoNotTouch https://t.co/YAoRHtgoAK

— Santosh Shukla (@ssantoshshukla) April 20, 2018
10. Tikamgarh Youth Congress is tweeting about #SaferRoadsSaferYou .


अंग्रेजो ने मोदी को यही जानने ब्रिटेन बुलाया है..

हमे भारत को लूटने 200 साल लगे तुमने ये काम मात्र 4 वर्षो में कैसे कर लिया!#Impeachment#SaferRoadsSaferYou #Arsenal @kaur0211 @yadav4indian @alamgirizvi @jeblootli @SheeIaS @ela_mishra @KPadmaRani1 @MLArajeshSP @ModiLeDubega

— javed khan (@Mpiyc_Tikamgarh) April 20, 2018