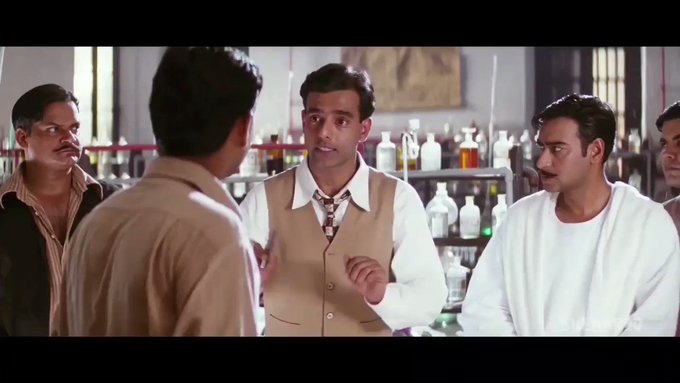 No matter how bad your day is going, we can promise you, these top 10 tweets can brief about India (23-Apr-2018) in a minute.
1. Aakash Chopra is tweeting about #RCBvDD .


In this IPL, we've seen some serious strikers of the cricket ball....Gayle...Watson...Lynn...Russell But this man is something else. AB is magical. Has a wand in his hand and not a bat. #RCBvDD #IPL

— Aakash Chopra (@cricketaakash) April 21, 2018
2. Kiren Rijiju is tweeting about FULL TIME .


After long time, today I could watch a full film on Bhagat Singh in the flight. It was a well made quality movie. pic.twitter.com/k2aP2xZv4H

— Kiren Rijiju (@KirenRijiju) April 22, 2018
3. Vivek Agnihotri is tweeting about Cancelled Ola .


Cancelled an Ola cab because the name of the driver was 'Amar Akkbar Anthony' and I hate secularism. #joke

— Vivek Agnihotri (@vivekagnihotri) April 23, 2018
4. GVL Narasimha Rao is tweeting about Chairman .


AP CM Chandrababu @ncbn has insulted Hindus appointing Ms.Anitha,TDP MLA, a self-declared Christian as a member of sacred Tirumala Tirupati Devastanam (TTD) Board. He recently appointed as TTD Chairman Sudhakar Yadav with Christian leanings. Pl speak up!!https://t.co/OcqHZI0Twd

— GVL Narasimha Rao (@GVLNRAO) April 21, 2018
5. Sumit kadel is tweeting about K Love .


Shilpa ji k paas sabse kimiti jo chiz hai woh aap shilpians ho.. Unke acche karam ka yeh nayaab taufa diya hai ishwar ne inhe..Meiney kai star ki loyal fan following dekhi hai, shilpians love towards her is unconditional. Salaam karta hoo aise fans ko👍👍👍

— Sumit M kadel (@SumitkadeI) April 22, 2018
6. khemchand sharma is tweeting about #VenkaiahNaidu .


We thanks VP Shri #VenkaiahNaidu ji for Rejecting #Impeachmentmotion against CJI Dipak Misra ji moved by Congress
Reasons-
Politically Motivated
7 MPs already retired
Lacked in numbers of MP in LS

It will save dignity of SC & Stop disturbance in #RamMandir case. #CJIDipakMisra pic.twitter.com/RI5USZKc3l

— khemchand sharma (@SharmaKhemchand) April 23, 2018
7. M K Venu is tweeting about Venkaiah Naidu .


Jurists are clearly divided on whether a decision by Venkaiah Naidu not to admit the impeachment motion can be challenged in the Supreme Court? Some say it is open to judicial challenge. Others say no as it is covered by parliamentary privilege.

— M K Venu (@mkvenu1) April 21, 2018
8. Jayant Sinha is tweeting about Deposits in Jan Dhan .


Deposits in Jan Dhan accounts cross Rs 80,000 crore - The Economic Times https://t.co/hPNun1OPZ9

— Jayant Sinha (@jayantsinha) April 22, 2018
9. Aditya Raj Kaul is tweeting about Manu Sharma .


I am shocked by Sabrina's letter to Tihar Jail. No doubt Manu Sharma will be released soon. Sadly, a lot will remain invisible forever. We know justice delayed is justice denied. But never thought justice could be overturned so smoothly. Travesty of Justice if he is released.

— Aditya Raj Kaul (@AdityaRajKaul) April 23, 2018
10. अच्छे दिन™ is tweeting about #CollectGoCashWithMI .


Good Night #NoVikasOnlyBakwas#CollectGoCashWithMI

— Rahul Gandhi (@RahulGandhisfan) April 22, 2018